Stats: Team-wise slip catching success rate in Tests since 2019
Steve Smith has done a wonderful job in the slips and is among the highest catch takers in recent years.
Updated - Jun 20, 2021 6:02 pm
321 Views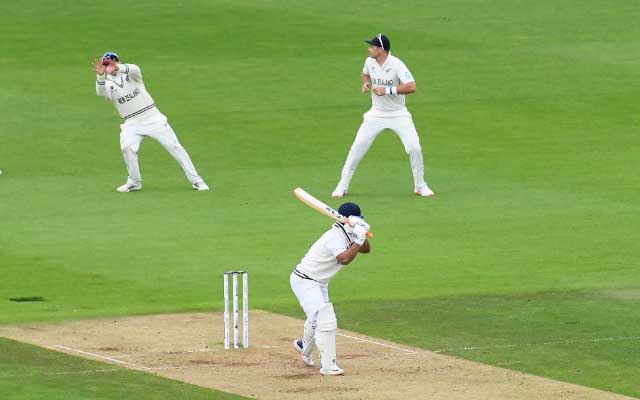 Follow us on Telegram
In any format of the game, the bowlers need the support of the fielders to pick the wickets. In a format like Test cricket, the importance of fielding particularly in the slip cordon increases more. This is the area where most batsmen get caught out especially in the swinging conditions. So, which Test team has done well in terms of slip catching in the last couple of years? In this article, we will be discussing the rank of Test teams according to their slip catching success since the start of 2019.
In this, the three bottom teams who have a slip catching percentage of less than 80 are Bangladesh, West Indies and England. It is 76 per cent each for England and Bangladesh, while for West Indies it is 77. This figure is quite worrying particularly for England where many of the batters get out while being caught in slips. The other two countries also need to improve their numbers in this criteria.
Moving forward, the three Asian teams Pakistan, Sri Lanka and India are ranked at 6th, 5th and 4th position respectively. India has a decent success rate of 83 per cent in terms of slip catching, while it is 81 and 80 for Sri Lanka and Pakistan respectively.
In the last couple of years, Indian fast bowlers have been at their best phase, and they would want more such support from the fielders in the coming years. Normally,  skipper Virat Kohli, Cheteshwar Pujara and Rohit Sharma have been seen fielding in the slips for India. They are among the better fielders in the team currently.
Moving on to the next team which is South Africa with a success rate of 86 per cent in slip catching. The team has always been counted among the better fielding side in World Cricket. The Australian team is ranked at the second spot according to the data with 87 per cent success in the slip catching. Their former captain Steve Smith has done a wonderful job in the slips and is among the highest catch takers in recent years.
The New Zealand team is the only side with a success rate of over 90% in this regard, and are ranked at the first position. Veteran batsman Ross Taylor, Tim Southee and Tom Latham are among the players who are seen regularly in slips for the Kiwi side. Their excellent catching has helped their bowlers in getting great success in the longest format.
Highest slip catching success since 2019 (Min 10 matches)
| | | |
| --- | --- | --- |
| Rank | Team | Slip catching success rate |
| 1 | New Zealand | 91 |
| 2 | Australia | 87 |
| 3 | South Africa | 86 |
| 4 | India | 83 |
| 5 | Sri Lanka | 81 |
| 6 | Pakistan | 80 |
| 7 | West Indies | 77 |
| 8 | England | 76 |
| 9 | Bangladesh | 76 |
Source: Cricviz
Follow us on Google News