Stats: Top 10 teams with best slip catching percentage since 2019 in Tests
Slip-catching is also a significant aspect of Test matches.
Updated - Sep 4, 2021 5:33 pm
974 Views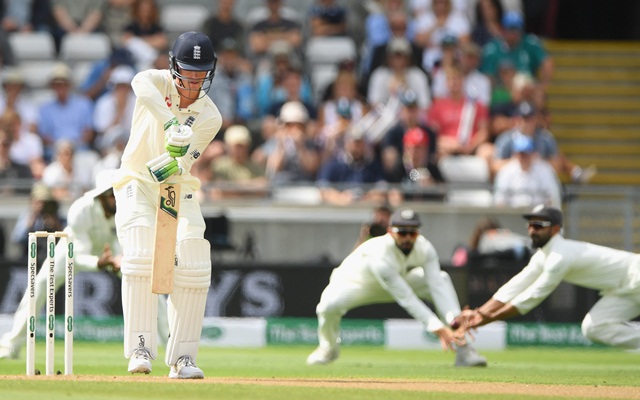 Follow us on Google News
Cricket fans have been busy lately with the calendar being flooded with exciting matches. A lot of Test cricket has also been played in the recent past. Notably, the purest format of the game gained more popularity following the introduction of the World Test Championship. With the stakes getting higher, teams have been putting even more effort to register victories. Owing to the same, several exciting Test matches have been played in the last couple of years.
While several sensational knocks have been witnessed in this duration, numerous fantastic spells also left the viewers. Slip-catching is also a significant aspect of Test matches. With the red ball swinging and spinning more than the white one, a batter edging the ball and getting out at slips is one of the most common ways of dismissals in Test matches.
However, batters of the highest quality won't throw away their wickets very easily. Hence, the bowler has to work hard to deceive them and get the outside edge, if not bowled or LBW. This makes the role of slip fielders very much significant, although many might not realize it. Notably, slip fielding is a specialized department and the assigned player needs to possess some significant skills.
They need to have good hand-and-eye coordination alongside fast reflexes. After all, a ball doesn't take a lot of time from traveling from the batter to the slip fielder. Also, the ball changes direction after taking the edge. Hence, there's not a great amount of reaction time. As far as fielding to spinners are concerned, a ball continues to rotate even after hitting the bat.
This means fielding at slips isn't a bread-and-butter task by any means. As the saying goes catches win matches, we have seen courses of many games being changed due to drop catches. Owing to the same, a player's slip-catching skills are taken into account while selecting a playing XI or a squad.
Meanwhile, New Zealand have been the best in this department lately. Winners of the inaugural ICC World Test Championship final, the Kiwis have successfully taken 90% of slip catches since January 2019. While Australia and South Africa occupy the next two slots, fourth place is occupied by Team India. Have a look.
Slip catching percentage since January 1, 2019 (Minimum 6 Tests):
| | | |
| --- | --- | --- |
| S.NO. | Team | Percentage |
| 1. | New Zealand | 90 % |
| 2 | Australia | 87 % |
| 3 | South Africa | 87 % |
| 4 | India | 84 % |
| 5 | Sri Lanka | 83 % |
| 6 | Pakistan | 82 % |
| 7 | Zimbabwe | 79 % |
| 8 | West Indies | 78 % |
| 9 | England | 76 % |
| 10 | Bangladesh | 75 % |
Stats Courtesy: Sky Sports
(Last Updated: September 4, 2021)
Follow us on Telegram