Stats: Virat Kohli – In a league of his own in Test cricket
The impact Virat Kohli has had on India's Test victories and defeats in his 67-match career is more or less similar if not better than that of the other legendary batsmen of their own generations.
Updated - Aug 5, 2018 9:18 pm
2.1K Views
Follow us on Google News
It won't be an understatement to say that India turned up with four bowlers, a specialist wicketkeeper, five other fielders who kept dropping catches and the one and only Virat Kohli in the Birmingham Test against England. The amount of fight and grit that was put up by the top order was lesser than what number ten and 11 contributed towards the scorecard solely by giving support to their skipper.
The importance of Kohli in the Test format for India has grown rapidly and the support he has got in the recent away tours is less than what he gets in the limited-overs formats. The impact the Delhi-born batsman has had on India's Test victories and defeats in his 67-match career is more or less similar if not better than that of the other legendary batsmen of their own generations.
Kohli scored 15.53% of team's runs in the matches that India won which is more than what Sachin Tendulkar and Ricky Ponting had contributed in their team's wins. When comparing Kohli's contributions to India in defeats with the top six players in the 10,000-run club, his contribution of 17.08% is next only to Brian Lara's 19.66.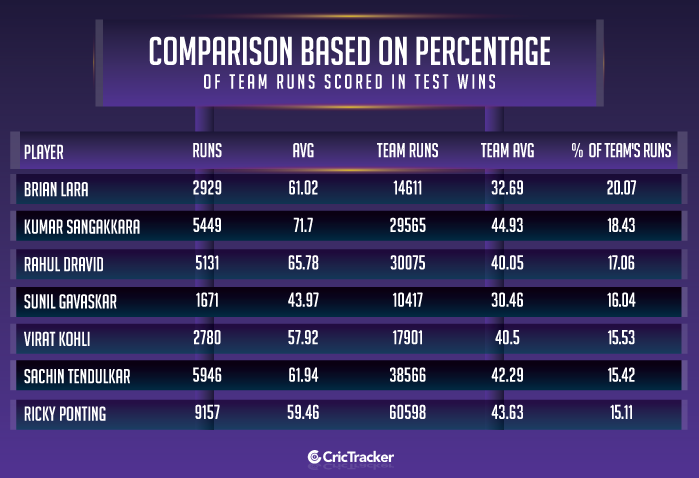 Lara could well be considered as one of the most unlucky players having played in a period where he had minimal support with many of his special knocks going in vain. Ponting's case is completely opposite to that of Lara as the Australian featured during the country's golden era where his knocks were well supported by their formidable line-up and a bowling attack that could hand them wins by taking 20 wickets.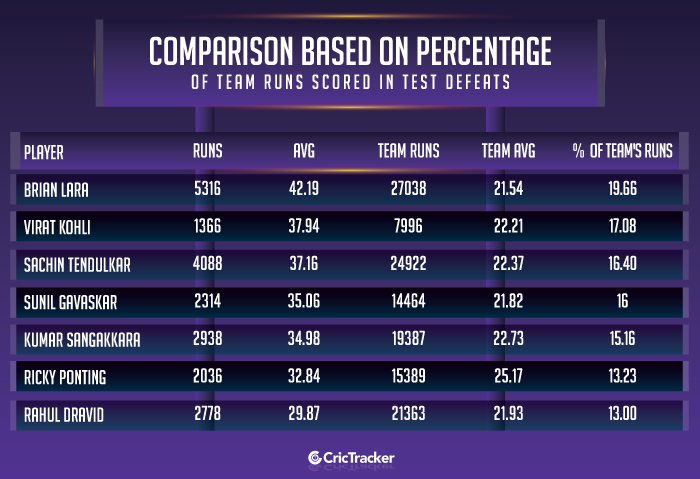 Whenever the comparisons arise between the players of different era, people consider it on the negative basis, assuming that a given player was up against tougher conditions. However, in Kohli's case, this is completely false at least in the Test format. The average runs scored by a batsman since his Test debut has been 31.18 which is lower than the ones during the times of Rahul Dravid, Ponting and Kumar Sangakkara. During Sachin Tendulkar's 24-year career, the aggregate average was 31.16, only 0.02 lesser when compared to Kohli's era.
Kohli's Test career average of 54.28 is 1.741 times the aggregate average of other batsmen during his career with only Kumar Sangakkara (1.770) having a better ratio than the current Indian skipper. In fact, Kohli has scored 16.62% of the runs made by Indian batsmen in the 67 matches he played. His contribution to the team is higher than the likes of Sachin and Dravid and hence, it's fair to say that Kohli is already cricketing great of his kind and all the day and night comparisons don't make much of a sense.
The Birmingham Test was one of those that explains Kohli's character; a fighter who tries to do everything that brings glory to the country and moreover a guy who builds the innings, knowing his strengths and weaknesses. Kohli is altogether a different beast in the longer format as a captain. His contribution to India's total increases to 19.2 which is the fifth best among the players with 2000+ Test runs as captain. He alone has scored 10.325% of runs made by both the sides in the 36 Tests he led India.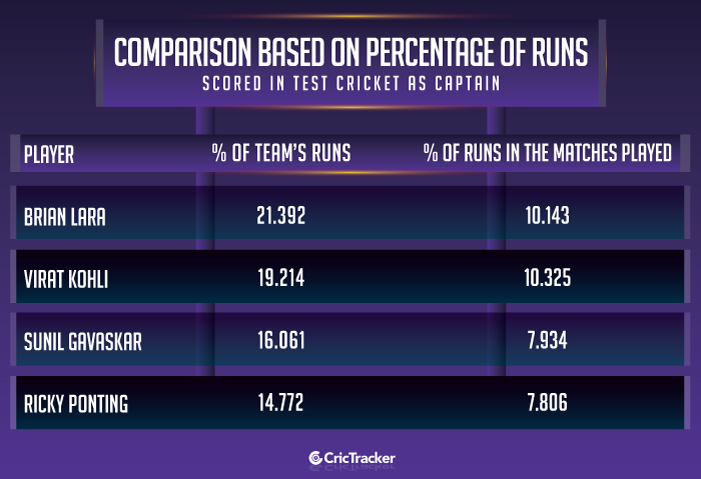 The average runs made by a batsman has been 30.9 in the Test Kohli captained India which is less than the ones during Ponting, Lara and Gavaskar's captaincy in this format. The captaincy dimension has helped Kohli grow from a limited-overs legend to one of the all-time greats. He is already averaging 66.47 as the Indian skipper which could be even more by the time he plays his last match, hopefully with knocks like in Adelaide (2014), Centurion (2018) and Birmingham (2018) coming in the wins.
(Stats as on August 5, 2018)
(Extras from Team runs, match runs and aggregate runs are excluded.)
(Aggregate average is the average runs made by a batsman for every dismissal between the first day and last day of a player's career.)
Follow us on Telegram