Stats: Virat Kohli's dismissals against spinners in ODIs this year
2018 also witnessed Virat getting out stumped for the first time in seven years.
Updated - Nov 1, 2018 11:35 am
363 Views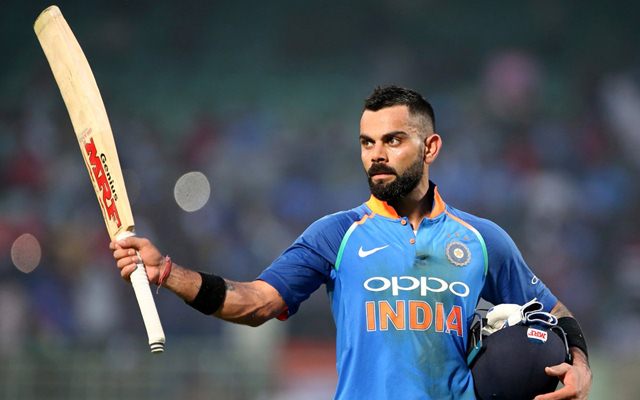 Follow us on Google News
2018 has been a stellar a year for Virat Kohli especially in the ODI format as he has scored over 1100 runs with an unimaginable average of 129.88. He bagged some big records during this year while also becoming the fastest to score 10,000 runs in ODI cricket. Kohli has scored runs irrespective of conditions and situations throughout the year. However, there is a noticeable pattern in his dismissals as the Indian captain got out to spinners more often.
2018 also witnessed Virat getting out stumped for the first time in seven years. Adil Rashid got better off him in the Nottingham ODI and the keeper found him out of the popping crease. It was the first time in 312 International innings that Kohli got out in this manner. He began the home ODI series against Windies in a similar manner when he got stumped on a Devendra Bishoo delivery after a brilliant century in Guwahati ODI. He was dismissed in four consecutive ODI innings by spinners between these two games.
Virat Kohli's dismissals against spin in most consecutive ODI innings:
It was the first time Kohli got out to spinners in four consecutive ODI innings. Prior to the Mumbai ODI, he was dismissed only on six times in his previous eight ODI outings. Five of those six dismissals were against the spinners while another was via run out. In the 13 ODI innings in 2018, Kohli was dismissed on nine occasions out of which spinners claimed his wicket five times. This is the highest percentage of dismissals vs spin for Kohli in an ODI calendar year since 2012.
Virat's dismissals summary in ODI cricket: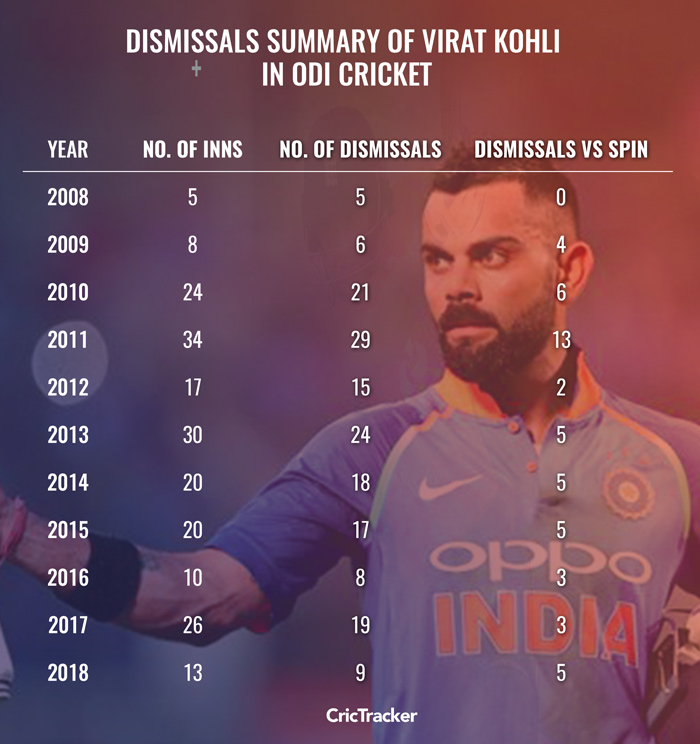 At the moment, these dismissals can be ignored as both his stumping dismissals in 2018 happened when India were comfortably romping towards a victory. Kohli had also got out to spinners quite often in the 2018 IPL but there is nothing to worry about in terms of his technique. If indeed the modern-day master takes note of his recent dismissals against spinners, the spin bowlers will be up for a huge challenge when they face him. Whenever there is a pattern or a question raised with regards to his batting, Kohli has bounced back even stronger to prove them all wrong.
(Stats as on October 31, 2018)
Follow us on Telegram