Steve Smith sports glasses after Old Trafford win apparently to mock Leeds hero Jack Leach
Twitter ridiculed Steve Smith for his act.
Updated - Sep 20, 2019 12:29 pm
90K Views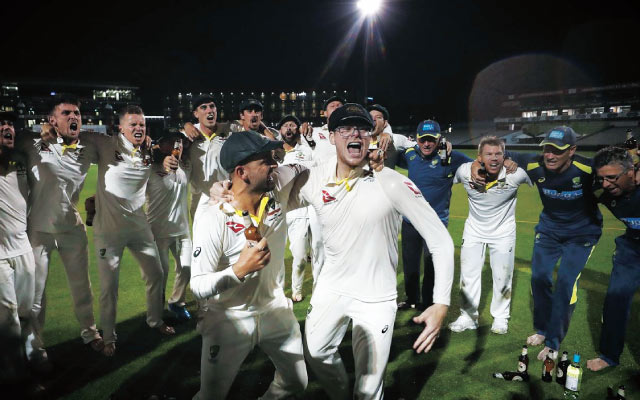 Former Australia captain Steve Smith found himself at the receiving end in the UK for a long time this summer. The talented batsman was taunted and booed whenever he went out to bat after returning from a year-long ban post Sandpapergate last year. He was booed before the World Cup and then when the showpiece event started. However, it was for the Ashes series following the World Cup that Smith had kept his best for.
Starting with hundreds in each innings of his comeback Test, Smith kept on dominating the series and despite missing the third Test at Headingley, he amassed 671 runs in three Tests. Smith scored 211 and 82 in the fourth Test to give Australia a crucial win that ensured that they retain the urn. The Baggy Greens won the fourth Test at Old Trafford by 185 runs on Sunday to take an unassailable 2-1 lead in the five-match series with one match to go. They had won the first Test at Edgbaston by 251 runs and Smith was the hero on that occasion as well.
On Sunday, after overpowering the English resistance, Australia were back to the ground after the presentation ceremony to celebrate and there, Test No.1 batsman in Tests did something unique. He put on a pair of glasses apparently to mock England's tail-ending batsman Jack Leach. The bespectacled cricketer became an overnight hero after holding on at one end to assist Ben Stokes in winning the third Test in Leeds.
Imitation is the sincerest form of flattery… pic.twitter.com/rDz1u9acW3

— Specsavers UK (@Specsavers) September 9, 2019
Leach tried his best to thwart the Aussies at Old Trafford as well
The duo added unbeaten 76 runs for the final wicket to give their side a sensational victory. England were so ecstatic with the win that on Stokes' request, official sponsors of the series Specsavers decided to give Leach free glasses for the rest of his life as a token of acknowledgment of his heroics. The southpaw did his best to deny Australia a win in Manchester as well by scoring 12 off 51 at No.10 but he wasn't successful.
That Smith's relationship with England saw little improvements during the series was visible when former England seamer Steve Harmison said despite his heroics, Smith will be remembered as a cheat.
Here's how Twitter reacted
So Steve Smith, this "good lad" who's served his time who we're all supposed to feel sorry for and not boo, celebrated tonight by putting glasses on and taking the piss out of Jack Leach! The man is nothing but a c*%t amongst a team of pricks! #CheatingBastards

— Jonathan Merrick (@SheffieldGunner) September 8, 2019
Jack Leach mimicked his 1* when England won a classic.

Steve Smith, a cheat, celebrated by openly mocking a fellow professional.

Some people are just classier than others. https://t.co/rFuy1JYfTH

— Tom Albrighton (@tmalbrghtn) September 8, 2019
Smith taking the piss out of leach hahaahhahahahahahah pic.twitter.com/isutm01EED

— NuggzAF (@NUGGZ26) September 9, 2019
Steve Smith is a massive cunt. I hope Jack Leach throws sandpaper at Smith at every given opportunity https://t.co/vybIjJ779Q

— Joe (@JblincoTHFC) September 8, 2019
They've been booing the shit out of him all series. Who really cares even if Steve Smith was imitating Jack Leach? Everyone's so precious. #ashes

— Jon Tuxworth (@Tuxy81) September 10, 2019
Biggest insult to Jake Leach 😂 😂 😂 😂 😂 😂 😂 😂 😂 😂 😂 😂 😂 😂 😂 😂 😂 😂 😂 😂 😂 😂 😂 😂 😂 😂 😂 😂 😂 😂 😂 😂 😂 😂 😂 😂 😂 😂 😂 😂 😂 😂 😂 😂 😂 😂 😂 😂 😂 😂 😂 😂 😂 😂 😂 😂 😂 pic.twitter.com/uJMCw1unw0

— Steven Smith fan (@thevipersden) September 9, 2019
How to ruin winning the ashes? By taking the piss out the other teams players! Smith wearing glasses and taking the piss out of leach sums him up! #ashes

— Hugh Calloway (@HughCalloway) September 9, 2019
🤣🤣 These Australians just can't help themselves. Smith is clearly mocking Jack Leach #Ashes pic.twitter.com/62TwyEeS1M

— Seduma Thobejane (@GSV18) September 9, 2019
England fans are rattled 🤣🤣
Steve Smith mocking Leach pic.twitter.com/k3Jq4vHkDh

— बादल (@dark_clouds4) September 9, 2019
Steve Smith just been taking the piss out of Jack Leach by putting on glasses and shadow batting left handed in the middle of the team huddle.

— David Coverdale (@dpcoverdale) September 8, 2019
*Steve Smith's little dig at Jack Leach*

Pic1: in front of teacher
Pic2: in the free period #Ashes pic.twitter.com/G5fV640uFS

— Monica (@monicas004) September 9, 2019