Some of Steve Smith's idiosyncratic traits
Smith is an unorthodox player with the way he bats as well as with his overall conduct.
Updated - Dec 17, 2017 3:14 pm
476 Views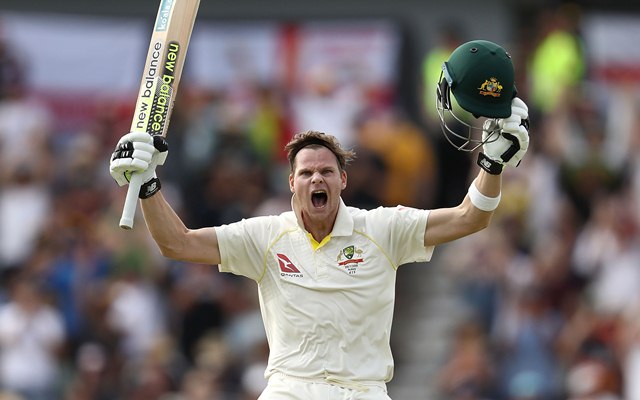 Australian captain Steve Smith is an unorthodox cricketer. He walked into the team as a leg-spinner and is now the No.1 ranked Test batsman in the world. The way he bats is tough to understand and may be questioned on the technical front but is exceptionally effective and works best for him.
He has peculiar traits while batting and his idiosyncrasies are much talked about. But that's not all, he also has unique eating preferences, some superstitious beliefs and doesn't like to eat while he is batting. Smith played a marathon knock batting right through the fourth day and pulled out yet another tremendous knock to get to the second double hundred of his Test career.
During the innings when he walked back to the dressing room for the tea break, he had to eat something high on glucose to maintain the energy levels for the last part of the day. He didn't want to but the team's physical performance coach Aaron Kellett almost forced a banana down his throat in Smith's words.
"I was actually really tired at tea yesterday and was struggling a little bit," Smith told ABC radio. "[I] went in and had to have some sugar and a banana and something to eat. I don't like to eat too much when I bat," he added.
"[He] basically forced it down my throat and said 'You need something to eat'," the skipper stated.
He scored a magnificent knock worth 239 runs which is now the highest score of his Test career, that has also placed the Aussies in a position to dominate England and reclaim the urn at the WACA.
The duck
It was also reported that Smith on a particular occasion denied eating duck during dinner on the eve of a match fearing it would attract a bad omen. Former Indian cricketer Sachin Tendulkar loved eating ducks but his brother wouldn't allow him to eat one before a game since he didn't want him to score a duck.
For Smith, the duck trend changed when he ate it ahead of the Lord's Test in 2015 and that rather helped him get to his maiden Test double ton.
Cannot stand the sight of shoelaces
In another strange habit, the Australian cannot stand the sight of his shoelaces while batting and during the drinks break in the final session of the day, the team's support staff pulled out a chair with them and Smith used that to tape his shoelaces to his socks.
"I have always had an issue with looking at my shoelaces when I'm batting," Smith had said on a Cricket Australia video. "So I ended up getting a physio to tape my shoelaces to my socks," he stated.
"I just like just seeing my shoes and everything to look sort of clean … just no shoelaces," Smith said.
Loves the gloves
A lot of international cricketers in the current era do not continue to play longer with the same pair of gloves and Smith in particular likes to change it every half an hour while batting. Reports in the stuff.co.nz suggest that he carries as many as 15 pairs with his kit.
He also has them numbered to ensure he wears only the ones manufactured in a set.