Struck on the head, Phillip Hughes fights with Death
It was a normal Sheffield Shield game-day with a match between New South Wales and South Australia at Sydney. South Australia won the toss and decided to bat first.Hughes had made 63, playing well against his former state and in contention for the spot to be vacated by the injured captain Michael Clarke in the team for the first Test in Brisbane next week.
But in trying to push along his score, Hughes attempted a hook at the fast medium of Sean Abbott about 2.23pm, and was hit in the side of his helmeted head, a blow that drew blood.For a few moments he stood, bent over head down and reeling from the impact before collapsing, face first, onto the pitch – a second hefty blow to the head in itself. Distressed players gesticulated for assistance and team medical staff was quickly out onto the field, where Hughes was tended to before a motorized stretcher carried him, still motionless, from the ground.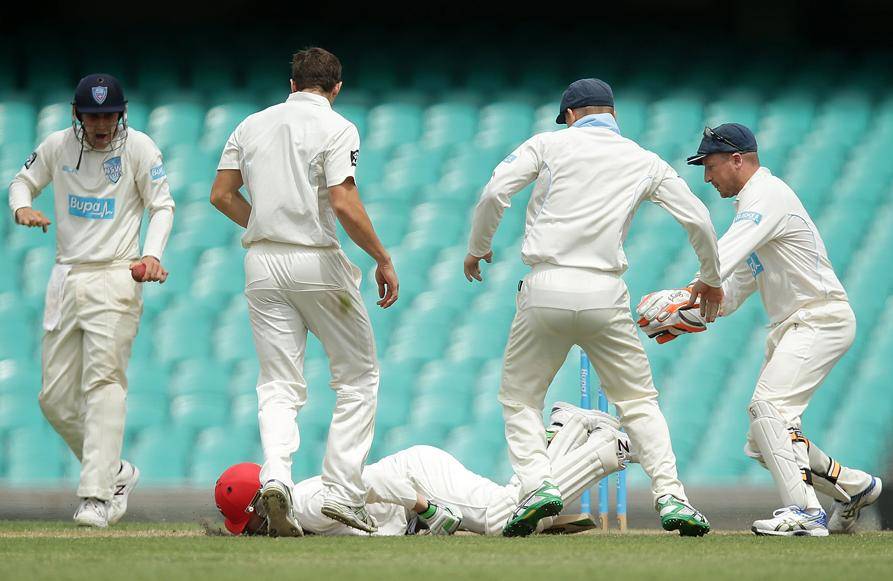 Follow us on Telegram
Play resumed after Hughes was sent off to the hospital.
At approximately 4.15pm hospital spokesman David Faktor had addressed the media and said Hughes was in surgery having arrived at the hospital on life support.
"He arrived in a critical condition and remains in a critical condition. He is undergoing surgery as we speak," Faktor said. "When he arrived he underwent a set of scans to establish the extent of his injuries and then a decision was made to perform surgery … All I could confirm is that he did sustain a head injury and that he is in a critical condition at the moment.
"I understand he was ventilated at the scene and arrived at St Vincent's already ventilated and on life support and he underwent scans and then he went to surgery."
Tim Nielsen, South Australia's high performance manager, was at the hospital and said the outcome of the surgery was not likely to be known for some time."As you're aware Phil Hughes was injured today and he's undergoing surgery," Nielsen said. "The outcome of that surgery is unlikely to be known for 24-48 hours, we ask you to respect the privacy of his family and friends."
The Cricket Australia CEO James Sutherland said: "We were all in shock and … pleasingly there was medical attention he was able to receive immediately at the ground and then to be transported to hospital and now we hope that whatever the procedure is that he's going through, he comes through in the right way and gets the best possible care and recovery.
"It's difficult for [the players] being there and they're all very close to Phil. He's a really popular guy, not just here but around the world … Everyone knows and understands the way he plays his cricket. He's fiercely determined, extremely proud of his achievements and I guess he's a quiet achiever, but has the respect of all of his team-mates."
The hospital confirmed that Hughes was out of surgery and remained in a critical condition in the intensive care unit.
Warning: Some viewers might find the video inappropriate, please watch with your own consent.

CricTracker understands Hughes was in an induced coma after surgery to relieve pressure on his brain.
Follow us on Google News