Syed Mohammad Interview: 'Lance Klusener is very calm and cool'
Updated - Sep 10, 2016 2:11 pm
128 Views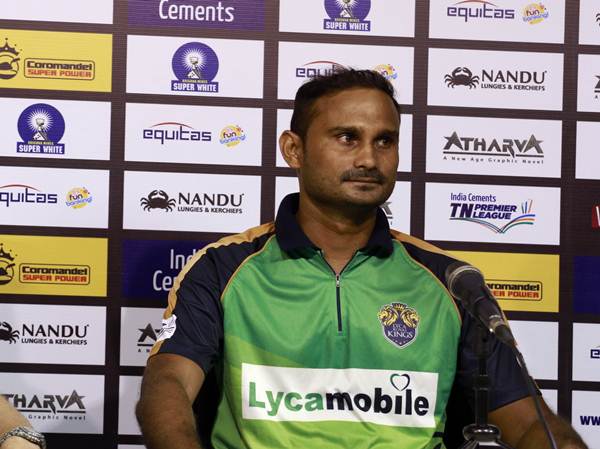 Jamaluddin Syed Mohammad is one of those talented players in Indian domestic circuit who played for the rebel cricket league, ICL and returned and gained a contract from the IPL sides. Syed, who made his debut for his home side Tamil Nadu in 2006 played for Chennai Superstars in ICL. After its termination, in 2011, he was picked up IPL team Royal Challengers Bangalore.
The next year, he was seen to be moving to play for Assam in the domestic circuit which is now among of the top teams in Ranji Trophy. The left-handed all-rounder has played a crucial role for them and is now in Chennai for the TNPL, leading the Lyca Kovai Kings. Syed in his exclusive interview with CricTracker talks about his experiences with his TNPL side, Assam cricket and more.
Excerpts from the interview:
Individually, you haven't had a major part to play so far. You have allowed the youngsters to take up the main roles. What will be the plan in the upcoming games?
My role is to see the innings through and build a partnership in the middle and that's what my thing is. And bowling, yes, definitely I want to do much better. As long as the team is winning if I able to contribute, I am happy with it.
How much of a help has Lance Klusener's presence been for you and the team?
Klusener has been really good, you know even after the close game, he was very calm and cool and all he wanted us to make sure that we get into the top 4. That is the main thing. It doesn't matter how many games you win or lose. From there it will be knockout games.
One could see that in the matches Murali Vijay took the field, he was leading the side. Was he the captain?
It is not that Vijay was leading in the two games. You know, I took his ideas and was implementing them.
Do you think playing in front of a huge home crowd in the TNPL is something you have been missing for the past 3-4 years?
It's really nice. I am playing TNCA league for past 15 years so I don't think I have been missing something. But it is good to see the guys getting the exposure. Playing in front of the crowds and even the matches are been telecasted. So there are a lot of expectations which is good as far as the players are concerned. That will help the players to play under pressure in Ranji trophy games and List A games so that they can handle the pressure much better.
Talking about Assam, this time, there will be a lot of expectations on your team in the Ranji trophy. How are you going to deal with it?
Expectations will always be there. Especially the last couple of years, we played quarters before last year and semis last time. So the expectations are there. Even the local people in Assam, whenever we play there for a couple of days, they say we should win the Ranji trophy. So it's a very good thing you know for the youngsters coming in they always think about winning the game and winning the tournament.
Last year, Assam qualified for the semi-final in Ranji trophy but lost quite a lot of close games in limited overs formats. Can we expect a similar show in other formats as well this time around?
Yes, against Rajasthan we lost in the last over and against Punjab we lost by 2-3 runs. So overall, Assam cricket has been doing well. We have to qualify for the knockouts on a consistent basis in limited overs. As far as the 4-day is concerned, there is still a long way to go.