Syed Mushtaq Ali Trophy 2017: Day 6 Round Up
Updated - Feb 3, 2017 8:26 pm
78 Views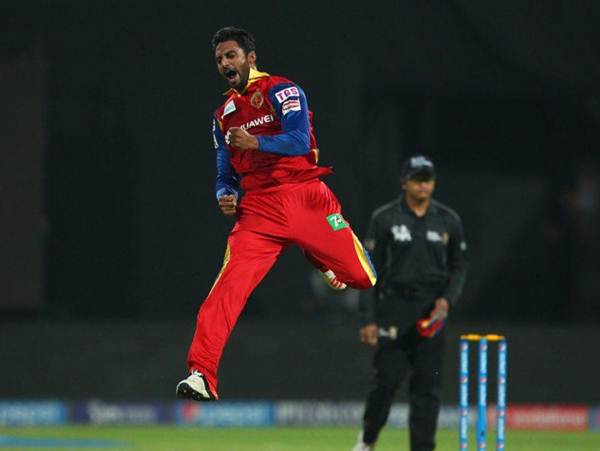 At the end of the 6th day of the Syed Mushtaq Ali Trophy we have already got two zonal champions Karnataka and Mumbai. Courtesy a brilliant spell of bowling by Srinath Arvind, Karnataka steamrolled Goa by 6 wickets to become the South Zone Champions, while Mumbai has remained unbeaten in the tournament so far and even if the other four teams win all their remaining matches, Mumbai will finish as the Champions of West Zone. From Central Zone, Madhya Pradesh looks pretty solid with 3 wins from 3 outings and from West Zone, Bengal leads the chart with 3 wins form 3 matches.
Tamil Nadu defeated Kerala quite comprehensively in the opening match of the day by 5 wickets, while Chhattisgarh edged past Railways by 6 runs in a low-scoring encounter. While Tamil Nadu's Baba Aparajith chipped in with a well composed half-century, Shubham Agarwal of Chhattisgarh bowled an exceptional spell and finished with extraordinary figures of 3/6 in his allotted 4 overs to lead his side to a thrilling victory.
In the 3rd encounter of the day, Bengal defeated Odisha by 24 runs to remain unbeaten in the tournament, while Andhra Pradesh defeated Hyderabad in a close encounter by 11 runs. Bengal's batting performance wasn't great but their bowlers made it up with some terrific spell of bowling. Sayan Ghosh was the wrecker in chief for Bengal finishing with impressive figures of 3/25 in 3.4 overs.
Dasari Swaroop Kumar was the star performer for Andhra Pradesh as the leggie finished with career-best figures of 5/19 in his allotted 4 overs. Girnath Reddy also chipped in with 3/19 in his 4 overs. In the final two matches of the day, Madhya Pradesh defeated Uttar Pradesh by 26 runs while Assam thrashed Tripura by 7 wickets.
Sohraab Dhaliwal was the star performer for Madhya Pradesh who scored a quickfire 51 of 25 deliveries to push their 1st innings score to beyond 160. Later it was the bowlers who combined well to finish off the job for Madhya Pradesh. In the final match of the day, medium-pacer Pritam Das wrecked havock and finished with outstanding figures of 5/9 in 3.5 overs to help Assam to a comprehensive victory against Tripura
Brief Scores
Kerala vs Tamil Nadu
Kerala 128/6 in 20 overs (Sachin Baby 53*, Aswin Crist 3/19)
Tamil Nadu 129/5 in 18.4 overs (Baba Aparajith 51*, Sandeep Warrier 2/18)
Tamil Nadu won by 5 wickets (with 8 balls remaining)
Chhattisgarh vs Railways
Chhattisgarh 126/7 in 20 overs (Shubham Agarwal 36, Amit Mishra 3/16)
Railways 120/8 in 20 overs (Saurabh Wakaskar 29, Shubham Agarwal 3/6)
Chhattisgarh won by 6 runs
Bengal vs Odisha
Bengal 145/7 in 20 overs (Writtick Chatterjee 37, Deepak Behera 2/16)
Odisha 121 in 18.4 overs (Subhranshu Senapati 41, Sayan Ghosh 3/25)
Bengal won by 24 runs
Goa vs Karnataka
Goa 120/7 in 20 overs (Swapnil Asnodkar 34, Srinath Arvind 4/29)
Karnataka 121/4 in 11.4 overs (Vinay Kumar 34, Amulaya Pandrekar 2/30)
Karnataka won by 6 wickets (with 50 balls remaining)
Andhra Pradesh vs Hyderabad
Andhra 140 all-out in 19.2 overs (Hanumant Vihari 49, Mohammed Siraj 4/24)
Hyderabad 129 in 20 overs (Tanmay Agarwal 49, Swaroop Kumar 5/19)
Andhra won by 11 runs
Madhya Pradesh vs Uttar Pradesh
Madhya Pradesh 161/9 in 20 overs (Sohraab Dhaliwal 51, Ankit Rajpoot 4/29)
Uttar Pradesh 135 all-out in 19.1 overs (Eklavya Dwivedi 33, Ishwar Pandey 2/24)
Madhya Pradesh won by 26 runs
Tripura vs Assam
Tripura 85 all-out in 16.5 overs (Smit Patel 20, Pritam Das 5/9)
Assam 86/3 in 12.1 overs (Sibsankar Roy 35, Manisankar Murasingh 2/39)
Assam won by 7 wickets (with 47 balls remaining)