Syed Mushtaq Ali Trophy 2019-20: Round 2 – Review
Baroda stunned the Vijay Hazare champions Karnataka in a high-scoring fixture.
Updated - Nov 9, 2019 8:13 pm
1.2K Views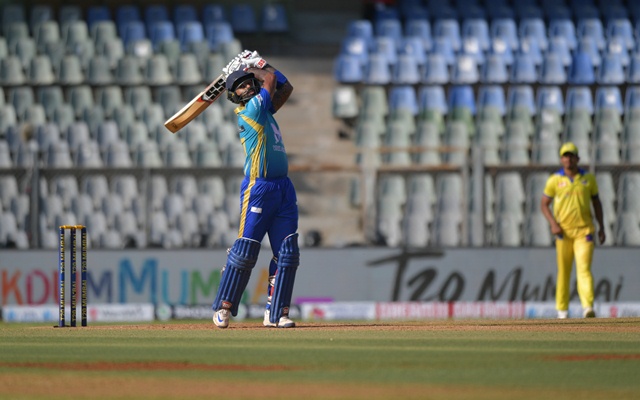 Saturday saw some cracking contests in the Syed Mushtaq Ali trophy and there was some quality batting exhibition as well. While Railways edged Hyderabad in the dying minutes, Suryakumar Yadav once again delivered a massive performance, making himself available for the national selectors.
Haryana batted first in their clash against Mumbai and courtesy a couple of decent contributions from Harshal Patel and Rahul Tewatia, they scored 153 in their innings. Mumbai chased the total down with utter brutality courtesy Suryakumar Yadav scoring a 38-ball 81. They got to the total in 15.4 overs.
Hyderabad and Railways played in what was the match of the day. Hyderabad scored 183 runs batting first with half-centuries coming from B Sandeep and Ambati Rayudu. Railways didn't seem to be in the game for a long time, but a 12-ball 35 towards the end from T Pradeep helped them snatch a 4-wicket win off the last ball.
Baroda stunned the VHT champions Karnataka in a high-scoring encounter. Kedar Devdhar and Swapnil Singh chipped in with crucial contributions, which helped Baroda post 196 runs in their 20 overs. Karnataka could only manage 182 runs despite a fantastic effort from Rohan Kadam and skipper Karun Nair. Lukman Meriwala was the star of the show for Baroda, coming up with figures of 5/20.
Here are the brief scores from the other games that happened today.
Brief Scores
Group A
Baroda vs Karnataka
Baroda: 196/4 in 20 overs (Kedar Devdhar 52, Swapnil Singh 36; Krishnappa Gautham 2/22)
Karnataka: 182/9 in 20 overs (Rohan Kadam 57, Karun Nair 47; Lukman Meriwala 5/20)
Baroda won by 14 runs
Goa vs Bihar
Goa: 202/4 in 20 overs (Snehal Kauthankar 55, Aditya Kaushik 53; Vipul Krishna 2/47)
Bihar: 173/8 in 20 overs (Rajesh Singh 64; Heramb Parab 3/21)
Goa won by 29 runs
Uttarakhand vs Services
Uttarakhand: 134/8 in 20 overs (Tanmay Srivastava 67; Varun Choudhary 2/20)
Services: 137/4 in 18.5 overs (Ravi Chauhan 67, Rajat Paliwal 31*)
Services won by 6 wickets
Group B
Uttar Pradesh vs Vidarbha
UP: 60 all out in 14.4 overs (Darshan Nalkande 5/18)
Vidarbha: 62/1 in 7.5 overs (Akshay Kolhar 29*)
Vidarbha won by 9 wickets
Manipur vs Tripura
Manipur: 93/8 in 20 overs (Al Bashid Muhammad 24)
Tripura: 97/5 in 15.1 overs (Udiyan Bose 29; Rex Singh 3/26)
Tripura won by 5 wickets
Tamil Nadu vs Rajasthan
Tamil Nadu: 155/5 in 20 overs (Dinesh Karthik 48; Akash Singh 2/25)
Rajasthan: 116/8 in 20 overs (Mahipal Lomror 32)
Tamil Nadu won by 39 runs
Group C
Hyderabad vs Railways
Hyderabad: 183/4 in 20 overs (Ambati Rayudu 77, Bavanaka Sandeep 74)
Railways: 184/6 in 20 overs (Mohammed Ahmed 40, T Pradeep 35*; Mohammed Siraj 2/23)
Railways won by 4 wickets
Maharashtra vs Chandigarh
Maharashtra: 162/8 in 20 overs (Nikhil Naik 50*; Shresth Nirmohi 2/18)
Chandigarh: 163/3 in 17.5 overs (Manan Vohra 75*, Bipul Sharma 36*)
Chandigarh won by 7 wickets
Arunachal Pradesh vs Punjab
Arunachal Pradesh: 44/7 in 8 overs (Baltej Singh 3/11)
Punjab: 50/0 in 4 overs (Shubman Gill 24*, Simran Singh 23*)
Punjab won by 10 wickets
Chhattisgarh vs Himachal Pradesh
Himachal Pradesh: 123/8 in 20 overs (Nitin Sharma 35*; Puneet Datey 3/23, Ajay Mandal 3/18)
Chhattisgarh: 124/2 in 18.1 overs (Ashutosh Singh 61*; Ayush Jamwal 2/11)
Chhattisgarh won by 8 wickets
Group D
Assam vs Madhya Pradesh
Assam: 101/8 in 20 overs (Pallavkumar Das 33; Saransh Jain 3/13, Ankit Sharma 2/10)
Madhya Pradesh: 102/5 in 16.3 overs (Parth Sahani 27; Abhilash Gogoi 3/24)
Madhya Pradesh won by 5 wickets
Pondicherry vs Meghalaya
Pondicherry: 126/6 in 20 overs (Arun Karthik 73; Amianghsu Sen 3/20)
Meghalaya: 107/6 in 20 overs (Ravi Teja 51; Vinay Kumar 2/20)
Meghalaya won by 4 wickets
Haryana vs Mumbai
Haryana: 153/5 in 20 overs (Harshal Patel 33, Rahul Tewatia 29*)
Mumbai: 154/2 in 15.4 overs (Suryakumar 81*, Aditya Tare 39)
Mumbai won by 8 wickets
Bengal vs Mizoram
Mizoram: 79/4 in 20 overs (KB Pawan 35*)
Bengal: 82/1 in 10 overs (Vivek Singh 52)
Bengal won by 9 wickets
Group E
Gujarat vs Jammu & Kashmir
(Match abandoned without a ball being bowled)
Nagaland vs Sikkim
Sikkim: 122/5 in 20 overs (Yashpal Singh 41)
Nagaland: 124/3 in 17.3 overs (Stuart Binny 42*)
Nagaland won by 7 wickets
Delhi vs Odisha
(Match abandoned without a ball being bowled)
Jharkhand vs Saurashtra
Saurashtra: 169/3 in 20 overs (Kishan Parmar 54, Sheldon Jackson 41*)
Jharkhand: 170/4 in 19.4 overs (Virat Singh 67*; Chirag Jani 2/17)
Jharkhand won by 6 wickets