T10 League 2018: Zaheer Khan to sport jersey No. 34
Zaheer will play for the Bengal Tigers as their star player.
Updated - May 13, 2019 1:41 pm
375 Views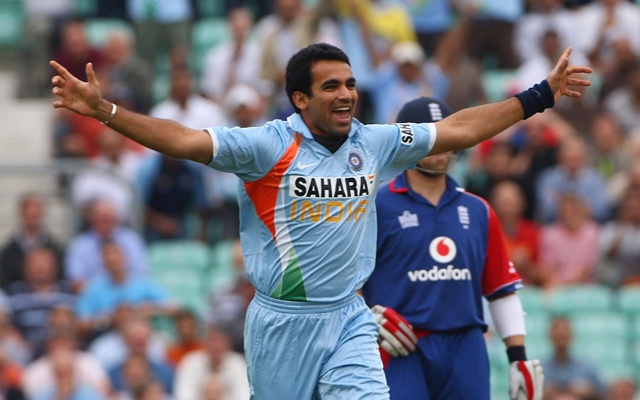 The most successful left-arm pacer for India, Zaheer Khan, will sweat it out once again on the cricket field. The 40-year-old has been picked by the Bengal Tigers as their star player for the second edition of the T10 League that is scheduled to start on November 21 at the Sharjah Cricket Stadium in the United Arab Emirates. Eight teams will play the second edition of this tournament that will go on till December 2.
The mentor of Bengal Tigers, Anis Sajan, presented Khan with his jersey at a promotional event of the tournament in New Delhi on Friday. Sajan seemed really excited to have someone like Zaheer among his troops to lead the way and also revealed that the former Indian pacer had asked for his jersey number to be 34.
Reason for picking No.34
"Zaheer preferred No. 34 and so we presented it to him. He is keen to entertain the fans wearing that jersey," Anis was quoted as saying by Gulf News.
The veteran pacer, in a message, himself revealed the real reason for opting to wear No. 34 on his jersey. "My date of birth is October 7. I did not prefer for No. 7 as it is the jersey number of (Mahendra Singh) Dhoni. So for me, 34 is three plus four and it is seven and I opted for it," Zak said.
The experienced campaigner, who has more than 600 international wickets to his name, also let his fans know that he is working hard on his fitness to give his best on the ground. "I am already working with physiotherapist John Gloster. I am working with him daily on my fitness to give my best during the T10," said Zaheer while mentioning John Gloster, who is the Bengal Tigers' physiotherapist and has also worked with Team India in the past.
Anis Sajan, who had a long chat with Zaheer in the Indian capital, expressed his happiness to have the 40-year-old on board. He said, "Zaheer will be more than a star player for us. He will provide invaluable tips to the young bowlers in the team like Amir Yamin, Rayad Emrit and Ali Khan. Zaheer said he is looking forward to play alongside them but also groom them.
"Zaheer will arrive on November 17 while our coach Stephen Fleming will arrive a day before. It will help all of us to work on strategies for the match."
According to Sajan, Zak's role will be to show the inexperienced bowlers new tricks to keep the batsmen from scoring, as in the T10 format, every ball is a virtual free-hit. "As batsmen will be aiming to score runs off every ball, every bowler will have to bring out new tricks to produce dot balls and take wickets," he stated.
~ Written by Nahmat Maeraj