T20 World Cup 2021 Team Preview – India
Will India be able to end their World Cup drought finally?
Updated - Oct 19, 2021 11:29 am
1.4K Views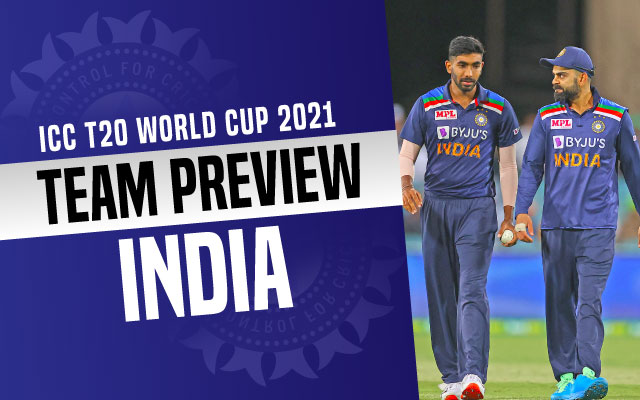 In 2007, India became the first team to win a World Championship in the T20 format, which started a new revolution in the cricket space and the game has never been the same since. However, it has been 14 years since but India is yet to win their second T20 World Cup title. Under the leadership of Virat Kohli and the mentorship of MS Dhoni, Team India would be eyeing a title this time around. As the original hosts of the 2021 edition, they were the favorites to win the tournament and they have the right attributes to make that happen.
Build-up form
If one looks at the recent form of the Indian team in T20Is, then they might come across a series loss against Sri Lanka. However, only one or two players from that team are expected to play in the T20 World Cup. Before that, the full-fledged Indian team had beaten England in a T20I series at home, and considering the strength of the English side, that should mark as a feather in the cap of Virat Kohli and his men. 
All the Indian players would've been in the UAE for over a month when they play their opening match against Pakistan on October 24. Now, that is a good thing, but one may feel that a series or two against a quality team with the same squad which has been announced for the World Cup would've been a great practice. Despite this, most of the players have some performances under their belt, which makes for a happy and good mindset ahead of a mega-event. 
Strength and Weakness
Speaking of the strengths of this squad of players, it is a great advantage that India is blessed with some extremely talented T20 players. Their top-order houses Rohit Sharma, KL Rahul, and Virat Kohli, who would walk into any T20 team in the world right now. They have the most versatile spin attack for the conditions in the UAE and they also have a genuinely experienced pace attack, with Mohammed Shami, Jasprit Bumrah, and Bhuvneshwar Kumar. 
When it comes to weakness, it is undoubtedly, the middle order. The talent has never been less, this time as well, we will see some talented batters like Suryakumar Yadav, Hardik Pandya, Rishabh Pant, and Ravindra Jadeja. Even though Ishan Kishan has been picked as a backup opener, he can easily be slotted in the middle order. However, these sets of batters have not played a lot of games together in an Indian shirt. 
On top of that, regular chopping and changing in the middle order has meant none of these players have played too many games under their belt for a specific role, heading into the World Cup. In some of the ICC events in the past, the top-order has not necessarily performed in the crucial games, which then puts pressure on the middle order, which has already not had too many games under their belt in their position.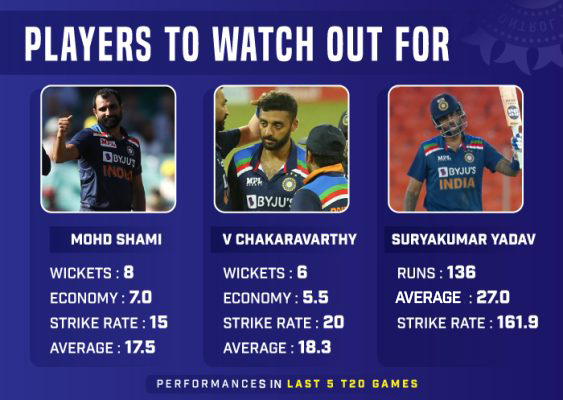 Adaptability and flexibility
Adaptability and flexibility are some of the key attributes which decide whether a team has the capability to go long into a tournament and win it. India can look at their team sheet and say that they have this covered. Firstly, their batting order has players who can really bat at any position. For the openers' slot, they have KL Rahul and Rohit Sharma, but Virat Kohli and Ishan Kishan are quite good alternatives as well. 
The selectors took a good call in choosing Ishan Kishan, as he is someone who can bat at multiple positions, and ideally, a team likes their backup batting option to have that versatility. The middle order is a flexible unit of batters as well, with players capable of playing different roles depending on the situation of the match. That is the other side of the argument of not settling on a fixed batting order. 
Now, if you think about other factors, India has covered almost all bases and they have a horse for every course. Fast-bowling all-rounder? Check, Hardik Pandya. Spin-bowling all-rounder? Check, Ravindra Jadeja. Can both be finishers? Yes. Right-arm off-spinner for the left-handers?
Check; they brought back Ravichandran Ashwin for that. Left-arm orthodox? Check, Jadeja and Axar Patel. Mystery spinner and a leg-spinner? Check. Varun Chakravarthy and Rahul Chahar. Someone who can swing the ball? Check. Shami, Bumrah, Bhuvneshwar. Can they bowl at the death? Certainly. Can they adapt on a slow wicket? Certainly. 
Probable finish 
On paper, India is one of the three favorites for this tournament, apart from England and West Indies. Considering that, they should top their group in the Super 12 round. But, knockout stages have always been tricky for the Indian team. With this squad, they should be making it to the final, at the very least. 
Schedule
24 October – vs Pakistan, Dubai
31 October – vs New Zealand, Dubai
03 November – vs Afghanistan, Abu Dhabi
05 November – vs Qualifier (1st in Qualifiers' Group B), Dubai
08 November – vs Qualifier (2nd in Qualifiers' Group A), Dubai
Follow us on Telegram