Tendulkar, Warne T20 league gets approval from the ICC
Updated - Sep 15, 2015 7:02 am
30 Views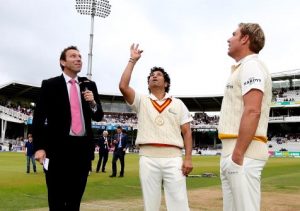 Tendulkar, Warne T20 league gets approval from the ICC: The International Cricket Council (ICC) has given its clearance to the three-match T20 series promoted by Sachin Tendulkar and Shane Warne in the United States. The ICC nod came after talks with the two legends. It is learnt that, it needed Tendulkar's persuasive skills to get the clearance from the world body.
"It is a one-off event in November and the ICC doesn't have a problem with that. It has spelt out a few conditions to Tendulkar and Warne and they have agreed to abide by them," a source was reported saying.
The ICC which recently derecognized the USA Cricket Association, put in a new body to run cricket affairs in the country. A portion of the earnings from these games will go to the game's apex body which in turn will be used for the promotion of cricket in the country.
Cricket legends like Adam Gilchrist, Sourav Ganguly, Brian Lara, VVS Laxman and Wasim Akram are set to showcase their skills in the upcoming event in November, which has been initiated by Tendulkar and Warne. The ICC has however laid down some conditions before the duo for the tournament to go ahead. Despite the green signal, it doesn't mean that the ICC will provide infrastructural support. The promoters will have to organize it and bear the cost.
The organisers have decided to opt for some prominent baseball grounds – Wrigley Field in Chicago, the Yankee Stadium in New York and the Dodger Stadium in Los Angeles as the venues. These stadiums have a seating capacity of more than 50,000 each. When asked about the relevance of ICC's clearance, a well placed source said this would allow Tendulkar and Warne to convince the big boys of yesteryear's to play the series.
"There are many of them associated with the ICC in different capacities. Unless the world body gave its clearance, these stars wouldn't have been able to play in the series. But that's settled and they can have the players of their choice," the source said.