The Ashes 2015 – Overall Series Review
Updated - Aug 25, 2015 9:46 am
26 Views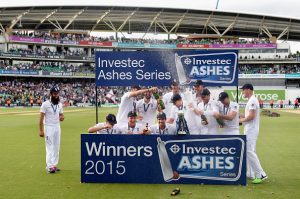 Follow us on Google News
The Ashes 2015 – Overall Series Review: Four days at Cardiff, four at Lord's, three at Edgbaston, three at Trent Bridge and four at the Oval. So that's a total of 18 days – out of a possible 25 – that one has seen action in this Ashes series. Not a single Test in the series went into the fifth day. Can you believe that! Well you have to because that is what the story of the Ashes has been this time. England eventually won 3-2, but also gave ample proof that there is still lot of work to be done. In a way it was redemption for Cook after leading his side to a morale-shattering 0-5 whitewash Down Under in 2013-14. He should be a proud man. A legend in the form of Michael Clarke waved goodbye. As did Chris Rogers and one may never see Haddin and Watson play Tests again.
The mind goes back to Haddin's drop of Joe Root on the first day at Cardiff when England were 43/3. Was that a series turning moment? One could argue about that endlessly. Had Haddin caught that, who knows what might have happened. Lots of ifs and buts. Australia though, came back strongly at Lords and but surrendered in the next two Tests and secured a consolation win in the last one.
It was a strange series. There were no close contests. When one side gained the momentum, they ran away with it. It was perhaps a clash between two flawed teams but there were still plenty of moments that gave everyone the chills and thrills during the five Tests. In the end England were better and that's what mattered as they regained the Urn.
Australia's series summary: Before the 2015 Ashes, most cricket pundits reckoned that Australia would come out on top. However, in the end, it was their arch-rivals, England, who regained the Ashes. Australian cricketers performed well in patches, but at crucial junctures of the series, they weren't able to handle the pressure well. Their inability to counter the moving ball also played a major role in their defeat. However, they still had their share of great moments. Australia posted crushing wins at both Lord's and The Oval but lost the Tests at Cardiff, Edgbaston and Trent Bridge. This series also saw their inspirational leader, Michael Clarke, retiring from international cricket. Steve Smith showed immense promise and seems ready to take the skipper's role. Mitchell Starc was potent in some spells while erratic in others. Nathan Lyon showed that he doesn't always need the pitch's assistance to perform well. Mitchell Marsh looks a fine bowler but needs to work on his batting.
England's series summary: The young English side surprised one-and-all by winning the Ashes comprehensively. Their wins at Cardiff, Edgbaston and Trent Bridge were mainly set up by excellent bowling performances. Joe Root was ultra-consistent during the series and played some fabulous knocks. Moeen Ali rose to the occasion when England needed someone to chip in with wickets or add crucial runs lower down the order. And how can we forget Stuart Broad. Going into the Test at Trent Bridge, there were concerns regarding, who will lead England's attack as Anderson was out of the game with a side-strain. However, Broad's matchless brilliance with the ball, completely dismantled Australia's batting line-up and they were cleaned up for just 60 runs. Broad returned believe-it-or-not figures of 8 for 15. Ben Stokes gave glimpses of his immense potential. Alastair Cook, on his part, led the side well. However, the hosts would be concerned with the fact that when Australia put them under pressure at Lord's and The Oval, they collapsed in a heap.
The Game Changers for England: Joe Root was head and shoulders above other English batsmen and ended up with 460 runs to his name, which included two tons and two fifties. Stuart Broad was simply an irresistible force at Trent Bridge, as he blew away Australia. With 21 wickets, he turned out to be the best bowler in the series. James Anderson, Ben Stokes, Mark Wood, Moeen and Steven Finn all made an impact at different stages of the series. Their slip catching, which has been criticised for the last 2 years, was largely on the money.
Biggest disappointment: The lack of competitive intensity. Each match was too one-sided for this series to truly be a classic. Batsmen too often crumbled, and bowlers too frequently lost control. With the exception of the first Test at Cardiff, you pretty much knew which way each game was heading by the time the second innings was over.
Biggest reason England regaining the Ashes : Home conditions – This England attack was not a classic one, but watching the tourists flounder on the grassy tracks was like watching someone who has grown up on clay courts having to face Roger Federer at Wimbledon. The Australians haven't won in England since 2001, and struggle to play well when the ball is moving in the air and off the pitch. The England seamers, backed by some wonderful catching, bowled superbly, finding the right length and line, while their counterparts tended to bowl either too full or short.
Best Moment of Ashes 2015: That catch from Ben Stokes at Trent Bridge to remove Adam Voges. Diving to his right, with the ball almost behind him, Stokes plucked the ball literally out of the air. That was something really special.
If there is one thing I could have changed about the Ashes: I would've loved if the scoreline had been 2-2 going into the Oval Test. That would have been ideal.
The Verdict: The fortunes of both England and Australia swung back and forth quite a few times in the Ashes 2015. The hosts, on the back of some awe-inspiring feats, emerged victorious by winning the series 3-2 and regained the Ashes-urn. However, Australia, too, had their moments as they registered a couple of thumping wins. The Australian camp would be pleased with the fact that they ended the series with a win. It also meant that Michael Clarke and Chris Rogers could end their international careers with a victory.
Follow us on Telegram