The curious case of Manoj Tiwary and Karun Nair
Both of them are unlucky to not get many games for Team India.
Updated - Jul 20, 2020 10:58 am
479 Views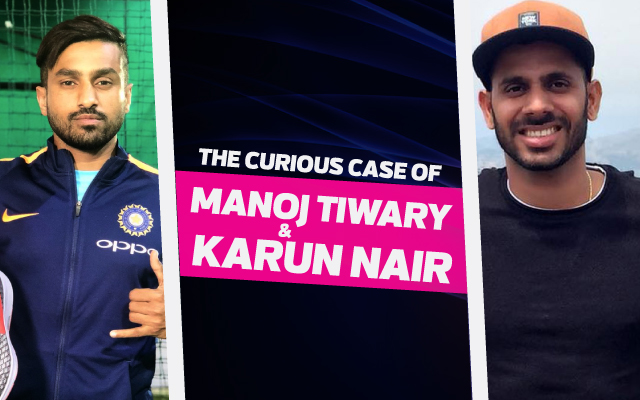 296 players have played for India in whites and only two have scored triple centuries. First was Virender Sehwag and the second was Mr. Unlucky Karun Nair. Imagine scoring a triple hundred in your second Test match and getting dropped in the next series. That's the curious case of Karun Nair.
People do not talk about Manoj Tiwary either, the word 'unlucky' describes his career the best. He had the best batting average in Ranji season 2006-07 of 99.50. But injured his shoulder on the eve of the game when he was about to make his debut in 2007, Scored 3 hundreds in 2007-08 season of Ranji Trophy. Jetlag had the last laugh when he met Brett Lee in 2008 and was dismissed for just two runs. He had to wait for more than 3 years, 2 T20 world cups, and 1 One-Day World Cup to play his next international game.
Few things always made it tough for Manoj Tiwary to stand up
– He was the first batsman from Bengal to come after Saurav Ganguly. He was too young and fragile to be compared to one of the best captain and batsman India ever had.
– Rohit Sharma was talented and highly rated since the beginning of his days even when he was struggling for every single run. He was Dhoni's favorite youngster and with limited opportunities in the middle order, it made Manoj's life more difficult.
– Virat Kohli was constantly batting at no. 3 at RCB, Rohit as well in DC or MI. With big names in his batting line up, Manoj never got enough chances to bat at no 3-4 in IPL. He made his name for KKR while batting at no. 6 which was apparently not enough to seal his spot in Indian batting line up.
But the best or the worst came when he came back to the team in 2011. Just after 6 months of that, he scored match-winning hundred when India lost two early wickets in the first over itself. You expect to get a longer run at least after that Man of the Match performance, but he sat on the bench for consecutive 14 games after that. Though he got a few chances here and there but never got the long rope and he was eventually dropped.
Karun Nair – The one-match wonder
On the other hand, you can either call Karun Nair a one-match wonder or wasted potential depending on which side of the table you are. Karun Nair, a great performer in Ranji Trophy, was picked for India in 2016 for the Zimbabwe tour and made his ODI debut there. However, he announced his arrival in style when he wore the whites for the first time. In his first Test series, he became just the second batsman after Sehwag to score a triple century for India.
He was in the fast lane of success after scoring the triple century but the stoppage came fast and sudden as India under Kohli played with only 5 batsmen while at home and his direct competition was with the vice-captain Ajinkya Rahane. A series of low scores against the mighty Australians didn't help either. He was dropped from the eleven and later from the squad as well when white ball vice-captain Rohit Sharma was preferred over him.
What could have been his only way to comeback didn't go in his favour too. India dropped Hardik Pandya in the 5th Test match in England in 2018 in order to play an extra batsman. It was a shootout between Vihari and Nair but like they say its all about destiny, Vihari was preferred as he provided an extra bowling option and scored a fifty on his Test debut. Nair never came back to the team and what could have been a memorable career just turned out to be a 'One match wonder'.
~ Written by Hitesh Khatnani