The fifth bowler-No. 7 batter conundrum for India in ODIs and being 'bits and pieces'
Hardik Pandya has started bowling again and everyone wishes him a speedy recovery. But, how should Hardik 2.0 be used in ODIs properly?
Updated - Jul 20, 2021 1:36 pm
977 Views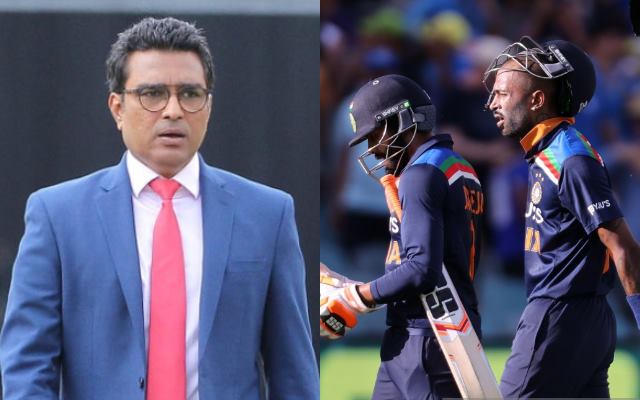 Follow us on Telegram
In the ninth over of the Sri Lanka-India first ODI in Colombo, Hardik Pandya was brought into the attack as a first-change bowler. As soon as he was done bowling a couple of deliveries, Sanjay Manjrekar said on air, "these are great signs for Indian cricket." Seconds later, Pandya's career bowling numbers were shown. A bowling average of 41.08, a strike rate of 44.20, and an economy of 5.57. 
Now, if you are an expert like Manjrekar, it won't take too much time to realize that these numbers are not that great. To put into perspective, Ravindra Jadeja, who has been playing the role of India's fifth bowler in the absence of Pandya, has an ODI bowling average of 37.36, a strike rate of 45.52, and an economy of 4.93. 
Even then, Manjrekar believes that Jadeja is a bits and pieces player in ODI cricket while his views on Hardik Pandya returning to bowling again is extremely different. Why, though? Why is Hardik Pandya's bowling such an essential aspect and why is there so much talk and hype to bring him back to bowling, despite his numbers suggesting that he is sort of an average seamer. Now that I have established a conflict, let's take a deep look at how ODI cricket works and how it has been played over the years. 
Evolution of the use of the fifth bowler in ODIs
Back in the day, when India won the 1983 World Cup under Kapil Dev, there was an attempt to do away with classical one-dimensional players and bring in players who could do a bit of both. 'Utility players' was the term used by the selectors then, which evolved and became three-dimensional players by the time 2019 came. Kapil Dev, Roger Binny, Mohinder Amarnath, and a few more played the game. Saying these players did a bit of both is quite absurd and an insult to them and perhaps they would still make it to the team based on one skill, but they would not have been valuable for the team completely.
20 years later, Sourav Ganguly led India to the World Cup 2003 final against Australia. Through the tournament, the Indian skipper went in with four frontline bowlers and a bunch of part-timers to bowl the 10 most important overs of a match. In the final alone, India used eight bowlers and that is without India's most hostile seam bowling all-rounder of that era and the captain, Ganguly. 
A search for a proper No. 7 and the mistakes
Cut to the 2019 World Cup, India is trying to fit in Kedar Jadhav and Vijay Shankar, because of their ability to bowl and bat in the top six. By no degree or measure, Jadhav was a sixth bowling option. But what do you do when none of your top six batters want to bowl or even have a history of throwdowns? The answer was never Hardik Pandya at no. 7. 
Ever since the younger Pandya made his international debut in 2016, he was the fifth bowler for India. He made his T20I debut at the time when Ravindra Jadeja was an average T20 batter and was not scoring 30 runs in the last over. For most of his career, Jadeja was a dedicated no. 7, batting at that position for 82 of the 113 innings he has played in ODI cricket for India.
But, India's faith in Jadeja to continue as a no. 7 batter decreased with time, and the thought of having a seaming all-rounder at no. 7 was just too interesting for the Indian team management. Hence, after the 2017 Champions Trophy, where India did in fact walk into the final with not an ideal bowling attack and suffered, Hardik Pandya became the bridge between the batters and the bowlers. 
But, just going back, Pandya wasn't even a specialist seamer two years before he made his debut for India, but somehow, just somehow by God's grace and India's history of not being able to develop seam-bowling all-rounders, Hardik became the fifth bowler. And then, he matched up to the talents of Kapil Dev, became the greatest all-rounder ever, and everyone lived up happily ever after. But, of course, that is not what happened. 
The problem of playing only five bowlers
In an attempt to make Pandya their third seam bowling option and play two leggies, India found themselves at a place where they were in search of a sixth bowler every time Kuldeep's first over was smashed for 15 runs or Hardik Pandya was being attacked by the opposition batters. And, obviously, sometimes Kedar Jadhav can be the answer but not every day. And the huge problem is that, after the powerplay overs, it is the job of the fifth bowler to come into the attack and carry on with the momentum and pressure built by the opening spells. But, what can a captain do if his fifth bowler is bowling poorly for 10 overs in the middle phase (overs 10-40) and his other option is a leg-spinner, who is inconsistent? Not much. 
Now that we have established that Hardik Pandya is not a fifth bowler in ODI cricket by any chance, let's see what he adds. Yes, he is a terrific batter and can score runs freely. That was one of the reasons why he was chosen to play at no. 7. But, is he the worst no. 7, just purely in terms of bowling? Well, no. 
The world is full of 'bits and pieces' players
Moeen Ali has a bowling average of 50 in ODI and a strike rate of 58. That means he picks up a wicket every 58 balls. And looking deep into his numbers, it showed that he bowls only about 8 overs each in ODI innings. So, he is essentially not even picking up a single wicket in every match and is obviously going for more than 5 runs per over. 
At this point, I couldn't help but wonder what all the other no. 7s in ODI cricket are doing. Turns out, they are doing what Sanjay Manjrekar would call, 'bits and pieces.' Pakistan's Imad Wasim has an ODI bowling average of 45 and doesn't pick a wicket each innings. New Zealand's Colin de Grandhomme has 27 wickets in 42 ODIs. Andile Phehlukwayo picks up wickets, but has an economy of 5.7 and can hardly ever be called a serious batter. And Bangladesh doesn't know what no. 7s in ODI cricket is for because they have Shakib Al Hasan. 
This is exactly where all of this becomes interesting. England is an extremely successful ODI team and so is New Zealand to an extent (we will let you decide who is the World Champions). Then how does the plan of Moeen Ali and Colin de Grandhomme, below average bowling choices at no. 7 work for them? And the answer is simply, Ben Stokes and James Neesham.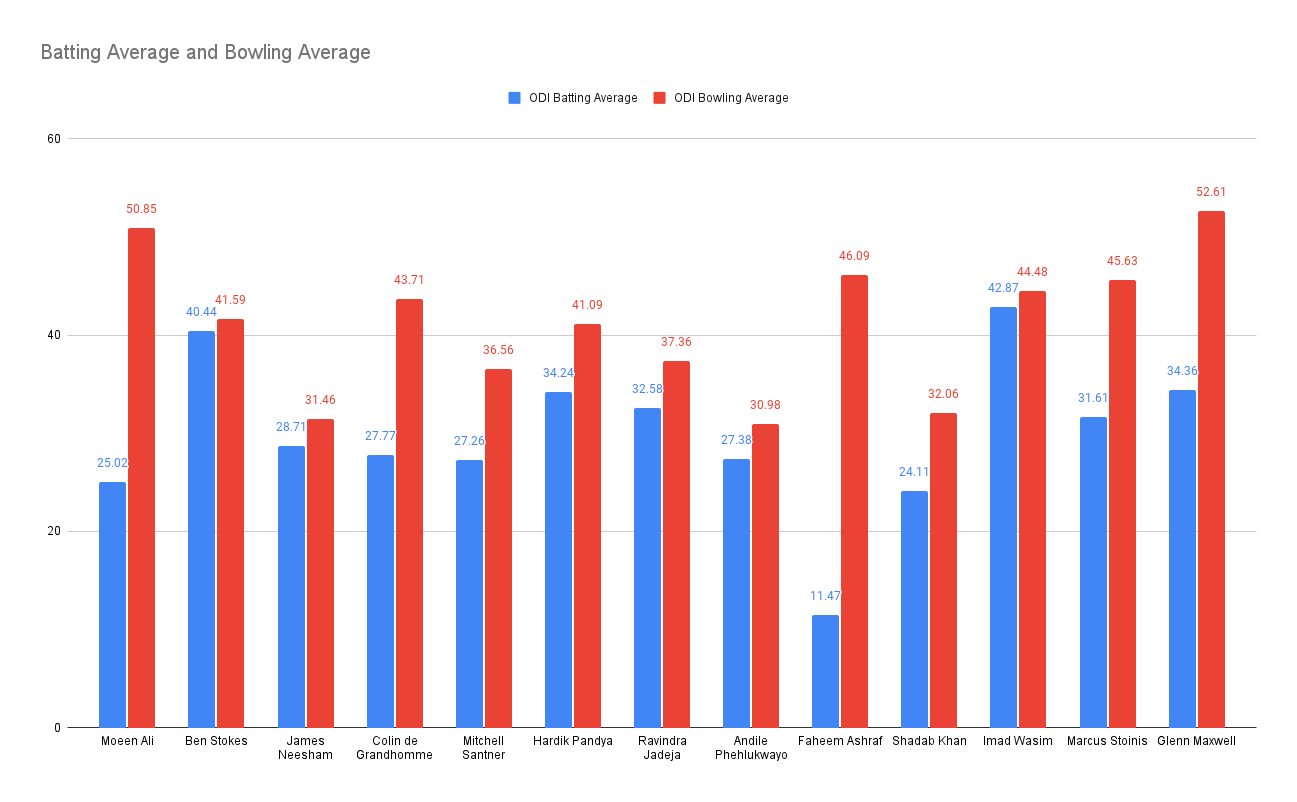 Both New Zealand and England don't just depend on their fifth bowler. They have a reserve sixth bowler. So does Bangladesh. Australia has had multiple part-timers and Marcus Stoinis do the bulk of bowling to get 10 overs done from their fifth bowler. But what Stokes, Neesham, and Maxwells of this era do is add depth and variety to the attack. They don't need to bowl more than five or six overs on a regular basis, but it depends on the condition, situations, and opposition. 
Despite seeing these selections across the globe, the Indian team was majorly in favor of playing an extra batter at no. 6 and using no. 7 solely to house a bits and pieces all-rounder. There, I just said it. Both, Ravindra Jadeja and Hardik Pandya are bits and pieces in ODI cricket. Their numbers suggest so. You can be scoring a quickfire 30 off 20 balls, but you can still lose a match by bowling 10 overs of underwhelming throwdowns which can help the opposition to take the match away from you. 
Why Hardik Pandya and Ravindra Jadeja together can work for the best
So, at this point, you would expect me to be like a proper salesman by giving a solution to the conflict which I just raised. But the solution has always been there in front of the Indian management, it's just that they have been a bit too conservative to go for that approach. For the longest time, India felt batting Hardik permanently in the top six in the ODI team was a bit too risky, even though, our 'Baroda ka rockstar' has batted in the top six 25 times in his career but only 16 times at no. 7. 
Hardik's numbers at six in ODIs are just too good to ignore. He strikes at 111.92 and averages 45. Though the sample size of these innings is just about 10 knocks, it is enough to state that Hardik is capable enough to take a position in the top six. In the first ODI in Colombo, his brother, who is as good a replacement you can have for Jadeja bowled nine overs, while he bowled five. But this is exactly what India should do. 
| | | | | |
| --- | --- | --- | --- | --- |
| | Innings | Runs | Average  | Strike rate |
| Hardik Pandya's record in the top 6 | 25 | 717 | 35.85 | 116.39 |
| Ravindra Jadeja at No. 7 | 82 | 1698 | 31.44 | 85.15 |
Hardik was never our 10-overs man in ODI cricket. But, still did it. Underwhelming at times but sometimes to great effect. On those occasions, he did it because the wicket helped him or the batter struggled to pick his variations, as it happened with his brother, Krunal in Colombo in the first ODI. Going into the 2023 World Cup, it is quintessential for India to realize even if Pandya returns to bowling 10-over spells in ODI cricket, he should not be used for that.
He is at best your four or five-overs bowler. Jadeja is better than that, but so is his batting now. After years of grinding under MS Dhoni, Jadeja is a much-improved batter and it shows that Manjrekar's comment has actually changed his career massively. Basically, India shouldn't replace Hardik Pandya at No. 7 and drop Jadeja once the former returns to bowling a lot of overs. 
Ravindra Jadeja's ODI numbers before and since Sanjay Manjrekar's 'bit & pieces' comment
| | | | | | | | |
| --- | --- | --- | --- | --- | --- | --- | --- |
| | Matches | Runs | Batting Average  | Strike rate | Wickets | Bowling average | economy |
| Before  | 152 | 2035 | 29.92 | 84.23 | 175 | 35.91 | 4.87 |
| After  | 16 | 376 | 62.66 | 106.51 | 13 | 56.84 | 5.35 |
Bits and pieces might have been a comment which Ravindra Jadeja did not like, but we need bits and pieces players. We need more variations in the Indian team. We need options for Virat Kohli on the field when he is leading the team. Jadeja at no. 7 and Pandya at no. 6 works brilliantly in the long run. It allows India to play 'Kul-Cha' if the conditions are suitable and it also allows Mohammad Shami not to get dropped from the World Cup semi-final after picking 14 wickets in four matches. 
What people usually don't get is that cricket is a team sport. It is not an individual sport or a sport that is run by one man on the field. Cricket is probably one of those sports where team planning and the game needs to work efficiently, in sync as some may say. In cricket, there is no point in which a player has to do everything on his own. So, one 'bits and pieces' player can cause issues for a team but two or three players of that kind, who can seemingly add variety to the combination and are capable of making up a strong team. For now, let Hardik Pandya come back to bowling but don't make him the no. 7 India never had, make him and Ravindra Jadeja, the best 'bits and pieces' combination the world has ever seen.
Follow us on Google News