The Mohammed Shami-Niroshan Dickwella altercation as it happened
While the match ended in a draw, it created a wonderful spectacle for the crowd.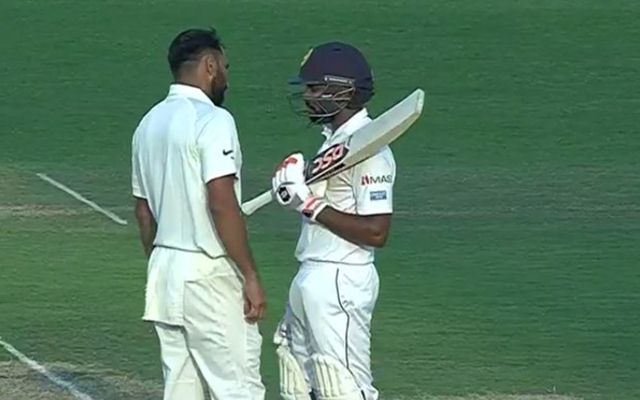 The Indian pacers produced a sensational bowling display. They revived the possibility of an Indian victory in the last session of the game. As Sri Lanka were 4 down, they resorted to tactics that consumed game time in their bid to play it safe till bad light stops play. That's what lighted the banter between Niroshan Dickwella and the Indian players.
It all began with skipper Dinesh Chandimal and Dickwella and Indian off-spinner Ravichandran Ashwin exchanged a few words in between overs. As it seems Ashwin who is from Tamil Nadu speaks a language which is widely understood in Sri Lanka and would've shared a piece of advice with the batters. The umpires had to intervene as there was an animated conversation between the batsmen and skipper Virat Kohli.
Dickwella then started taking longer time gaps to get ready to face the next ball. He stopped Mohammed Shami who was literally steaming in with his tail up midway through his run-up. This certainly didn't go down well with the Indian pacer who reverted back. The next delivery, Shami charged into the batsman and had a few words for him.
With both players inspired to give their best for their respective countries, it added to the excitement. The crowd just picked up the energy as they roared every time a bowler and the batsman exchanged glares.
Dickwella again took time to get ready for the fourth delivery which left Shami hot-headed. The umpires had to intervene this time as they spoke to the Lankan wicketkeeper-batsman. Even Indian skipper Kohli wasn't pleased as he went to umpire Nigel Llong. There was yet another heated discussion in the middle with the umpires asking both the sides to calm down.
While Dickwella continued to get under the skins of the Indians, Shami answered him in splendid fashion as he bowled out Chandimal in his next over. Dickwella who was living dangerously was eventually trapped in front of the stumps by Bhuvneshwar Kumar.
The Indian players managed to have the last laugh. While the match ended in a draw, it created a wonderful spectacle for the crowd.