'The news is totally wrong' – Kuldeep Yadav slams media on 'lot of times, Dhoni was wrong' comment
Kuldeep shared a story on his Instagram handle.
Updated - May 15, 2019 2:27 pm
29.8K Views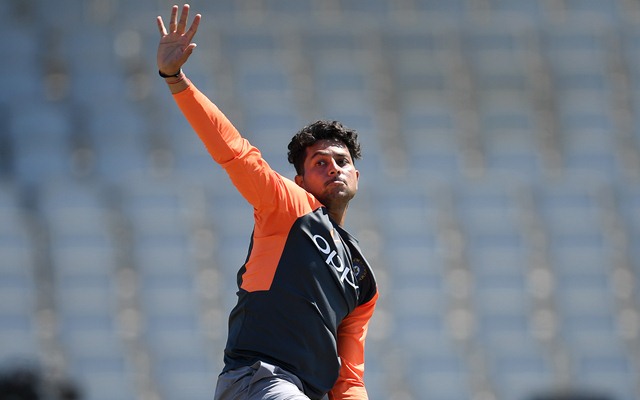 Even more than his cricketing attributes, MS Dhoni is known for having a good reading towards the game. There's a sense of belief when Dhoni is in the middle, chasing a target down. Simultaneously, even the opponents are wary of what the veteran can do even under extreme pressure. He doesn't panic and ensures that he plays according to the match situation.
Dhoni is also a guide for the bowlers when he's plying his trade as the wicketkeeper.  The 37-year-old can read the batsmen's minds, mostly to perfection, and based on that shares his insights with the bowlers. The pieces of advice have worked wonders for the bowlers. One of them who has frequently been benefitted by Dhoni's advises has been Chinaman bowler Kuldeep Yadav.
There are a lot of videos on social media where Dhoni's understanding of the game can be seen doing the tricks for Kuldeep. However, Kuldeep recently said that Dhoni makes mistakes at times, but one can't afford to say those words to the captain. The Kanpur-born bowler also said that Dhoni doesn't speak much and shares his opinions only in between overs.
"There are a lot of times he (Dhoni) goes wrong but then you can't say that to him. Zyada baat nahi karte woh (he doesn't speak much). He speaks only between overs if he thinks he needs to point out something," Kuldeep was quoted as saying at the sidelines of the CEAT Cricket Rating Awards.
Kuldeep Yadav responds
The 24-year-old southpaw got the Outstanding Performer of the Year Award. After his comments, Kuldeep was trolled, left, right and centre by Dhoni's fans. In the meantime, Kuldeep also opened up on his comments on MS Dhoni and slammed media for creating false news.
He took to his Instagram story and shared a message which read, "Here we go for another made up controversies by our media who loves to make tangy rumours for no reason. Just want to throw some light on the issue that has been proliferated by some people, that the news is totally false. I didn't give any inappropriate statement about anyone. #Much respect Mahi bhai,"
Here is Kuldeep's reply