The reason why Ravindra Jadeja is being dragged into caste-based controversy
Is the criticism directed at Ravindra Jadeja fair?
Updated - Apr 18, 2020 11:45 am
24.5K Views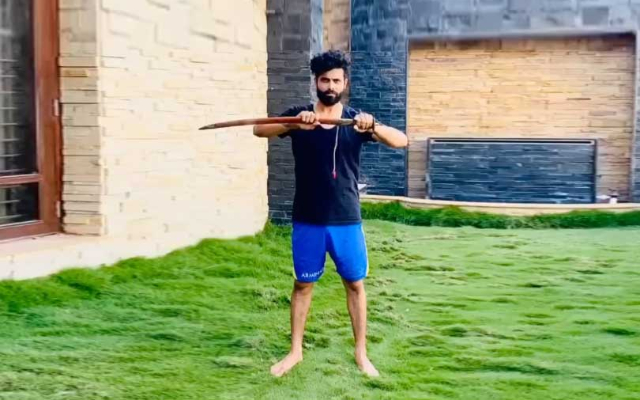 Ravindra Jadeja has been in the form of his life over the last 18 months. Rather ever since he has made a comeback to India's limited-overs side in the Asia Cup 2018, the southpaw has been irreplaceable. Add to it his improved batting and the forever best fielding. His fighting knock in the World Cup semi-final against New Zealand was the best of all and though it came in the losing cause, very few must have forgotten his innings.
But over the last few days, the cricketer's name is trending on Twitter and is being discussed a lot. Unfortunately, Jadeja has invited controversy with his sword swishing act video he posted on his official Twitter handle with the Bahubali song playing in the background.
On April 12, he posted the video and its caption has left many unamused. "A "SWORD" MAY LOOSE IT'S SHINE,BUT WOULD NEVER DISOBEY IT'S MASTER #rajputboy," the caption of the tweet read. Now this 'Rajput boy' part in the caption has created a furore on social media as many feel it is offensive. According to them, Jadeja has hurt their sentiments highlighting his caste.
Here's the tweet:
A "SWORD" MAY LOOSE IT'S SHINE,BUT WOULD NEVER DISOBEY IT'S MASTER #rajputboy pic.twitter.com/kKyKQ9vSWk

— Ravindrasinh jadeja (@imjadeja) April 12, 2020
What is the actual problem?
Well, Ravindra Jadeja's sword swishing celebration is only a problem according to a few. The way he flaunts his Rajputana bravery is offensive for them. Rather a few went on to question him asking how many wars did Rajputs actually win that he flaunts his sword skills openly every time. Moreover, there was a tweet pointing out Jadeja's celebration on the field after reaching a milestone while batting.
A Twitter user asked won't the Indian feel offended if Pakistan team, after beating India, use their bats as swords of Ghazni or Babar? Or even what if Sri Lanka team enters the ground as Ravana's ten heads after the victory.
Imagine if Pakistani team beats India and its players waive their bats as if they were the swords of Ghazni or Babar. Or the English players flaunt themselves as Dalhousie's Boys or Sri Lankan team enter the ground after a victory as Ravana's ten heads. https://t.co/ianuaqUiQN

— Jyoti Yadav (@jyotiyadaav) April 15, 2020
How many wars had Rajputs won? How many Rajputs were working in Mughal courts? Forget, the marriages!

This idiot is a cricketer, plays for Indian team, hopefully not for his caste! https://t.co/CHZOs4MCPn

— Ashok Swain (@ashoswai) April 13, 2020
But did Ravindra Jadeja really want to highlight his 'caste' with his tweet? Well, yes Rajput is a mark of caste but it is also about a cultural heritage which the cricketer likes to flaunt in a unique way. Also, there are a few who are pointing out that Rajputs didn't win many wars. But they forget that, like many other warriors, Rajputs also fought for the country.
Jadeja hasn't been only criticised on Twitter. He has got a backing as well who felt that the cricketer is being unnecessarily dragged into the controversy. Being a well-known celebrity is tough in a country like India where your every move is monitored and in this modern era, where social media use is at its peak, anything can be blown out of proportion and then what you have done for the country thus far, doesn't even matter.
There was nothing offensive or wrong in Ravindra Jadeja video. But there was everything wrong in the caste based abuses hurled at him. Mocking & humiliating an entire caste isn't kosher. https://t.co/EjkVqKKn6A

— Abhinav Prakash (@Abhina_Prakash) April 15, 2020
I am not a Rajput but I stand with my fellow Hindu Rajput brothers.

Proud of you Ravindra Jadeja and proud of each and every rajput men and women who have laid there life in the service of this great Indian nation.
Jai Hind. Jai Sanatan Dharm#rajputboy #Rajput

— Saurav singh (@SauravRnc) April 13, 2020
Ravindra Jadeja was raised as a 'Rajput boy' first..Then grown up as a cricketer & played for his country by keeping India First.
So kindly Stop advising him on his personal interest & social profile.
If caste is such a bad thing, why haven't you dropped Gupta from your name? https://t.co/4R8nbxud2T

— स्वेच्छा सिंह (@swesingh007) April 15, 2020