The snake didn't fall off eventually: Virat Kohli
Updated - Mar 7, 2017 4:49 pm
73 Views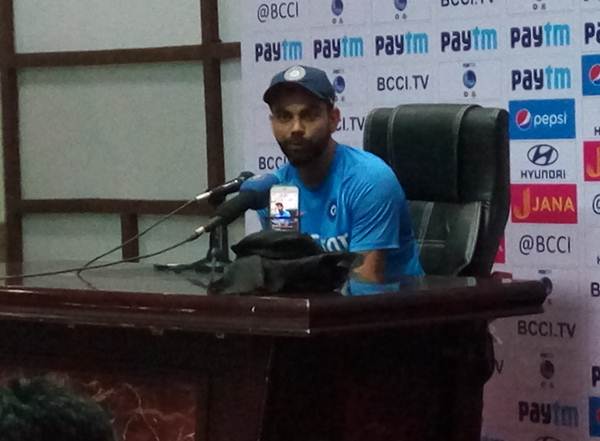 It was maniac, it was compelling, it was unpredictable throughout – it was India vs Australia, second Test at the M. Chinnaswamy Stadium in Bengaluru.
India applied a defibrillator to this series, scaling a dramatic victory on the fourth day against all odds. After the first day of this Test, it was difficult to tell if India's hopes of regaining the Border-Gavaskar Trophy were still alive. Nathan Lyon had just seized eight scalps, India had been dismantled for 189, and Australia had gone to stumps after 40 for 0. But after that, what followed was three days of fight-back from India.
It all culminated on the fourth day, which started with a six-wicket haul from Josh Hazlewood as India were removed for 274. A target of 188 would be difficult but, Australia hoped, not impossible. And with the score going up swiftly, at 42 for 1, the visitors were perhaps the favourites.
And then wickets began to fall, and by the time Ravi Ashwin had Lyon caught and bowled in the 36th over, India triumphed by 75 runs. Ashwin finished with 6 for 41 to give India a stand in the 4 match series.
Let us take a look at who said what after India's remarkable victory.
KL Rahul – Man of the Match – "No better place for me to come and perform like I did. Especially, when team India needed it after being down in the first Test. That loss really hit us hard. We have achieved a lot in the last couple of years. But this victory would be the best victory for the young Team India. The way we performed was a proud moment for us. I have played my cricket in Bangalore. I told Virat yesterday, if we get 150 runs as a lead, we will win by 30 runs and that's what exactly happened. We spoke in"
"We spoke in dressing room that day 3 is the best to bat on. We had clear intent and plan. Ajinkya and Pujara batted really well. I think the approach was brilliant in the second innings. There was a time, when they said I get past 20, I get a hundred. That was a problem. And now, I get a fifty and not a hundred. Now that's a problem. I was very disappointed. Yesterday I got a good start and was looking comfortable and I should have capitalized."
"That is what the team expects from me, the opener. All that disappointment is gone after the win. We are going to enjoy the win tonight. It gets quite sore. I can't quite dive on the field. There are a few shots that I will have to restrict. I will play within myself. Even I do, it's not that I can't score, I play all the shots in the book. That is what I spoke to the management and the captain. I will have to focus more with the problem in my shoulder. I am still enjoying batting with that problem."
Winning captain Kohli talked about his eagerness to bounce back that paid off, and his excitement to go to Ranchi and win yet another Test to keep the momentum going.
Virat Kohli: "Well absolutely yes. Specially after the way we lost the first Test, we wanted to bounce back hard. Not to show anyone but prove ourselves how well we can play. They showed the intent, they showed the belief that we can win from any situation. The snake didn't fall off eventually. There are many important players in the team and they took the responsibility. Today the boys showed their heart and character along with the crowd. A couple of sessions in Test cricket are game changing. The first session on day 2 was game changing. 47 runs only for the loss of 2 wickets. We stopped the momentum for them."
"From there on we knew, one or two mistakes and we will pick up wickets in every session. The moment they did not get big runs in the first innings, we knew we had a chance in the second innings. Historically, teams have chased down totals on this ground but since the wicket has been relaid, we know what the totals have been in first-class cricket. 120 is what a team has done as the best in the fourth innings. We knew if we get 150, one or two wickets we can get them under pressure. It exactly panned out the way we thought about it. After conceding the lead, it was a champion partnership."
"The only hundred run partnership of the series so far. Two guys stepped up. The two of our best Test players applied themselves. They showed character, technique and heart and pulled us out and then consolidate. The knock from Wriddhi and the way Ishant batted was a bonus as well. Every run was imporatnt. We would have liked anything over 200. 225 and we knew there could be only winner on this kind of wicket. The game cannot go on for two days on thissort of wicket. But as soon as we got 188. We decided the game has to finish today. Let them score singles, not conceded boundaries and the odd ball will bounce to make life difficult for them. Ranchi is going to be very competitive. I can't wait to go Ranchi there. From here on we are going to push the momentum and the team is not going to look back from here on."
The losing captain Steve Smith was proud of the way his side competed and admitted to being outplayed in the 4th day.
Steven Smith: "Yeah, it was a great Test match. Certainbly ebbed and flowed throughout the whole Test. It was a good one. I am proud of the way the boys competed. We were outplayed on the last day or so. The partnership between Rahane and Pujara really hurt us. I think they played particularly played well. But I am proud of the way we came out today, hit good areas and picked up some wickets. This afternoon didn't go to plan. Ashwin did what he does well. He hit good areas and challenged our boys and we were not up for it. Everyone makes mistakes. It is a difficult pitch to umpire on. You have to be smart to take your referrals as well. Certainly a lot to play for as we go to Ranchi. Hopefully some good times ahead."
Chateshwar Pujara talked about the game plan to counter Nathan Lyon and the toughness of the pitch.
Pujara: "It is a great feeling to beat Australia. After the way things went in the first innings, the way we came back in the second innings was very memorable for all of us. It was a tough wicket, we wanted a partnership. Some balls were staying low and that was very difficult. We had a game plan to counter Nathan Lyon after we saw the way he bowled in the first innings. We looked to fetch it from outside the line of off-stump from the rough and it paid off.
We knew anything above 200 was always impossible to chase. Once we crossed 150 we knew that it would be a good total and 189 was a winning total. When I went in to bat, we never thought about scoring runs. We just wanted to take the singles and rotate the strike. It sets up the series beautifully and the batsmen have got their tempo back now. We have the momentum as well with us. Looking to put up a good show (in Ranchi)." concluded Pujara.