Things still not certain on India hosting the Asia Cup 2018 says Rajyavardhan Singh Rathore
The Sports minister is uncertain whether India can play Pakistan on Indian soil given the conflict between the two nations at the moment.
Updated - Mar 5, 2018 1:23 pm
11.5K Views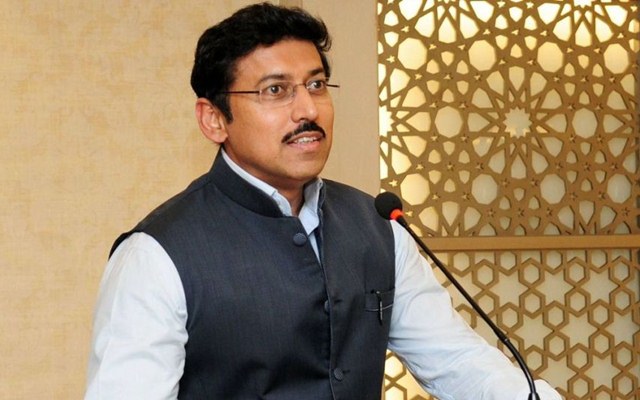 Follow us on Telegram
The India-Pakistan rivalry is not certainly restricted within the cricketing barriers, but it also rather circulates through the various political and cross-border activities. In the recent years, these activities have played the major role in severely affecting rivals between the two cricketing nations. The Indian cricket team is scheduled to play a lot of overseas cricket in this calendar year with the coming series in Sri Lanka, then the big tour to England and then the tours to Australia and New Zealand.
There are also constant discussions going on the probability of India hosting the Asia Cup 2018, which would be involving Pakistan and other Asian countries, but no official confirmation about the tournament has taken place. Both countries have played each other seven times since the beginning of the 2014 standoff at the Line of Control (LoC).
Politics would be kept away from sports
The main area of concern as to lack of clashes between the arch-rivals India and Pakistan on the cricket field is only due to depleted political relations between the two neighboring nations. However, Pakistan Cricket Board (PCB) claims to be ready reunite the differences with India, but the Board of Control for Cricket in India (BCCI) has failed to receive the clean chit from the Indian government.
The Sports Minister Rajyavardhan Singh Rathore revealed that presently nothing is confirmed regarding Pakistan's involvement in the Asia Cup 2018 if it is hosted in India. He also stated about the involvement of political activities in various sports, which should not be happening.
"Yeh to Samay hi bataega (only time will tell). As far as politics in sports federations is concerned, it should be kept away but finally sports is one of the soft power projections in the country and players are representative of a country," said the sports minister on the arch-rival's participation in Asia Cup 2018 and the involvement of politics in sports as quoted by Times Now.
Uncertainty still looms over India hosting Asia Cup 2018
The BCCI has already written to the home ministry seeking permission to host the event but hasn't received any response yet. The timing of the tournament is also a bit tricky which makes things more complicated. It is slated to be held next September which is not far away from the next general election in the country. Also, the current ruling party has been maintaining a hard stand on neighbors Pakistan and is not inclined to give the go-ahead for the tournament.
Follow us on Google News