'This just warmed my heart' – Sachin Tendulkar praises New Zealand for their classy gesture against West Indies
It was during the match between New Zealand U19 and West Indies U19 that the incident in focus took place.
Updated - Jan 31, 2020 12:36 pm
446 Views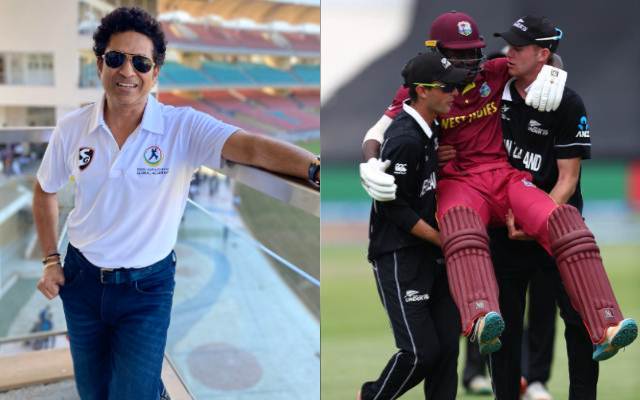 Cricket has always been a sport of mutual respect and understanding, where when in need no one refrains from helping each other. And, a perfect example of this was put forth by the New Zealand Under19 team, during the ongoing Under 19 World Cup. This gesture by the Kiwi youth garnered the attention of many, including the 'God of Cricket', Sachin Tendulkar, who on Thursday took it to Twitter to express his praise for this gesture.
It was during the match between New Zealand U19 and West Indies U19 that the incident in focus took place. In the 48th over of the Windies' innings, Kirk McKenzie, who was batting at 99 was dismissed. But, while walking back, he was struggling due to severe cramps. And, it was at this moment that two of New Zealand's team members made sure that he got back to the pavilion with ease. They picked McKenzie up and dropped him past the boundary line, where the physio was waiting to attend him.
"Spirit of Cricket is very important to me": Sachin Tendulkar
A video of this incident that was posted by the official Twitter handle of the Cricket World Cup, started doing rounds, with everyone appreciating this gesture. The video also had the footage of both the dressing rooms and the crowd, who were seen clapping after seeing this warm gesture. And joining the brigade of the people praising this incident was Sachin Tendulkar, who tweeted a message for these young men and appreciated their effort.
His tweet read, "The Spirit of Cricket is a value that has always been very important to me personally. This lovely gesture by the U19 New Zealand team just warmed my heart." The Master Blaster's message reflected how much the sport meant to him and how he never abstains from appreciating young men, who will one day be holding the expectations of millions, from going out and exhibit the beauty of the sport they play.
The match was won by New Zealand eventually, by a margin of two wickets. But, this match will go down in the record books as the one where the youth set an example for everyone to look up to by helping their opponent when he was in the need of some assistance.
The Spirit of Cricket is a value that has always been very important to me personally. This lovely gesture by the U19 New Zealand team just warmed my heart. https://t.co/TG9VOtjXDx

— Sachin Tendulkar (@sachin_rt) January 30, 2020