Tigers turned Cats in their own den;End their poor run with yet another defeat
Updated - Apr 2, 2014 10:35 am
41 Views
Happy faces, cheering crowds, immense enthusiasm and great desire to succeed was what we saw at the start of every match that Bangladesh  played in this year's World T20. However the story at the end of the matches wasn't quite the same. Dull faces among the crowd,lost hope among the crowd, nil enthusiasm was the story at the close of play. Though the Bangladesh team didn't do much  to put smiles on their supporters faces, they still came out in numbers in every match to support their team.
If there is a team which would be most disappointed by its performance,its certainly got to be Bangladesh. Though not many would have considered them as contenders of the title,still we all thought that they would not end up the tournament so cheaply. A probable semi-final spot was what many had guessed for them before the start of tournament. It was only because of the sole reason that they were playing in their backyard and they had played extremely well against quality teams in recent times.
As the article was being written, Bangladesh had lost their last match  as well courtesy of some good innings by Aaron Finch (71) and David Warner (48) who chased a rather easy target of 154. They won with 15 balls to spare.
You sometimes feel bad for the Bangladeshi crowd.Its really not easy being a Bangladeshi supporter.They come in huge numbers to support their teams but are left with sheer disappointment when their team doesn't perform to their expectations.They are perhaps the most emotional crowd in the entire cricketing world.Who can forget the final of ASIA CUP 2012 when the players were crying like babies along with crowd after they lost the final?Who can forget the match of this year's ASIA CUP when almost the entire crowd was close to tears after Shahid Afridi snatched victory from their jaws.
The prime reason for Bangladesh's dismal show was perhaps their over dependence on only a few players namely Mushfiqur Rahim,Shakib Al Hasan,Anamul Haque,Abdur Razzak etc.While their were some good individual performances,they couldn't perform as a unit and that why they are seeing themselves in  the position that they are in right now.
One has to admit that the pressure of expectations on them  because of playing in  their country was a bit too much.While that kind of pressure can be a big help to some teams,like it was for India when we won the WORLD CUP in our own country in 2011.Bangladesh choked in that kind of pressure of expectations from their crowd which further resulted in them not being able to play their natural game and not being able to express themselves to the fullest.
Bangladesh entered the tournament with high hopes after winning their both their warm-up matches against Ireland and UAE.They qualified for the top 10 after winning  2 of their 3 qualifying matches against Afghanistan and Nepal.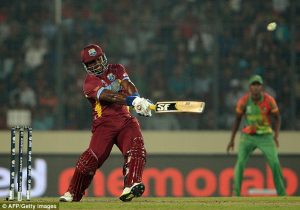 They started their Campaign at the World T20 with a disastrous performance in their first match against the West-Indians when they were bundled out for 98,chasing a target of 172 set by the West-Indies team. It was quite evident from that match that they were hugely under pressure.Openers Tamim Iqbal and Anamul Haque couldn't play their natural expressive game as Bangladesh only scored 29 runs for 3 wickets in their mandatory power play.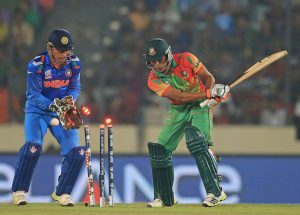 The same story was repeated against India in the second match as well .The openers once again failed to put up a good partnership  at the top.Bangladesh was 27/3 in the mandatory power-play overs.The only positive to come out of that game was the form of Anamul Haque who scored a solid 44.None of the other batsman fired as they only managed to put up a total of 138 which India chased down with ease with  9 balls remaining.
Their third match against Pakistan was once again a disappointment as the hopes of Bangladesh qualifying for the Semi-Final were shattered to ground.Chaisng a target of 191 set by the Pakistani team,they only managed to put up a total of of 140 on the board.Their batsman once gain failed to impress as they found it tough to hit the ball over the fence.Their bowling too was quite unimpressive as the bowlers leaked boundaries at regular intervals.Pakistan was able to score 50 runs in the mandatory power-play.
The last match for Bangladesh was a mere formality.It was a game to be played for pride and for their supporters who always come in huge numbers to support their team no matter what the circumstances are.They still weren't quite able to put a smile on the faces of their supporters as they finished on the losing side yet again.
Bangladesh has a lot to think and a lot to improve the after their poor show in this years T20 World Cup.Their batsman need to pull up their socks to provide a good total on the board which would help their bowlers defend it.Over-Dependence on a few players needs to be sorted out.A combined team effort is the need of the hour for them.If they perform to the best of their ability,there is no reason why they can't be the world-beating side.They would be hopeful of better performances in their upcoming series .
Follow us on Google News