Tino Best calls out Harbhajan for his brashness, gets trolled by the Turbanator
This isn't the first time that Tino Best went after Harbhajan on the micro-blogging site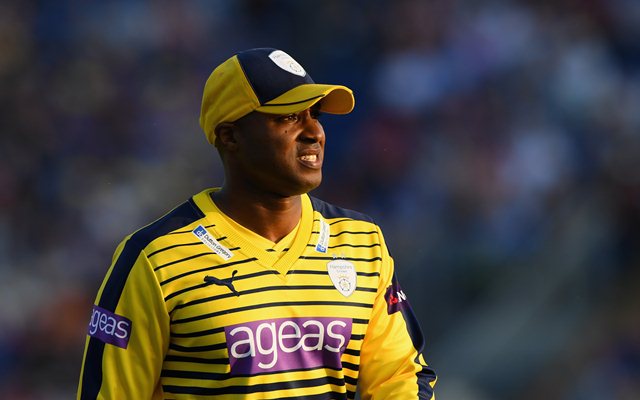 Windies cricketer Tino Best has gained quite some popularity for his savage responses on Twitter. Hailing from Barbados, the 37-year-old is using social media to express his outright views. The right-arm pacer has never minced his words and the same is on display with his tweets as well. Tino doesn't shy away from making controversial statements and recently decided to kind of poke a bear.
He took on India's Harbhajan Singh with a tweet and that has attracted a lot of attention. Earlier in the day, former Australian cricketer Andrew Symonds reopened the decade-old Monkeygate incident. In an interview, he asserted that Harbhajan had broken down while apologizing to him soon after the controversy. However, the Turbanator immediately refuted the claims on Twitter.
Tino Best calls out Harbhajan for his brashness
This is when Tino Best decided to respond saying that the off-spinner was still filled with arrogance and bigheadedness. Harbhajan noticed the same and called him out for seeking attention. Further, he refused to acknowledge the former cricketer's identity and asked people who he was.
"Who is this?? Guys this guy looking for attention.. does anyone know who he is?"
Who is this ??? Guys this guy looking for attention.. does anyone know who he is ?? 👇 https://t.co/mRvCteBdZM

— Harbhajan Turbanator (@harbhajan_singh) December 16, 2018
Not the first time and surely not the last time by Tino Best
Tino recently even downplayed Dwayne Bravo after his international retirement. The pacer said that no one gave a damn about him in international cricket. Hence, it isn't a surprise that he didn't sugarcoat his words for Bhajji. This isn't even the first time that the West Indian went after Harbhajan on the micro-blogging site.
A couple of months ago, Harbhajan decided to take a shot at the West Indian Test team which has constantly been producing disappointing performance. He questioned if they were good enough to even make it to the quarterfinals of India's premier domestic first-class competition, i.e. Ranji Trophy. Tino responded asking where was this arrogance when India were touring England.
Hey bro didn't see these cocky tweets vs England 🤷🏾‍♂️ …. but anyhow the young men will learn 🙏🏾

— Tino95 (@tinobest) October 6, 2018
This certainly isn't the end of their banter!