Toby Roland-Jones names his All-Time XI
While his All-Time XI consisted of legendary players, it also had a few lesser-known players.
Updated - Sep 20, 2017 11:06 pm
1.3K Views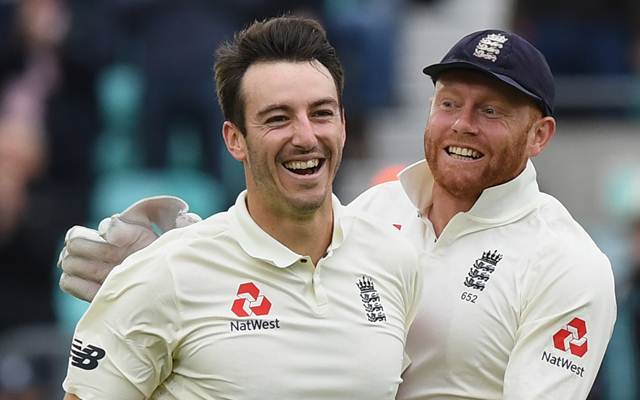 English cricketer, Toby Roland-Jones recently named his all-time XI that consisted of some big shots as well as some surprise ingredients. On his part, Roland-Jones made his Test debut for England earlier this year, against South Africa. A bowling all-rounder by nature, the 29-year-old has played County Cricket for Middlesex.
In a video posted by Lord's Cricket Ground on YouTube, Roland-Jones was seen naming his all-time XI, comprising players he's played with and from whom he's imbibed cricketing knowledge. The cricketer has already picked up 17 wickets in the 4 Tests that he's played, showcasing the talent he possesses. While his all-time XI consisted of legendary players like Rahul Dravid and Graeme Swann, it also had a few lesser known players with whom Jones has rubbed shoulders in the course of his career.
Toby Roland-Jones guides us through his XI
For the opening slots, he chooses the destructive David Warner, along with England batsman, Sam Robson. Australian opener, Warner needs no introduction and is probably one of the most consistent batsmen currently in world cricket, who churns out runs on a daily basis. Robson, on the other hand, has represented Middlesex in County and has played 7 Tests for his nation, with the highest score of 127 runs.
At the third position comes in another cricketer from Down Under, in the form of Chris Rogers with whom Roland-Jones has played for Middlesex. Primarily an opening batsman, Rogers 2015 runs in 25 Tests for his country at an average of 42.87. Next up is the only Indian player in the squad, Rahul Dravid. Roland-Jones describes the Indian batting legend as "a great player, a great timer of the ball."
The two have played together for an MCC game previously. At No.5, Australian top-order batsman, Adam Voges makes his appearance. His inclusion into the all-time XI is justified by Toby, citing his record of possessing the second-best Test batting average of all time at the time of his retirement, earlier this year.
As the all-rounder in his team, he names his England teammate, Ben Stokes. Armed with 2429 runs with the bat and 95 wickets with the ball in the 39 Tests that he's played for his team, Stokes is often considered by many as one of the all-time greatest all-rounders of the game. At No.7, the captain and wicket-keeper of the team is New Zealand's cricketing superstar, Brendon McCullum. The 35-year old has scored 6453 runs in the 101 Test matches of his career and also holds the record for scoring the fastest century in the longer format of the game off just 54 balls.
Next up, Roland-Jones names another national teammate in the form of Chris Woakes and goes on to praise the talented pacer by saying, "It's great to see the success he's had over the last few tears with England and his rise." At No.9, the English player included Graeme Swann, the only player with whom he's not played. As a right-arm off break bowler with 255 wickets in his kitty, Swann was one of the most aggressive bowlers that England has ever produced.
Finally, Roland-Jones rounds up his team by naming his Middlesex teammates, Tim Murtagh and Corey Collymore at No.s 10 and 11, saying that they've taught him a lot about the game. While pacer, Murtagh hails from Ireland and performed particularly well for Middlesex in Antigua at the Stanford 20/20 in 2011, wherein masterful collaboration with Steven Finn, he led the club's attack with 80 wickets at an average of 20.98. Seam bowler, Corey Collymore, on the other hand, has represented West Indies in both Tests and ODIs and has fetched 93 runs in 30 Tests for his country.
Toby Roland-Jones All-Time XI
David Warner, Sam Robson, Chris Rogers, Rahul Dravid, Adam Voges, Ben Stokes, Brendon McCullum (WK & C), Chris Woakes, Graeme Swann, Tim Murtagh, Corey Collymore
Watch him pick the XI here