'Told Shivam Dube that if he hits 6 sixes in an over, he will get good price in IPL auction, he smashed 5' – Shreyas Iyer
Chahal then proceeded to ask Dube "So if you had hit six sixes in six balls you would have got six crore?"
Updated - Nov 2, 2019 8:12 pm
12.9K Views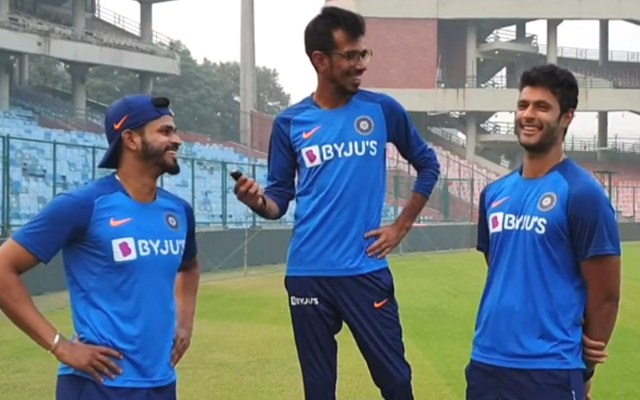 During the course of Yuzvendra Chahal's career, he has created a niche for himself courtesy his witty interview skills where he regularly puts his participants on the spot. This time it was the turn of middle-order batsman Shreyas Iyer and tearaway seam-bowling all-rounder of Mumbai and Royal Challengers Bangalore, Shivam Dube.
Chahal introduced the duo from Mumbai but then realized that both are significantly taller than him. So, what did the wrist-spinner do? He pulled up a chair from behind the camera and stood on it, stating, "Now it is fine or else these two will make my back hurt,"
Dube is set to make his International debut and Chahal asked his RCB teammate about how his thoughts on the prospect. To which the 26-year-old replied that it is proud of him and he wants to keep working hard and continue with the good work.
"I just want to continue performing well. I am playing for the country now so it is a very proud moment. There will be more eyes on me and so I need to work hard and continue the good work," Dube said on Chahal TV.
Shreyas Iyer reveals what he said to Shivam before the all-rounder stroked five sixes in Ranji Trophy
Shivam Dube first burst into the limelight when he stroked veteran spinner Pravin Tambe for five sixes in an over during a domestic tournament in Mumbai; a feat that he went on to repeat in the 2018 season of the Ranji Trophy. Chahal asked Shreyas Iyer- Dube's captain during the Ranji Trophy- who hits bigger sixes among the two. To which Iyer reckoned the all-rounder hits bigger sixes than him.
Dube's five sixes during the Ranji Trophy attracted a plethora of eyeballs and it paved for him to land up with Rs 5 Crore contract with the Royal Challengers Bangalore for the 2019 season. Chahal then went on to ask Shreyas what did he say to the left-hander that he went on to shellack five sixes.
"We told him before the day started that today your price will increase in the auction only if you hit six sixes in an over. So then he ended up scoring a hundred and hit five consecutive sixes in that innings. Tabi jaake usko paanch khokha mila (Only then did he end up getting Rs 5 crore)," said Shreyas as Dube laughed beside him. Chahal then proceeded to ask Dube "So if you had hit six sixes in six balls you would have got six crore?"
Dube has been a consistent performer for Mumbai and India A in the past season or two. In List A cricket, he has managed 614 runs at an average of 43.85 and a strike-rate of 121.34 besides picking up 34 wickets at 32.50.
Here's the conversation
Chahal TV 📺📺returns with Mumbai Boys – Shreyas & Shivam

In this fun segment, @yuzi_chahal speaks with @ShreyasIyer15 on Shivam Dube's maiden T20I call-up and his foray into @IPL – feature by @28anand

Full video ▶️▶️ https://t.co/YUaNHZ5XYB #TeamIndia pic.twitter.com/uCIIz5qKnY

— BCCI (@BCCI) November 2, 2019