Tom Moody hails Rashid Khan after his historic IPL debut
Rashid has already bagged 5 wickets in the first two games with an impressive average an economy rate.
Updated - Apr 12, 2017 2:00 pm
14.5K Views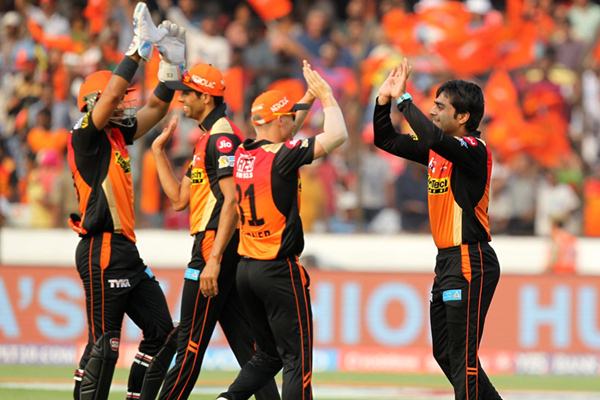 Sunrisers Hyderabad head coach Tom Moody has hailed Afghan teenage spinner Rashid Khan after his exceptional performance in the opening two games of his IPL career. The youngster bagged a whopping Rs. 4.2 crores in the IPL auction and lived up to his reputation in the first two games of the tournament. He might not have got an opportunity if Mustafizur Rahman was available but after performing brilliantly in the first two game it will be pretty difficult for SRH to leave him out even in the presence of Mustafizur.
While the 18-year-old leggie bagged a couple of wickets in the opening encounter against the Royal Challengers Bangalore, he finished with match-winning figures of 3/19 in his allotted 4 overs in the 2nd match against Gujarat Lions. There is something uncanny about his action which is even preventing star players from picking his wrong uns. He bowls at a good pace and gets the ball to bite off the surface.
Moody said that he wasn't surprised with Rashid's performance. "I'm not surprised, that's why we were keen to get him in the auction. I've watched him bowl over the past 12 months and been very impressed with what he's capable of doing. He, along with Mohammad Nabi, are the couple of the reasons why Afghanistan have really grown as a cricketing side over the last year or two. I'm just thrilled for him that he's had an early opportunity to get familiar with IPL cricket and feel comfortable out in the middle, and he's clearly very comfortable,'' Moody was quoted as saying by Sportstar live.
Speaking on the nitty gritty of leg spin bowling Moody said, "The one thing with leg-spin bowling is that all leg-spinners can spin it both ways. That's one advantage. The other advantage is if you're a spin bowler like Rashid who can spin it both ways and with the ability to disguise which one it is that's going left or right, makes it doubly difficult for any batsman. It's one of the reasons that Sunil Narine, not that he's a leg-spinner, has been such a handful over a long period of time; he turns it both ways with mystery. So Rashid has a very good wrong 'un and he's also got a good leggie. He bowls at generally a lot quicker pace than most leg-spinners, which is suited to the Indian wickets. He's obviously found some good form early.''
Hyderabad will be playing Mumbai Indians in their 3rd encounter of the tournament and given the nature of the Wankhede wicket, we might in for a high scoring thriller. Moody, however, feels that the short boundaries at the Wankhede won't be an issue for Rashid as the batsman have to hit him first which they are struggling to do at the moment.
"No, not at all. The batsmen have got to hit him first, don't they? for the size of the ground to come into contention. He like any spinner is going to be challenged on smaller grounds. But traditionally the surface here offers something for spin bowling, it bounces a bit and also turns a bit. So he'll relish the conditions out in the middle. With T20 cricket, there are going to be times when you are hit out of the ground, that's all part of it. It's just how you respond to that is the most important thing.''
One of the biggest plus points for SRH has been the form of Yuvraj Singh who smashed a vintage 62 of 27 deliveries in the opening encounter against the Royal Challengers Bangalore. Moody conceded that the southpaw is happy and relaxed and enjoying his game to the fullest.
"He missed the first half of the tournament (IPL 2016) due to an ankle injury last year. When he joined us, I noticed a sense of contentment with himself and with his game. He felt very relaxed, he enjoyed the environment that we have at the Sunrisers. I think Yuvraj is just enjoying his cricket and that's the most important thing for anybody. Whether it's a young or an older player, if they're enjoying what they are doing, they tend to be at their best. And Yuvraj is seeming to be very relaxed and enjoying what he's doing; he's content with everything both on and off the field, he's in a pretty happy place. He's obviously a very important member of our side because he's such a dynamic player,'' concluded Moody.
Hyderabad will surely look for a 3rd consecutive win in the tournament but it won't be an easy nut to crack for the defending champions given the fact Mumbai will playing in front of their fortress, the Wankhede Stadium.