Top 10 bowlers with most wickets in fourth innings of a test match
Updated - Dec 14, 2014 3:02 pm
163 Views
Top 10 bowlers with most wickets in fourth innings of a test match: Cricket is best played in the longest format, that is the five-day matches, test cricket. It is not a uni-polar world with just all the batsmen around, it includes some very talented bowlers and utility all-rounders too. Batsmen make all the records with the help of the bowlers. It is about gaining supremacy. Bowling is very much crucial for the game, because ultimately its 20 wickets that win test matches. So to give little if not much importance and credit to the bowlers here we bring around the Top 10 bowlers with most wickets in the fourth innings of a test match.
When bowling in a test match, it is important to keep your fitness levels and stamina at the top so that you don't wilt over the long five days. The bowlers have to put the hard hour into the game bowling under the hot sun for most part of the day. Bowling in the fourth innings of a test match is the most strenuous of exercises for every bowler. As they would have already bowled their hearts out in the previous innings and have a task at hand after 3 or 4 days of the test match.
Cricket Tracker presents before you the top 10 list of the bowlers who have taken the most number of wickets in the fourth innings of a test match.
10.Lance Kluesner (South Africa) – 8/64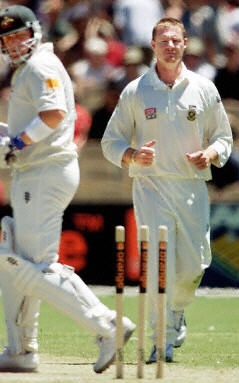 The most unlikely of bowlers in this list would be Lance Kluesner. He was always known as a utility player someone who could do well equally with the bat and the ball. Kluesner is an ideal player any captain would love to have in his side. He was so confident of his ability, that he would take risks which could cost them the match. Lance would back himself to hit a last ball six, that is the level of self belief he possessed. Kluesner started off as a fast bowler and then eventually came up as a pinch hitter. The South African all-rounder bowled his heart out against India at Kolkata in 1996 that gave him his best bowling figures of 8/64. This performance against India makes him 10th in the list.