Top 3 sledging incidents in the history of IPL
The tactic of sledging is mostly adopted by the fielding side, in order to disrupt the composed mind of a batsman.
Updated - Jul 24, 2020 1:53 pm
575 Views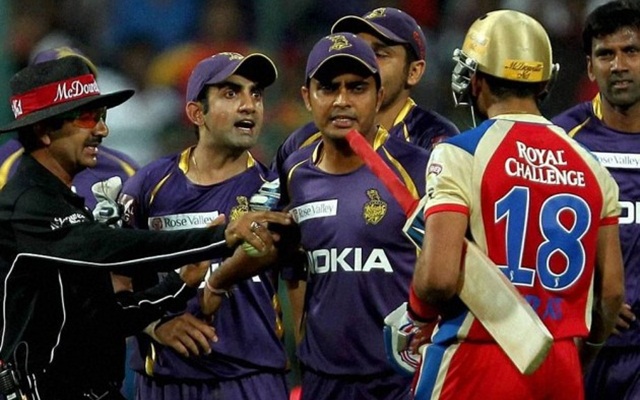 Sledging is the part of the game which doesn't have specifics in the rule book nor being taught to a budding cricketer. However, to be honest, sledging can only make a game more fun to watch wherein the batsman hits a leather ball with a wooden bat.
A batsman uses his bat as his weapon, but it is the calmness in his mind which enables him to stay focussed. Therefore, the tactic of sledging is mostly adopted by the fielding side, in order to disrupt the composed mind of a batsman.
But sometimes these sledges or banter turn into ugly spats. Verbal duels, provocative actions, prolonged stares are part of this act. The very righteous, moral, gentleman's game, at times, is adulterated by the players in the desperation of gaining an upper hand over the opposition.
While it may be an exciting event to watch for the fans, the players in the middle may not quite enjoy being in a non-cricketing quarrel. Indian Premier League, in its history of a dozen seasons, has seen its share of sledging. With a huge amount of money and reputation of each player and team riding on every game, altercations are bound to happen.
Here we bring you top three incidents of sledging in the cash-rich league:
1. Kieron Pollard-Mitchell Starc
Perhaps this is the ugliest on-field conflict involving a batsman and a bowler in the history of IPL. Two giants of their respective fields, Mitchell Starc and Kieron Pollard– standing at heights of 6'6" and 6'5" respectively– were up against each other. One, who is amongst the fiercest fast bowlers of any generation and another, who is known to dismantle any bowling attack with his lusty blows.
The scene for a dramatic stretch is set; IPL 2014, an electric Wankhede Stadium, death overs, Starc against well-set pair of Pollard and Rohit Sharma. On the fourth ball of the 17th over, Starc bowls a bouncer which Pollard fails to connect with his hook shot. Like a typical Aussie fast bowler, Starc sends some verbal sledges towards Pollard. The West Indian doesn't want to get into any altercation and motions the bowler with his hand to just go back on his bowling mark.
Moments later is when madness ensued. Starc runs in to bowl and as he is about to deliver, Pollard moves away from his batting crease. The speedster is distraught and despite Pollard moving away, he sends down the ball towards the batter anyway. The Trinidadian furiously throws his bat in Starc's direction. Fortunately – for Starc – the bat slips out of Pollard's hand and gets thumped on the ground.
The crowd goes into a frenzied state, Rohit tries to calm down the Pollard, Chris Gayle comes and has a chat with his compatriot, and the umpires rush towards him to pacify things down. In the strategic break, Virat Kohli has a heated dialogue exchange with the MI batsman. The battle remains even as Pollard scores a boundary of Starc but later the bowler runs him out. This is what happens when two behemoths of the cricketing world collide.