Top 5 current batsmen with highest batting average in international cricket
We've considered a minimum of 100 innings for the list.
Updated - Jul 22, 2020 9:29 pm
34.2K Views
Cricket has come a long way since its inception in 1877. It started of as a game played over several days just between two teams, Australia and England. The undisputed king of those times was Don Bradman, who is regarded as the greatest cricketer ever and who finished his career with a mind-numbing average of 99.94 in 80 innings.
Today the game is played by several nations. The rules and technicalities of the game have changed as well. Cricket has always been an equal battle between bat and ball, but over the last couple of decades, greater field restrictions, shorter boundaries, flatter pitches etc have tilted the balance in favor of batting.
While cricket surely has become more of a batsman's game in today's times, we now have three formats of the game- the traditional Test cricket, One Day Internationals and T20 Internationals. The presence of three completely different formats with different requirements has made it difficult for batsmen across the world to adapt and score runs consistently.
Batsmen have faltered trying to alter their techniques and skillsets for a different format and lost their touch even in the format they played well in. Despite the challenges, there are a few batsmen around the globe who have managed to dominate and stay at the top of their game.
They have been able to maintain a high average across formats playing percentage cricket. Let's have a look at 5 current batsmen with the highest average in international cricket(min 100 innings).
5. Cheteshwar Pujara – 47.12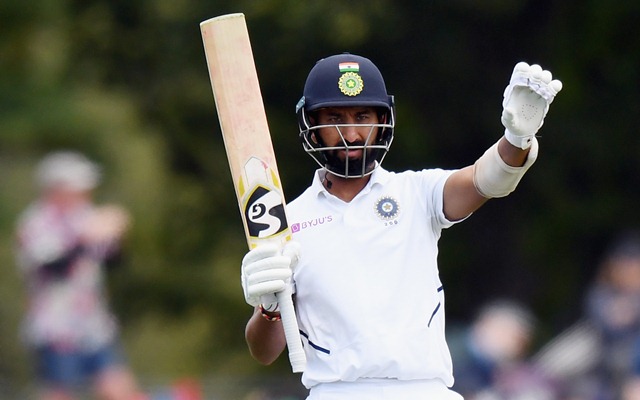 Cheteshwar Pujara is surely a surprise entry in this list. Pujara hasn't played a single T20I and has played a handful of ODI games at a measly average of 10.2. However, Pujara has been one of the most consistent players of this generation in the Test arena with an average of 48.7.
The promising long format batsman has played several crucial innings at number 3 and is one of the few old school players who still believes in tiring out bowlers with his defence before going for his shots.
Even many world-class bowlers found it tough to bowl at him in the longest format of the game. He stands at No.5 in this list with a total average of 47.12 in 133 innings.