Top Stories: Things that made news in the cricket world today
All the news stories that hogged the headlines today.
Updated - Jun 26, 2020 8:27 pm
183 Views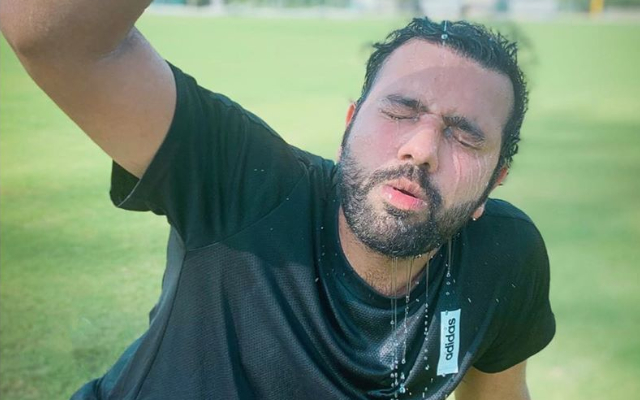 Follow us on Google News
Bouncer rule was introduced to limit the success of 'black' West Indies team: Darren Sammy
Former West Indies captain Darren Sammy has once again opened the debate about racial discrimination in the cricket circles.
In the past few weeks, the Saint Lucia star has talked about this matter several times.
Even after talking about several issues related to racial discrimination and cricket in general, the all-rounder expressed his unique point of view.
'Good to be back on the park' – Rohit Sharma returns to outdoor training after coronavirus break
There hasn't been any concrete news over the resumption of cricket in India yet.
However, players have already started sweating it out and be on their toes whenever the cricketing action kicks off in the near future.
The newest entrant in this list is Team India opener Rohit Sharma, who braced the field on Thursday to do his first outdoor training session after three months of gap.
'Won't postpone PSL to host Asia Cup next year' – PCB responds to BCCI official's suggestion
At a time when the whole world has eagerly been waiting for the resumption of cricketing action, PCB CEO Wasim Khan recently revealed that the much-awaited Asia Cup is slated to be hosted in September or October this year.
However, Wasim Khan's statement didn't go down well with a BCCI official, who suggested the PCB CEO to postpone the PSL next year and try slotting the Asia Cup in that particular window.
The BCCI official also suspected that conducting the Asia Cup this year would be a struggle during the pandemic situation.
Inzamam-ul-Haq recalls how two youngsters taught him a lesson in 2005 India Test series
The India vs Pakistan match is always a must-win game for both sides.
It is not only about beating each other, but it is more than that.
Given how the stakes are high always when these two teams come up against each other, the matches are quite interesting to watch. One such match had happened in Mohali in 2005.
Super Over is necessarily not needed in ODIs, the game should be called a tie: Ross Taylor
The 2019 World Cup final was nothing short of a full-length feature film.
The cat-mouse battle between England and New Zealand went right down to the wire and it was decided by an out-of-place boundary count rule.
England eventually won the World Cup for the first time, but the fans had broken down due to the manner in which New Zealand lost.
Russel Arnold reveals why Sri Lankan players called Muttiah Muralitharan 'Motor Mouth'
Muttiah Muralitharan is an absolute genius cricketer.
He has picked up more than 1,300 international wickets. He is probably the greatest off-spinner to have ever played the game.
But, one thing which people say about the legendary spinner, is the fact that he is always talking. The spinner from Kandy made some really good friends along this journey.
'It was Sachin but currently Virat Kohli' – Umar Gul when asked about his favourite batsman
Virat Kohli has been one batsman who has garnered a lot of respect through the last few years. When he started out in 2008, there were a lot of external things which you could talk about him.
However, it's his performance which has been making talks since 2011.
The right-handed batsman has grown from strength to strength. It should be noted that it has been an upwards journey from him for some time now.
'Virat Kohli is with the likes of Sachin Tendulkar' – Former Pakistan batsman Mudassar Nazar feels Babar Azam still needs time to grow
There has been no looking back for Babar Azam after breaking into the national side.
Pakistan's limited-overs' skipper has impressed everyone with his batting technique and consistency across all formats.
25-year-old Babar is a rare kind of a player who averages over 50 in all three forms of the sport.
'IPL was a totally different thing, it was like a festival' – Umar Gul recounts his experience of playing for the KKR
The Indian Premier League (IPL) commenced in 2008 when the players from all the countries participated and the event was quite a hit in its inaugural season.
But the 26/11 attacks in Mumbai changed everything and Pakistan players were banned from playing in the cash-rich league.
Ever since then the situation is the same with the prevailing political tensions between the two countries.
Bhuvneshwar Kumar feels dismissing Sachin Tendulkar for a duck was turning point of his career
Playing alongside Sachin Tendulkar is a dream of almost every young cricket fan in India. But how many of them can actually boast about dismissing the Master for a duck in domestic cricket.
As it turns out, only one cricketer has done that.
Bhuvneshwar Kumar was the bowler when Tendulkar was dismissed for a duck for the first and only time in Ranji Trophy cricket.
Waqar Younis reveals how he felt after not being a part of Pakistan's 1992 World Cup-winning team
1992 was a golden year for Pakistan cricket team. Under the leadership of Imran Khan, the Asian giants won the World Cup.
Many successful and legendary players of Pakistan were part of this team. Javed Miandad, Wasim Akram, Aamir Sohail, Inzamam-ul-Haq and Ijaz Ahmed were part of the squad.
However, one player who missed out on an opportunity to play in the World Cup 1992 was Waqar Younis.
Follow us on Telegram