Bouncer rule was introduced to limit the success of 'black' West Indies team: Darren Sammy
Sammy was the skipper of the West Indies team which won the ICC T20 World Cup twice, in 2012 and 2016.
Updated - Jun 26, 2020 1:57 pm
890 Views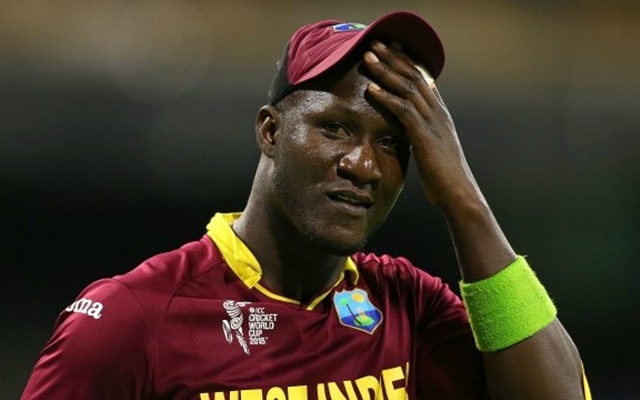 Former West Indies captain Darren Sammy has once again opened the debate about racial discrimination in the cricket circles. In the past few weeks, the Saint Lucia star has talked about this matter several times. Even after talking about several issues related to racial discrimination and cricket in general, the all-rounder expressed his unique point of view.
Talking the documentary film 'Fire in Babylon', in which the success of the West Indies team in the 1970s and 1980s was discussed, the all-rounder talked about the introduction of the bouncer rule.
Previously in cricket, there was no rule regarding the number bouncers which can be bowled by a bowler in one over, but now there is a rule in place. Many believe it was introduced because of the West Indian fast-bowling unit.
I might be wrong but that's how I see it: Darren Sammy
According to Sammy, the rule didn't come into existence when Australian pacers Jeff Thomson and Dennis Lillee were hurting people with their bouncers.
"Looking at the Fire in Babylon, looking at when Thomson and Lillee and all these guys were bowling quick and hurting people. Then I watch a black team becoming so dominant and then you see the bouncer rule start to come in and all these things start to come in and I take it, as I understand it, as this is just trying to limit the success of a black team could have," Sammy told Inside Out, a show by ICC.
A clip of this interaction was uploaded by the International Cricket Council (ICC) on its official Twitter handle. The words by the two-time World Cup-winning captain was directly pointed out at the policies on which cricket ceases to exist. "I might be wrong but that's how I see it. And the system should not allow that," Sammy added.
The all-rounder has been in the public eye more often than not in recent time. It all started when a man of African-American origin named George Floyd was killed brutally by the cops in Minneapolis.
"The kneeling on this guy's neck brought so many scenarios to me. The symbol itself, I saw it as the people in power suffocating those who are less fortunate," Sammy said.
💬 "It has triggered a conversation that needs to be had across the cricketing fraternity."

West Indies all-rounder Daren Sammy expressed his thoughts on why the issue of racism needs to be discussed widely 📽️ pic.twitter.com/QaikzGXsK7

— ICC (@ICC) June 25, 2020