'Tujhe badi hasi aa rahi hai saale' - Virat Kohli hilariously replies to Karan Wahi's comment on Anushka Sharma's post
Karan Wahi and Virat Kohli are close friends.
Get every cricket updates! Follow us on
Virat Kohli, the Indian skipper is known for his aggression on the field and his fans are well aware of the fact that he never bows down in front of his opponents. However, in lockdown, he is showing his comic side to everyone. Recently, Anushka Sharma shared a clip in which the Delhiite could be spotted behaving like a Dinosaur that left everyone in splits. Meanwhile, Karan Wahi, a close friend of Kohli came out with a comment. But, the 31-year-old was not very thrilled with the same and gave a cheeky reply.
Amid the COVID-19 outbreak, the cricketers have become more than active on social media platforms. Many have shifted their focus towards Apps like Tik-Tok. In the meantime, there are some, who are busy doing the live sessions with their teammates and other players.
Karan Wahi comments on Anushka Sharma's post; Virat Kohli responds
At the same time, Kohli is busy easing down the mood of the fans. Recently, Anushka Sharma shared a clip in which the Indian batsman can be spotted walking and screaming like a Dinosaur. The video got viral instantly and many celebrities came out with their comments on the actresses' post.
Karan Wahi, the Indian actor was not able to stop his laughter and left 'rolling on the floor laughing' on Anushka's post. As soon as Kohli came across his friend's comment, he hilariously replied," @karanwahi tujhe badi hassi aa rahi hai saale (you are laughing too much),".  So far that video has been viewed over 7 million times and received over 23,000 comments.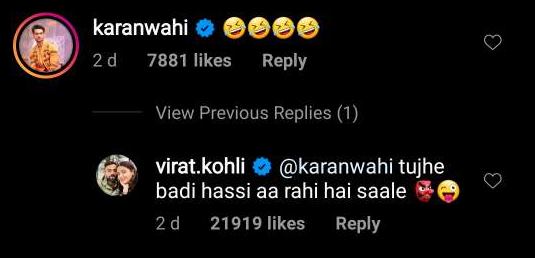 Earlier, Anushka had shared a hilarious clip in which she could be spotted playing the role of a cricket fan and asking Kohli to score a boundary, "Kohli, chauka maar na, kya kar raha hai (Kohli, hit a four, what are you doing?)." It was one of her efforts to make her hubby get the feel of being on the field as he is currently spending his time back in the house amid nationwide lockdown.
It is known that if the things were normal, then Kohli would have been playing for RCB in IPL 2020 at this time. But, the cash-rich league was indefinitely postponed by BCCI in the wake of a global pandemic.
Here is the post: