Twitter celebrates AB de Villiers' decision to play in Pakistan during the PSL
The Pakistani fans were overjoyed with the gesture.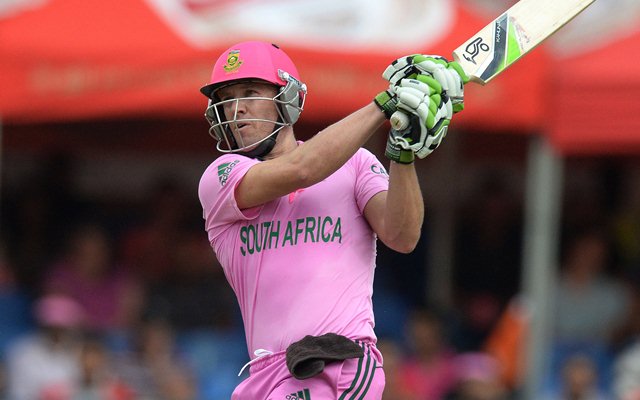 Follow us on Google News
AB de Villiers may have retired from international cricket some time ago. However, he never misses out on enthralling his supporters. His latest gesture has helped him earn a considerable amount of respect from the fans in Pakistan. Often regarded as Mr 360 degrees, the batsman has confirmed his participation at the Gaddafi Stadium where Lahore Qalandars play a couple of games.
In a bid to restore cricket in Pakistan, the Pakistan Cricket Board (PCB) has decided to host eight games in the country. With De Villiers confirming his availability, it has surely boosted the mojo of the tournament. The Pakistan Super League (PSL) is scheduled to start from the 14th of February till the 17th of March. The last time ABD visited Pakistan was when South Africa toured here in 2007.
A big boost for Lahore Qalandars
"I am delighted to confirm that I will represent Lahore Qalandars in front of our home crowds on 9 and 10 March, during the HBL PSL 2019. I look forward to revisiting the Gaddafi Stadium and aim to play my part in helping Lahore Qalandars achieve something they have been aspiring for since the inception of this tournament in 2016," the cricketer told according to the PSL official website.
The Gaddafi stadium will be lit up for sure as ABD will walk towards the crease. Ever since the attack on the Sri Lankan team back in 2009, international teams have refused to travel Pakistan citing security reasons. However, slowly cricket has been finding its way back in the country. The timing couldn't have been any better for the PSL.
The Pakistani fans were overjoyed with the gesture. Their happiness had no bounds as they expressed their gratitude to AB de Villiers on Twitter. Even the owner of Lahore Qalandars Fawad Rana was excited to watch ABD play in Pakistan. Last year even his Proteas' teammates Faf du Plessis, Hashim Amla, David Miller, Morne Morkel and Imran Tahir took part in the World XI versus Pakistan game in Lahore.
Here we have some of the Twitter reactions following ABD's announcement to travel Pakistan:-
Looking forward to @ABdeVilliers17 coming to Pakistan on the 9th and 10th of March for @lahoreqalandars, great news for the @thePSLt20 fans

— zainab abbas (@ZAbbasOfficial) January 14, 2019
Ab de Villiers is coming to Pakistan 😊😊😊#PSL2019 #DamaDamMast pic.twitter.com/unxcR7k4dl

— Fateh Hussain (@FatehHussain17) January 14, 2019
Stardom #ABDeVilliers has given his FULL AVAILABILITY of visiting Pakistan to play #PSL4 matches.🏏 Says he is ready to fulfill his role in making international Cricket return to Pakistan. ABD toured Pakistan in 2007 last time on which he says he was fully supported by crowd.🇵🇰

— Arfa Feroz Zake (@ArfaSays_) January 14, 2019
Just returned from college n got the news that AB de Villiers is coming to LAHORE😍🙈
Ohh Myy Goosh Cant belive my eyes
First Kaka n Figo n now @ABdeVilliers17😍

"I think i have a role to play in bringing international cricket back to Pak" says Mr 360😍
THANKU AB❣
#PSL2019 pic.twitter.com/wi4Mi9nrCR

— Nilab Kayani💚🇵🇰 (@amina_kayani12) January 14, 2019
Waiting for AB de Villiers in LQ kit 😍😍#PSL4

— Red Chilli (@JattiSays) January 14, 2019
This Is a Big Slap Of Others Players Who Did Not Come To Pakistan @ABdeVilliers17 is legend and Legend Come to Pakistan https://t.co/kQmSsTSDgB

— Ghulam Mustafa Dogar (@mustafadogarpti) January 14, 2019
Great news.. most welcome to pakistan @ABdeVilliers17 coming to Pakistan on the 9th and 10th of March for @lahoreqalandars, great news.. ❤❤ ❤ ❤ 💞 pic.twitter.com/MdmDAUjaqw

— مطھری ♥ (@AbyHansLo) January 14, 2019
Here we go! @ABdeVilliers17 😍#KhelDeewanoKa @lahoreqalandars https://t.co/tR6rH1158p

— Emmad Hameed (@Emmad81) January 14, 2019
Welcome Ab De Villiers to #PSL 😉 pic.twitter.com/5MxctZWs9U

— Sifat Khan (@sifatkhann) January 14, 2019
#TravelPakistan
OMG AB de villiers is coming to Pakistan for PSL wow wow 💃 💃💃 pic.twitter.com/Br7YsPnoY6

— M Faisal (@MFaisal46415784) January 14, 2019
Eagerly waiting For you Sir!❤
It would be an honour For us to Host you!😍@ABdeVilliers17 ❤ pic.twitter.com/R9gI2hnmK5

— 🌈BE9ZI💥 (@ABDuL_KARIM43) January 14, 2019
News of the day is that AB De Villiers will play PSL 4 matches in Pakistan… 😊
Thank you🌹
Thank you ♥️
Thank you Sir 🌷💕🌷#ABdeVilliers@ABdeVilliers17 pic.twitter.com/OOVJzMq5nF

— راشد چوہدری (@ARain____) January 14, 2019
OMG AB de villiers is coming to Pakistan for PSL wow wow 💃 💃💃

— WaQaS 🇵🇰🏏 (@iCricketFreak) January 14, 2019
You are trending in Pakistan buddy.. pic.twitter.com/4ScAK69WBx

— Rizwankhattak (@Iamrizwanktk) January 14, 2019
Thanks for coming in Pakistan greatest player of the history AB de Villiers. We Pakistanis will warmly welcome you. InshaALLAH you will want to come again & again here. pic.twitter.com/tmkMWVjEKU

— Muhammad Waqas (@WaqasSa15239874) January 14, 2019
What a news!! Mr360 The one and only @ABdeVilliers17 is coming to pakistan for this year #PSL4 Hatsoff to you Legend 😍😍❤❤#DamaDamMast pic.twitter.com/JRJFJq1VSJ

— Mr Majboor (@asim0_0) January 14, 2019
Still remember his magnificent ODI hundred at Gadaffi Stadium during 2007 tour #ABDeVilliers https://t.co/11wAyPGVag

— Jawad Satti (@SattiJawadPk) January 14, 2019
9th March is going to be a dream Day for Lahoris
Watching @ABdeVilliers17 playing for Lahore in Lahore 💚💚#MainHoonQalandar #DamaDamMast

— Ammar (@Ammar__tweets) January 14, 2019
aap best ho @ABdeVilliers17! <3

— anam (@anamnadeem) January 14, 2019
Welcome to Pakistan @ABdeVilliers17 Surely Lahore Qalandars will be a formidable opposition this time around. #HBLPSL

— Umair (@Pakistan354) January 14, 2019
Mr 360° @ABdeVilliers17 Coming to Pakistan for @thePSLt20
Warm Welcome to ABD, really looking forward to watch Blistering inning of Mr360° at Gaddafi Stadium Lahore#DamaDamMastQalandars https://t.co/8GG4NFixeE

— Abdul Basit Jamlera (@JamleraBasit) January 14, 2019
Follow us on Telegram