Twitter disappointed with Rishabh Pant's dismal show in Wellington T20I
While some continued to back him, others felt he wasn't suited for limited overs at the moment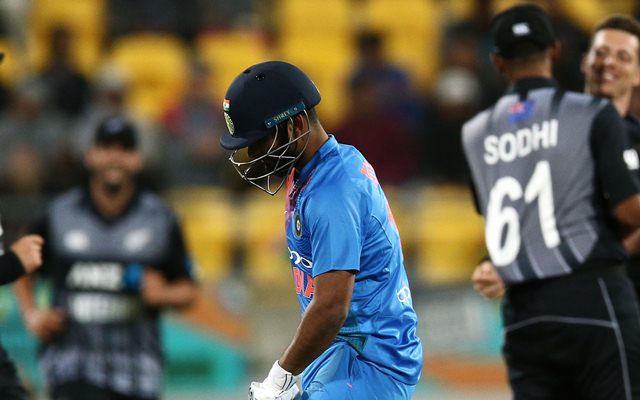 The first T20 international between India and New Zealand kicked off at Wellington. With Virat Kohli rested for the remainder of the tour, skipper Rohit Sharma continued to handle the captaincy mantle. Putting the hosts to bat first, Tim Seifert tore apart the Indian bowling attack with a phenomenal 84(43). The hosts ended up posting a total of 219/6.
India began well with Shikhar Dhawan and Vijay Shankar gaining control. However, just when it seemed both were heading towards a big partnership, Dhawan got dismissed. Rishabh Pant who came in at No.4 was expected to unleash his set of fireworks. However, the youngster struggled for his entire duration at the crease.
Pant's uncomfortable stay
Throughout his innings, Pant looked quite uncomfortable attempting different shots. Finally, a yorker from Mitchell Santner had his middle stump knocked over. His painful stay at the crease was brought to an end. An innings of 4(10) was indeed a pure match losing knock, especially with the required run rate soaring above 12.
For a long time, there has been a lot of debate with regards to Rishabh Pant's inclusion in the limited overs side. The wicketkeeper-batsman has undoubtedly proved his credentials in red ball cricket. Smashing centuries in England and Australia, he has carved out a place for himself in the Test side. However, he has failed to replicate the same when it comes to ODIs and T20Is.
Twitter was quite displeased by Pant's poor show with the bat. While the 21-year-old was expected to go all bonkers especially with the small grounds, he failed to put the bat on ball. A lot of tweets poured in against Pant's batting tactics. While some continued to back him, others felt he wasn't suited for limited overs at the moment.
Here we have some of the Twitter reactions on Rishabh Pant's innings:-
Ishan Kishan is any given day better T20 batter than overrated Rishab Pant. #AskStar

— Bishwajeet Mahato (@mahato99) February 6, 2019
Pahle straight shot Sikh lo baad main reverse shot khelna. ..Rishab Pant. …

— Akhilesh Kumar (@Akhilesh1404201) February 6, 2019
Rishab Pant, you've to get your eye in before trying audacious shots kid. Very irresponsible innings. Definitely didn't expect this from him.#NZvIND

— shaz doherty (@tennis_enigma) February 6, 2019
#staraikelungal
Kedar jadhav is more better than Rishab pant in top order batting

— Kavi (@Kavi92176675) February 6, 2019
Rishab Pant is overrated.#NZvIND

— Captain Jeetha 🇮🇳 (@captainjeetha) February 6, 2019
pant trying to play reverse sweep shot again pic.twitter.com/e9A6betsZe

— ㅤ ㅤ ㅤ ㅤ ㅤ ㅤ ㅤ ㅤㅤ ㅤ ㅤ ㅤ (@firkiii) February 6, 2019
Childish and foolish batting by Rishabh Pant. Was making a joke out of himself on the field. Immature play. #NZvIND

— Jainam Mehta (@Jainam09) February 6, 2019
What's up with Rishabh Pant? He plays like he doesn't care. ..

— Maverick 🇮🇳 (@HarishHMavericK) February 6, 2019
Dont you All think that Rishabh Pant ,Hardik padya, getting more importance without doing anything for indian cricket? They are IPL starts only. #AskStar

— swapan (@swapan3108) February 6, 2019
Rishabh Pant literally got out for 4 runs off 10 balls at a strike rate of 40, you stupid imbeciles coming after Dhoni for 'not attacking'! #NZvInd

— Eamon Lahiri (@TheSimianFreud) February 6, 2019
I don't think Rishabh Pant should be in the WC squad. For all his talent, he has underperformed in international ODIs and T20s and you can't have kind of a liability in a world cup. He's great for tests because the field is up and he can get away with some mishits. #NZvIND

— Short Third Man (@vyatikram188) February 6, 2019
Rishabh Pant averages 19 after 11 T20 internationals, *at a strike rate of a 112* (i wish there was a way to put that in block letters).

If you have a point about Dhoni 🔄 Pant, it is objectively wrong.#NZvIND

— Eamon Lahiri (@TheSimianFreud) February 6, 2019
Yes , What you said was right 👍
Rishabh Pant is a GameChanger
Except that he changed the game from where India had a chance to India had no chance of winning 👏 Keep it up Vikrant Sit @vikrantgupta73

— Roushan Singh (@Roushan06064666) February 6, 2019
Very very very dissappointed with rishabh pant today the way he played today was not acceptable..But still i have seen him bat many a times and he is a better player and the team needs such a player in the wc backing him but if he plays like this only he is the one to be blamed.

— Arsh 🏏 (@arsh2397) February 6, 2019
Rishabh Pant's T20I career
10 inns, 161 runs, Avg 17.88, S.R. 111.8
The average increased mainly due to 58 against West Indies at home and one not out in the first match. & Some clowns said rishabh pant is better than msd🙄#NZvIND #MSDhoni

— Ahir Hari (@ahirhari3) February 6, 2019
Rishabh pant Dhoni ko replace krne k liye khel rha h team k liye khelege us din khiladi ban jayega.#NZvIND

— Anna (@_____Annnaa) February 6, 2019
Rishabh Pant is big let down today #INDvNZ

— Karan Patel (@patelkaran952) February 6, 2019
Rishabh Pant played all kinds of shots, didn't score runs, consumed 10 deliveries, upped the asking rate and thankfully got out #INDvNZ

— Milesh Daru (@mpd12) February 6, 2019
Rishabh Pant : can't connect for shit.!

— ßATSY🏏 (@itsalokj_) February 6, 2019
Approaches tests like T20s & T20Is like tests – The curious case of Rishabh Pant #INDvNZ

— 🅽🅰🆂🅴🅴🆁 🅱🅷🅰🆁🅰🆃 (@BeingYuvNaseer) February 6, 2019
Will Rishabh Pant be given a chance in second T20 match?#AskStar

— RAHUL KUMAR (@iamrkjjp) February 6, 2019
Painful existence at crease of Rishabh Pant has mercifully ended. God bless him #INDvNZ @BCCI @ICC @RishabPant777

— D Deb (@DDebKol) February 6, 2019
"Disappointing Rishabh Pant. We had high expectations."

The only correct analysis Dugout has done all day. #NZvIND

— Manya (@CSKian716) February 6, 2019