Twitter explodes as Aaron Finch breaks record of highest T20I individual score
Finch decimated the helpless Zimbabwean attack.
Updated - Jul 3, 2018 3:12 pm
4.6K Views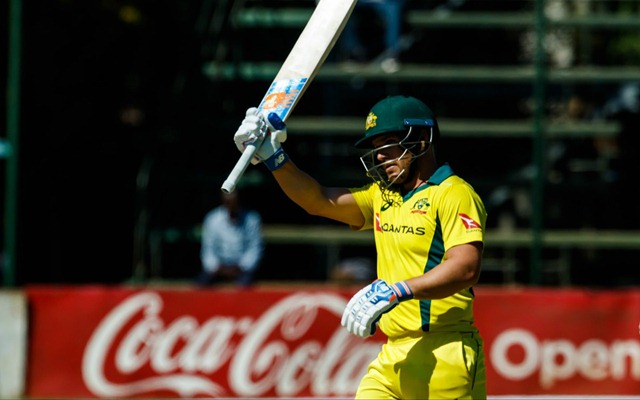 Zimbabwe and Australia have had contrasting fortunes in their respective opening match. The Aussies came into the event on the backs on a thumping series defeat versus England. Aaron Finch and his troops needed some individual brilliance in order to turn their fortunes around. It came in the form of a couple of stupendous knocks from Finch, the skipper himself.
He scored 84 runs in Birmingham in England's losing cause versus the Brits. In the first match of the ongoing series, the Victorian played another blinder against Pakistan as he scored 68 unbeaten runs to help his team trace down a modest target of 117. Prior to today's match, he had an average of 226 in T20Is in 2018. He carried over his form in the Men in Yellow's next match versus Zimbabwe as well.
Finch smashes records
After the hosts won the toss and elected to field first, Finch unfolded mayhem in the opposition camp. He scored a century in a mere 50 balls after which he threw the kitchen sink at everything. In 2013, the batsman scored 156 runs versus England and today at the Harare Sports Club, he broke his own record to score 172 in 76 balls, a knock which was carved with 16 fours and 10 sixes.
Just when it seemed that he would take apart Chris Gayle's record of 175 runs in T20s, created back in 2013. Unfortunately, he was hit-wicket in the final over off Blessing Muzarabani. D'Arcy Short was his opening partner and both also notched the highest ever partnership of 223 runs in T20Is and the second overall in T20 cricket.
The stand was broken by Muzarabani when Short mistimed a pull shot. The Yellow Army eventually managed 229 runs in 20 overs. Meanwhile, Twitter showered praises on Finch as he wreaked havoc.
Here is how Twitter reacted
Oh @AaronFinch5 172 off 76… one of the greatest knocks of all time! And selectors wanted you to bat down the order! Always a true opener..
simply 👏🏻👏🏻👏🏻👏🏻#AUSvsZIM

— Dean Jones (@ProfDeano) July 3, 2018
Aaron Finch, what exceptional hitting. 172 in a T20 innings , beating his own world record. Simply Wow #ZIMvAUS

— Mohammad Kaif (@MohammadKaif) July 3, 2018
Oh you Beast @AaronFinch5 😱

— Siddharth Kaul (@sidkaul22) July 3, 2018
@AaronFinch5 well Played Dogga 😍 #172 #WorldRecord #BFD #💛💚 #AUSvsZIM

— Fawad Ahmed (@bachaji23) July 3, 2018
Is this a 50 over match? 😱 wow @AaronFinch5 you are on fire 🔥 🔥🔥 #ZIMvAUS pic.twitter.com/rWXLEtNvu4

— Lisa Sthalekar (@sthalekar93) July 3, 2018
Incredible @AaronFinch5 #ZIMvAUS 👏🏼 👏🏼 👏🏼

— Pat Cummins (@patcummins30) July 3, 2018
— Jason Gillespie 🌱🌈 (@dizzy259) July 3, 2018
A 100 for Aaron Finch from 50 balls,carnage! #ZIMvAUS

— zainab abbas (@ZAbbasOfficial) July 3, 2018
Aaron Finch & D'Arcy Short now on 184 from 16 overs – the highest partnership for any wicket in the history of T20 Internationals.
Previous most was 171* bw Guptill & Williamson vs Pak, Hamilton, 2016
Carnage. #ZIMvAUS

— Deepu Narayanan (@deeputalks) July 3, 2018
2nd T20I century for Aaron Finch! Took him just 50 balls.

Big prediction: he will outscore the entire Zimbabwe side.#ZIMvAUS #TriSeries #Cricket

— CricBlog (@cric_blog) July 3, 2018
Aaron Finch causing the further collapse of the Zimbabwean economy right now. #ZIMvAUS

— Andrew (@andrew_54) July 3, 2018
Aaron Finch became the first Aussie to score 68 in a T20I match. The lowest score never made by an Aussie is now 78. #AusvPak

— Ric Finlay (@RicFinlay) July 2, 2018
and they couldn't give a start for Aaron Finch in IPL how strange? #ZiMvAuS

— Sargon (@Da_Real_Deal7) July 3, 2018
The way aaron finch is batting at the batting at the moment, he could very well be the first batsman to score a double hundred in T20Is.
Absolute carnage.

— Sethuraman (@Sethu1012) July 3, 2018
Aaron Finch should be made the ODI skipper too. Tim Paine doesn't deserve a place in the XI. #ZIMvAUS

— Prashant Paul (@PrashantSport) July 3, 2018
Pakistan yesterday: 116
Aaron Finch today: 125

Maximum trolling by Finchy.#ZIMvAUS #TriSeries #Cricket

— CricBlog (@cric_blog) July 3, 2018
Aaron Finch most t20 consecutive 50s in a row by a captain (4) , in some serious touch

— joelkalajzic (@joelkalajzic) July 3, 2018
Aaron Finch's international T20 batting average in 2018 has just ticked over 300 😲 #ZIMvAUS

— Louis Cameron (@LouisDBCameron) July 3, 2018
highest batting average by captains in T20Is –

Aaron Finch 60.44
PL Mommsen 54.33
RG Sharma 38.44
F du Plessis 37.96#ZIMvAUS @AaronFinch5

— Nikhil Mane 🏏🇦🇺 (@nikhiltait) July 3, 2018
Enjoying Aaron Finch's work, but surely it's not good for cricket? #ZIMvsAUS

— Kingy (@tom_king79) July 3, 2018
Aaron Finch stop it, but don't actually stop it. #ZIMvAUS

— Dan (@DanielMcLean40) July 3, 2018
Aaron Finch is destroying careers here #AusVsZim

— Mark Williamson (@pettini24) July 3, 2018
I think zimbabwe have activated indian bowling mood. Well congrats to Aaron Finch.#ZIMvAUS #AUSvZIM

— Akbar Lakho (@ALiAkbarLakho) July 3, 2018
Aaron Finch has scored more runs in 20 overs than I've scored in the last two seasons, combined @gradecricketer #AUSvZIM

— Matt Luff (@Luffy_1991) July 3, 2018
Aaron Finch going nuts. It's nice to write 2 positive cricket tweets in 24 hours rather than sandpapering over everything. #ZIMvAUS

— Matthew Beggs (@MatthewBeggs) July 3, 2018
Aaron Finch scored 167 on 73 Balls

Highest Ever in T20's … !

A World Record … 😁#AUSvsZIM 🏏

— THE CHILL TRAITOR BRAT 🇵🇰 (@Shehrozzzzzzz) July 3, 2018
Take a Bow Aaron Finch.He is Fairly F*%king Smashing it in the 20/20 v Zimbabwe.After the Shit way we played in England I'll take this.#AuSvZiM

— Dr. Strange (@Drstrange69) July 3, 2018
Aaron Finch just needs a cheeky 33 off the last over for his double hundred.#ZIMvAUS

— Greig White (@schnozzman) July 3, 2018
Aaron Finch has just broken the world record in T20 cricket! Admittedly it's only against Zimbabwe (no disrespect intended) but what an innings. Unbelievable! #ZIMvAUS

— Luke Foley 🇦🇺 (@LukeAFoley) July 3, 2018
Bizarre ending to Aaron Finch classy innings!!! 👏👏👏#AUSvZIM

— Muhammed Uzair (@iamUzair11) July 3, 2018