Twitter explodes as Fakhar Zaman becomes the fastest batsman to 1000 ODI runs
He accomplished the feat when he reached 21 runs from 27 balls.
Updated - Jul 22, 2018 1:48 pm
2.7K Views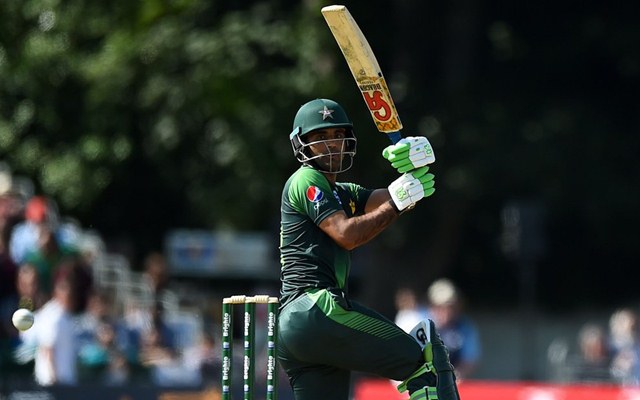 Follow us on Google News
Fakhar Zaman, the Pakistani opening batsman, is currently in jaw-dropping form and has been a tormenting factor for bowling attacks. He made his ODI debut back in the 2017 ICC Champions Trophy against South Africa at Edgbaston in Birmingham and hasn't looked back ever since. His knock of 114 runs from 106 balls against India in the final of the event brought him into the limelight.
He hasn't played a whole lot of matches in the 50-overs format but has already cemented his position in the lineup as one of their most prolific run scorers. The Men in Green are currently playing a five-match ODI series against Zimbabwe at Queens Sports Club in Bulawayo and are leading the series 4-0. Zaman's role has been pivotal in all the four victories. Moreover, he is also the highest run scorer in the series.
Zaman surpasses Sir Vivian Richards
The fifth and final match is currently underway and it's nothing, but a mere dead rubber. Prior to this encounter, Zaman had scored 980 runs from 17 matches at a gigantic average of 75.38. Moreover, he was on the verge of becoming the fastest batsman to complete 1000 runs in the format. He accomplished the feat when he reached 21 runs from 27 balls.
Tendai Chatara dished out a length delivery outside the off-stump that deserved to get punished. He latched on to the loosener and spanked the leather to the boundary without much fuss. En route the accomplishment, he surpassed former Windies cricketer Sir Vivian Richards, who achieved the same in 21 contests. The left-hander also beat Babar Azam, another of the stalwarts in Pakistan's lineup.
Previously, Zaman also became the first Pakistani batsman and the sixth overall to notch an ODI double century in his erstwhile match. Meanwhile, Twitter heaped praises on the North-West Frontier Province-born cricketer.
Here is how Twitter reacted
Congratulations @FakharZamanLive yet another milestone,fastest to reach 1000 ODI runs!! Gets to it in his 18th innings,previous best Viv Richards who got his in the 21st innings. #ZIMvPAK

— zainab abbas (@ZAbbasOfficial) July 22, 2018
Congratulations @FakharZamanLive on creating another record!
Fastest to reach 1000 runs in ODI Cricket 👏.#ZIMvPAK pic.twitter.com/HAIAnoE673

— PCB Official (@TheRealPCB) July 22, 2018
No one in the history of cricket has reached 1000 ODI runs faster than this Fakhar

— Dennis Fakhar (@DennisCricket_) July 22, 2018
Fakhar Zaman breaks another record, he is now the fastest ever to reach 1000 ODI runs.#ZimvPak #FakharZaman pic.twitter.com/QKvzpYyUbi

— king sra (@KingSra143) July 22, 2018
Fakhar Zaman has become the quickest batsmen in history to 1000 runs in ODIs. He's reached the milestone in only 18 innings – the previous best was 21 innings by KP, Viv Richards, Jonathan Trott, Quinton de Kock and Babar Azam #Cricket

— Saj Sadiq (@Saj_PakPassion) July 22, 2018
Congrats! Fakhar Zaman for becoming the fastest cricketer to score 1000 ODI runs in just 18 innings…
♥♥♥

— Mahdi Hasan Alif (@MahdiHasanAlif) July 22, 2018
There's The Rocord. Fakhar Zaman Becomes The Fastest Cricketer To Score 1000 ODI Runs.
=
#BiLaL_MAnDaN#

— ιмяαη αℓι נαωα∂ (@ImranAliJawad) July 22, 2018
Fakhar Zaman becomes the fastest player to score 1000 ODI runs, took him just 18 innings to break the world record. What A Talent! pic.twitter.com/P3RllcTKiR

— SIR .. (@SirJohnRoe) July 22, 2018
Fastest to 1000 runs in ODIs 👏#FakharZaman

— Raza Wazir (@wazir23FCB) July 22, 2018
Fakhar Zaman made history

1000 runs in 18 matches
👍👍👍👍👍👍👍 pic.twitter.com/INuYGhxMku

— Atif 🇵🇰🏏 (@attifinayat) July 22, 2018
Fakhar Zaman has become the quickest batsmen in history to 1000 runs in ODIs

*Fastest to 1000 Runs in ODIs
18 – Fakhar Zaman
21 – VIV Richards
21 – Kevin Pieterson
21 – Jonathan Trott
21 – babar Azam
21 – Q De kock

— -Crazy Man ◢◤ (@kasunniranjan) July 22, 2018
Another Record for Fakhar Zaman: Fakhar become fastest player to 1000 runs in just 18 matches. Viv Richards, Trott, KP and Babar made 1000 in 21 ODIs in previous record.

— Abdul Ghaffar (@GhaffarDawnNews) July 22, 2018
Fakhar Zaman (18* innings) has become the FASTEST to 1000 runs in ODI Cricket surpassing Vivian Richards, Kevin Pietersen, Jonathan Trott, Quinton de Kock and Babar Azam who all took 21 innings each. #ZIMvPAK

— Israr Ahmed Hashmi (@IamIsrarHashmi) July 22, 2018
Well done fakhar zaman,
18innings,
Fasted 1000 runs.
World's record,
Best of luck

— PTI Shahdadkot (@pti_shahdadkot) July 22, 2018
World record in ODI Cricket.
Fakhar Zaman Quickest 1000 runs in 18 innings . Beats viv Richards 21 innings record ……

— AF Zalmi (@pakhtun_zalmi) July 22, 2018
Congragulation to fakhar zaman for fastest thousand runs
He has made thousand runs in just 18 innings

— Abid Ali (@AbidAli05014957) July 22, 2018
Fuckkkeeerrr Zamaaaannn
Whattt a playeerrr …
38 year Old record of fastest 1000 ODI runs by Sir Viv Richar Has been broken . …
Level ❤❤❤❤❤
1000 Runs in just 18 innings .. #FakharZaman #PAKvZIM @FakharZamanLive pic.twitter.com/9Qdt3oUQ7a

— Tahir Shabbir (@tahirshabbir92) July 22, 2018
#FakharZaman is on a record breaking spree. What a find he has been for Pakistan!

— Zahid Hussain Khan (@zahid_langah) July 22, 2018
A proud Pakistani #fakhar has become the Fastest to reach 1000 Runs in ODi in Only Just 18 Odi. #FakharZaman @200

— Talha Ahmed (@Tlh2_1995) July 22, 2018
What an achievement 😃 fastest to 1000runs in ODIs. Take a bow Fakhar Zaman!! #beast

— Nabeel Kashmiri (@nabeelkashmiri) July 22, 2018
WORLD RECORD: Fakhar Zaman becomes the fastest player to reach 1,000 runs in ODIs. He reached this milestone in 18 innings. Richards, KP, Trott, Babar and Q de Kock reached there in 21 innings#PAKvZIM pic.twitter.com/t1t5jhQO81

— Bilal_Yasir (@Bilalyasir896) July 22, 2018
Follow us on Telegram