Twitter expresses anguish over Dinesh Karthik's abysmal outings
Karthik failed to impress in either innings of the ongoing Test against England.
Updated - Aug 12, 2018 8:48 pm
2.4K Views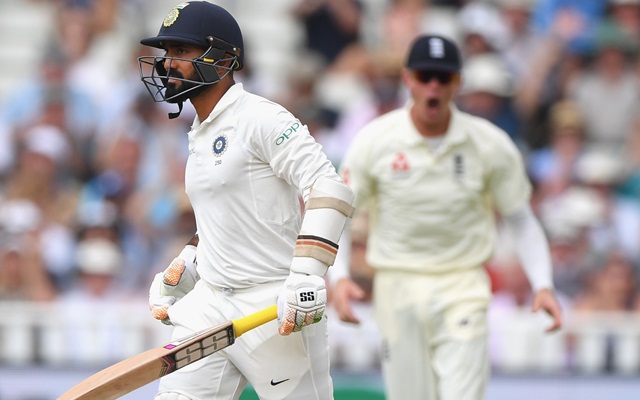 From being a few millimeters away from victory in the first Test against England at Edgbaston to staring at rock bottom in the second Test at Lord's, India has done it all. The worst part of it all has been the lackluster batting efforts from the Virat Kohli-led side and fans aren't taking that all too well. Recently, Dinesh Karthik was at the receiving end of the fury from Twitter.
Although the Lord's Test match has been essentially a soggy affair owing to the pouring rain that led to the entire first day of the Test being abandoned without a single ball being bowled, England have had the upper hand at almost all times. With India staring at an innings defeat, critics and cricket lovers have not spared the team and rightly pointed out their faults on social media.
Dinesh Karthik fails to impress
Having won the toss, England had put in India to bat first and the Indian innings was never able to gather momentum from the word 'go'. Wickets fell at regular intervals as the Indian top order crumbled under the unsparing attack from the English pacers in the form of James Anderson and Chris Woakes. Wicketkeeper-batsman, Dinesh Karthik is one player who'd been the semblance of hope for many spectators.
However, Karthik failed to impress in either innings. In the first innings, he was dismissed after having played just 3 deliveries for a single run by a terrific delivery from young Sam Curran. While this might've made many expect a more responsible performance from the middle-order batsman in the second innings, Karthik was once again given an LBW dismissal for a golden duck off the bowling of Stuart Broad.
Before rain intervened yet again, India were left stranded at a sorrowful figure of 66-6 with a mammoth trail of 223 runs looming over their heads. Tweet after tweet poured in subsequently, bashing Karthik for his abysmal batting performances. With Kohli dismissed in just the previous delivery, the keeper's shot selection was criticized by many, with a few even going far enough to term this as the "end of his career".
Here's what Twitter had to say about Karthik's dismissal
Dinesh Karthik finishes his Test career with a first ball duck … who will play him in next Test??? Better give Rishab Pant a chance, at least he will learn!

— Shahid Hashmi (@hashmi_shahid) August 12, 2018
Dinesh Karthik's Test career is likely done after this match!#ENGvIND #LordsTest #lords #india

— Suji (@sshriran) August 12, 2018
End of dinesh karthik's career … #INDvENG

— Jammy (@Jayendratej) August 12, 2018
Dinesh Karthik came in and went out of the field faster than the speed of light. #ENGvIND

— spilled ink… (@NitinsPage) August 12, 2018
Dinesh Karthik mere bhai…. 🙏🙏🙏🙏🙏😂😂😂😂😂 to wapis aaya hi kyu yaar… 😂😂😂😂

— अंशुल कौल (@Total_Bunkum) August 12, 2018
Drop Dinesh Karthik. Rishabh has to wear the big boy Pants now!

— Fry-ing Bender (@badhukhatam) August 12, 2018
Dinesh Karthik is a pure waste of a batsman. Rishabh Pant would do a better job for sure.#ENGvsIND #ENGvIND @BCCI

— Debarjun (@debarjun140989) August 12, 2018
Will rookie players – Rishabh Pant and Prithvi Shaw – do any worse than the present batting line-up? So, why not play them in the next tests? #ENGvIND

— Sohini (@Mittermaniac) August 12, 2018
DK 😁 #INDvENG
At least give a chance to youngsters..#RishabhPant #DineshKarthik

— Jagan Reddy (@jaganreddy85) August 12, 2018
Rishabh pant can't keep wickets poorer than Dinesh Kartik and can survive few balls at least. He will not look like a walking wicket for sure. #ENGvIND

— Mayank (@kmayank9) August 12, 2018
Guess Rishabh Pant is going to start his Test career next week.

— Sayooj (@sayo_oj) August 12, 2018
18th August 2018 going to be debut day in test cricket for Rishabh pant @RishabPant777 @cricketaakash @cricbuzz

— Asiantic Foods (@asianticfoods) August 12, 2018
So Debut for Rishabh Pant in the third test??#INDvENG #ENGvIND

— Jatin Gulati (@imJatinVK) August 12, 2018
Looks like that's gonna be @DineshKarthik's final Test on the current tour! Hopeless is the best word to describe his batting!! #ENDvIND

— Tridib Baparnash (@TridibIANS) August 12, 2018
I know Rishabh Pant has no experience of facing Anderson & Broad in swinging conditions but I'm ready to bet he'll contribute a bit more than Dinesh Karthik don't @ me #ENGvsIND

— Shalaj Lawania (@snoopshalpy) August 12, 2018
@ImRo45 and @SDhawan25 should open in the next test, Rishabh pant in place Dinesh karthik, @Jaspritbumrah93 in place of kuldeep yadav, kL rahul in place of Rahane. Do this and India will win the test.

— anky (@anky3290) August 12, 2018
Murali Vijay & Dinesh Karthik are proving a point that we all are not able to understand? Who scores a duck earliest? #ENGvIND

— Amol Karke (@Imamol97) August 12, 2018
Had such high hopes from @DineshKarthik Huge disappointment. Ashwin looks more assured than him on crease.

— K'rulzster (@krulzster) August 12, 2018
Murali Vijay & Dinesh Karthik both got a pair in same match . Sounds familiar 😜

— iMac_too (@iMac_too) August 12, 2018
@BCCI selector Mr Prasad should resign for recommending & selecting @DineshKarthik over @parthiv9 !

— Amit M Juvekar (@amitjuvekar) August 12, 2018
Ipl and test are two different thing #dineshkarthik #ENGvsIND

— RAKESH (@RoyzRakesh) August 12, 2018
Well, that should be end of DINESH KARTHIK'S long Test career. #LordsTest #ENGvIND

— Siddharth Jha (@jha_siddhus94) August 12, 2018
Last-ball six hero in T20s, sitting duck in Tests, Dinesh Karthik. #ENGvIND

— Malay Desai (@MalayD) August 12, 2018
Ye Dinesh karthik doobara test mein dikhna nahi chahiye…. 0 runs in 2 tests… 10run banane England le jao saalo @BCCI #ENGvIND

— Suraj Suryawanshi ◎ (@SaawanBairi) August 12, 2018
Seems like Dinesh Karthik can't see the red ball #INDvENG

— Shubham Singhal (@shubh1606) August 12, 2018
Dinesh Karthik thought"Aisa kya hai Murli Vijay mei jo mujh mein nahin!" and got out for a duck too. #INDvENG

— Pakchikpak Raja Babu (@HaramiParindey) August 12, 2018
Tata @DineshKarthik

— ADITYA (@StarkAditya) August 12, 2018
Taxi for @DineshKarthik back to India please. Yeh to bilkul hi bekaar h. Match over 2nd day hi hogya tha😔#ENGvIND

— Akshay Hooda (@Akkerz) August 12, 2018
Dinesh Karthik missed his hundred by 100 runs 🙁 #ENGvIND

— Burning Dezire. (@iam_za1d) August 12, 2018