Twitter fumed after Navjot Singh Sidhu attends Imran Khan's oath taking ceremony
Sidhu also shared some "shayari" (poems) in order to praise Imran on the achievement.
Updated - Aug 18, 2018 1:23 pm
4.1K Views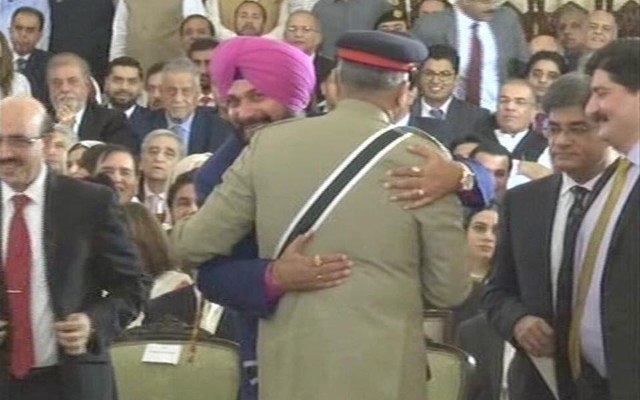 The General Elections in Pakistan took place on July 25 and Pakistan Tehreek-e-Insaf, led by Imran Khan, the former cricketer, won the same by a fair margin. They brushed aside Pakistan Peoples Party (PPP) and Pakistan Muslim League (PML). A total of 272 seats were up for grabs and Khan's party garnered the most number of seats amongst the three participants.
However, they couldn't bag a majority of 137 votes as per the country's election commission, which was required to form an independent government. Recently, the party claimed that they reached the majority. In the meantime, Imran Khan became the 22nd Prime Minister of the country. Today his oath-taking ceremony took place in Islamabad and the event attended a number of eyeballs.
An outraged bunch of supporters
A number of eminent personalities attended the event, Navjot Singh Sidhu, the former Indian cricketer was one of them. Other cricketers like Kapil Dev and Sunil Gavaskar were also invited, however, they declined the invitation. Sidhu, Imran's counterpart during his playing days, got his visa approved from the Pakistan High Commission in New Delhi and reached the country yesterday.
He was received by Faisal Javed Khan, the leader of Imran's party, welcomed him in the city. Prior to entering the President House, Sidhu talked about maintaining a cordial relationship between the neighbouring countries. After the event, some pictures involving Sidhu came out where he was seen sharing a hug with Qamar Javed Bajwa, the Pakistan Army Chief General.
Sidhu also shared some "shayari" (poems) in order to praise Imran on the achievement. Later, he seated next to Masood Khan, the President of Pakistan Occupied Kashmir (PoK). Nevertheless, the same didn't go down well with the users on the public platform. They questioned his credibility and bashed him for attending the ceremony.
Here is how Twitter reacted
What comes first nation or friendship ? Navjot Singh sidhu let the nation down !
He was hugging Pakistan Army chief Lt. Gen. Bajwa in #ImranKhan 's swearing in ceremony when even 2day there is a terrorist attack in sopor.
#shameshamesidhu#thokosidhu#gaddharsidhu#bycottsidhu

— deeps (@bhoolbhulaiya_) August 18, 2018
#pakistan में शपथ ग्रहण समारोह में #NavjotSinghSidhu को POK के PM की बगल में बिठाना भारत को पाकिस्तान की तरफ से आखिर क्या संकेत देता है?

— Ajeet Kumar (@AjeetKumar_News) August 18, 2018
#NavjotSinghSidhu out of control ho gaye hai.

— AVANTIKA CHANDRA (@Avantika_23) August 18, 2018
Meanwhile oath-taking ceremony in Pakistan,

A comedy show.
And they have invited Navjot Singh Sidhu ji as a Judge.

And sidhu is sitting on chair with PoK acting President to listen So called Oath.. #ImranKhan #SaturdayMorning #SaturdayMotivation #Saturday

— Rohit Dhillor – Proud Sanatan Vedic Dharmi (@rohitdelhite) August 18, 2018
सिद्धू साहब, शिष्टाचार के तहत हाथ मिलाना समझ में आता है. हत्यारी फ़ौज के चीफ़ के गले क्यों पड़ गए…!!!! अपने शहीदों के परिवारों का ख़याल नहीं आया?

Navjot Singh Sidhu#ImranKhan pic.twitter.com/FW91UwUQo4

— Er. JP Ravi (@Jyotiprakashra2) August 18, 2018
Another half hug. A PDA @sherryontopp cud hav done without. pic.twitter.com/V5WAT2JXiH

— Abhishek Kapoor (@itootweet) August 18, 2018
This traitor should be ashamed of himself
Request the govt not to allow him back and punish him for treason.

— Harbir Singh Suri (@HarbirSinghSuri) August 18, 2018
#NavjotSidhu Jo gala katate he, unke gale nahi mila karte..Idiot @sherryontopp

— वडापाव (@dipak_gawade) August 18, 2018
सिद्धू ने जिस तरह सैकड़ों भारतीय सैनिकों तथा हज़ारों निर्दोष भारतीय नागरिकों के हत्यारे पाकिस्तानी सेनाध्यक्ष क़मर बाज़वा के सामने सज़दा कर के उसको गले लगाया है उससे हर भारतीय का मष्तक शर्म से झुक गया है। #ShameonNavjotSinghSidhu #NavjotSinghSidhu #NavjotSidhu pic.twitter.com/tfU4RXLsFH

— Suresh Rajpurohit Sayala (@sureshrajsayla) August 18, 2018
@sherryontopp has proved his loyalty towards the @INCIndia by giving a hug toh Pak army chief.. The same army jo hr din Indian army pe chhup k vaar krti hai… #Paaji punjabiyan da hor naam na khrab kro🙏🏻🙏🏻 #NavjotSidhu @AsYouNotWish #CongressMukTBharat

— Azhar Qureshi (@azharq2014) August 18, 2018
पाकिस्तान का यार है, नवजोत सिंह सिद्धू गद्दार है।।@SharadTripathi_ @_sandytripathi @Sach_Mein @Mayankdrai #ImranKhanPrimeMinister #NavjotSidhu #SidhuInPak pic.twitter.com/rBNFMtiCnv

— Vivek Singh (@Superbvivek) August 18, 2018