Twitter hails Aleem Dar for standing in the rain to complete the formalities
Dar didn't cross the boundary line until the decision was confirmed.
Updated - Oct 28, 2018 1:00 pm
338 Views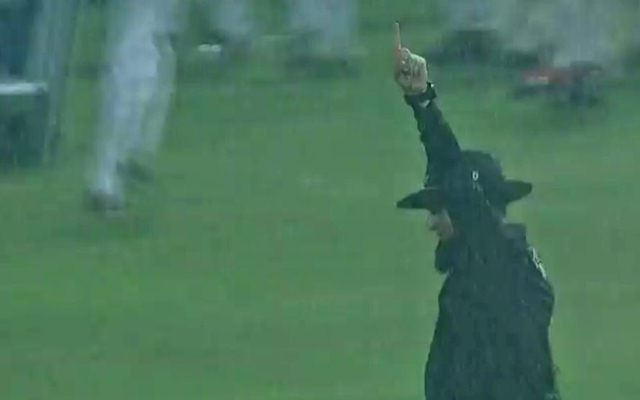 Follow us on Google News
There is no denying the fact that Cricket is a gentleman's game. In spite of the fact that, matters do go out of hands, one cannot take away the credit from the sport that never fails to mesmerize us. It is not only the players who have made it a gentleman's game but also the umpires like Aleem Dar who have maintained the trend.
The 5th One-Day International between Sri Lanka and England was interrupted by rain but the hosts Sri Lanka had done enough to get over the line and finish on the winning side. England, while chasing 367 were reduced to eight wickets with just 132 runs on the board.
Aleem Dar's dedication
At the same score, in the 27th over bowled by Akila Dananjaya to Liam Plunkett was given out when he was unable to pick a googly which hit him on the right thigh. Aleem Dar, the umpire raised the finger immediately as it looked to be plumb, however, Plunkett opted for a review.
The rainfall had started by then and all the players were running off the field. Aleem Dar then exemplified his discipline towards his duty. He waited patiently in the rain until the result of the review was declared. Since it was out, he raised his finger the second time declaring it as out while moving out of the park.
The Pakistani umpire has not only been one the most disciplined but also one of the best umpires in the recent times. His decision in the 1st Test of the Ashes series 2010 for Alastair Cook is remembered as one of the greatest decisions. It was challenged by the Australian cricket team through DRS as it was an absolutely close call, however, it went in favour of the English cricket team.
Aleem Dar has officiated in over 300 matches across three formats, having been honoured with the David Shepherd award for three consecutive years in 2009, 2010 and 2011 after being nominated in 2005 and 2006.
Here's how Twitter hailed Aleem:
Hats off to you sir, #aleemdar

One of the best umpire i ever seen,
It was raining heavy and england reviewed a wicker against him.
Both team and leg umpire are leaved ground. But #aleemdar waited for 3rd umpires signal and signel out and left.
❤❤😍😍😍#ENGvSL pic.twitter.com/rEGR4cN4Fj

— I'm Dhanu (@dhanuThalapathy) October 23, 2018
#AleemDar worlds best umpire for sure, It was raining harder in Colombo, England reviewed an LBW decision against him, Both teams + leg umpire left the field , he stood there, waited for third umpire's decision, proved he was right in his decision, Signaled ☝️and left. pic.twitter.com/IwzZcYOqym

— Malik Tahir (@malikuaf2011) October 25, 2018
There is a review happening as the players get ready to walk off the field due to rain. Aleem Dar runs off as he confirms the review that it is indeed out. #SLvsENG 😂😂 One of the most fun things I have seen in a while. pic.twitter.com/MPKlTyBKTM

— 🎃TarEEK! LaSCARE (@tarequelaskar) October 23, 2018
It was raining harder in Colombo, England reviewed an LBW decision against him, Both teams + leg umpire left the field , he stood there, waited for third umpire's decision, proved he was right in his decision, Signaled☝️ and left#AleemDar👌#Respect pic.twitter.com/GjMDZYmNoy

— Dr Hafiz M. Umer (@DrHafizMUmer1) October 26, 2018
Aleem Dar has set a new trend by giving an accurate decision in a unique style!#AleemDar #cricket_lover pic.twitter.com/ajQkF2HaVh

— ABDULL-PaTrIot (@aboodlavish) October 24, 2018
Aleem Dar you legend 🤣🤣🤣

Video from @OfficialSLC pic.twitter.com/WgMcELtE6I

— Ghumman (@emclub77) October 24, 2018
Commitment #CricketMeriJaan #Cricket #cricket_lover #CricketSocial #PakistanZindabad #ptifamily #PTI #Pakistani #PakFollowTeam #AleemDar pic.twitter.com/kHBaGXehhR

— Syed asad abbas (@Asad1105) October 24, 2018
Best In The World #AleemDar 👈 https://t.co/fcc43VymYs

— Irshad Yusufzai (@Iamikhan13) October 23, 2018
~Written by Aayushmaan Vishwanathan
Follow us on Telegram