Twitter hails Bangladesh as bowlers put the Kiwis on the backfoot
The Black Caps humbled by Bangladesh tigers.
Updated - Jun 9, 2017 8:40 pm
840 Views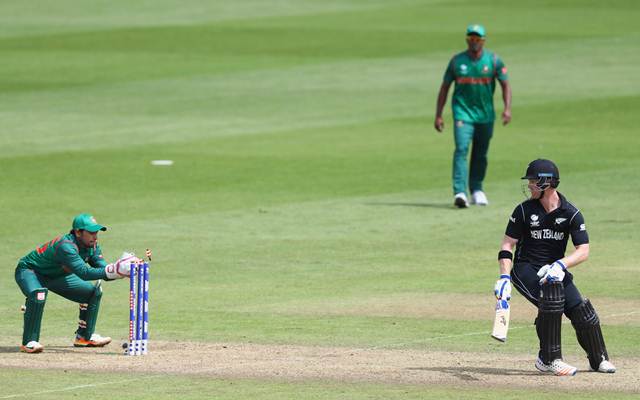 Follow us on Google News
The uncertainties in the Champions Trophy continued even in the ninth match as New Zealand and Bangladesh locked horns against each other in a battle for survival in the short tournament. Many expected a strong performance from the batsmen in the Kiwi set up especially after winning the toss and electing to field first.
But as it turned out, Bangladeshi bowlers dominated the Black Caps as they only managed a score of 265 runs. At one point in time, the men in black were cruising at 201-3. But it all changes after the wicket of Ross Taylor,w ho looked breezy for his 63 off 87 balls. Their captain, Kane Williamson impressed yet again with a score of 57 off 69 balls, smashing five boundaries at a strike rate of 82.
However, New Zealand suffered a batting collapse shortly after the dismissal of Taylor. New Zealand lost five wickets and only managed to add 64 more to the total with as many as 11 overs left. The most impressive of the lot for Bangladesh was Mossadek Hossain who picked up three key wickets during the death and only concede 13 off his three overs.
Mossadek removed the powerful trio of New Zealand middle order by the names of Neil Broom, Corey Anderson, and Jimmy Neesham. He was well supported by Taskin Ahmed, who also chipped in with a couple of wickets. Interestingly, both Taskin and Mossadek did not feature in the previous game against Australia. Mustafizur, yet again, was brilliant at the death.
All in all, it was a good day for the Bangladeshis on the field, who were excellently captained by Mashrafe Mortaza. Bangladesh now would back themselves to chase down the total of 266. This win would make things interesting in Group A as all eyes would be on the match tomorrow at Edgbaston, with Australia and England fighting it out which would affect the fortunes of the Bangladeshis.
Here's how Twitter reacted to the Tiger's performance
That was very good in the field from Bangladesh. Nice to see Taskin Ahmed back as well. Courtney Walsh must be pleased. Bang vs NZ. #CT17

— ian bishop (@irbishi) June 9, 2017
How well have Bangladesh bowled at the back of this New Zealand innings ? #skills #NZvBAN #CT17 #GameOn

— James Taylor (@jamestaylor20) June 9, 2017
What a finish here from Bangladesh!! #CT17 #NZvBANG

— Isa Guha (@isaguha) June 9, 2017
This death bowling from Bangladesh is something else…..As good as any you will see.

— Harsha Bhogle (@bhogleharsha) June 9, 2017
Always rated Mashrafe as a captain. Brilliant move to get Mossadek on. Not many would have in the last 10 overs in spite of the lefthanders

— Harsha Bhogle (@bhogleharsha) June 9, 2017
Remember the winner of this game #NZvBAN only stays alive, isn't guaranteed a semi-final. That depends on the result of #AUSvsENG.

— Harsha Bhogle (@bhogleharsha) June 9, 2017
Mashrafe is Bangladesh's best captain ever….agree? Simply superb. #CT17 #NZvBAN

— Aakash Chopra (@cricketaakash) June 9, 2017
Two fifties and a hundred in three games.
Kane 'Consistent' Williamson ???? #CT17 @StarSportsIndia

— Aakash Chopra (@cricketaakash) June 9, 2017
Bangladesh have been fabulous with their bowling, especially at the death. Secretly wishing they beat the Kiwis tonight! #NZvBAN

— Ved Prakash Pati (@vppati) June 9, 2017
Brilliant death bowling from the TIGERS today! Mosaddek was the "Surprise Package"
Excellent Captaincy from Mortaza.#NZvBAN #CT17 #BANvNZ

— Mitul Bora (@Mi2L008) June 9, 2017
#Mosaddek…what a trump card to have up ur sleeve. #Mashrafe u Beauty #CT17 #NZvBAN

— Rubaid Iftekhar (@Rubaid_Iftekhar) June 9, 2017
266-8 is what Bangla need to stay alive in the tournament..Great Captaincy & Brilliant Piece of Bowling from BAN?NZ were poor #CT17 #NZvBAN

— NotYourMess.. (@CrickFreak18) June 9, 2017
Excellent bowling in the death overs by Bangladesh.Conceded 62runs and took4 wickets.Not a bigtotal but need tobat fearlessly #CT17 #NZvBAN

— M Wasif Rehan (@mwasifrehan) June 9, 2017
So with high possibility of #AUSvENG being washed out, I guess it's Bangladesh this time in the Semis. Fingers crossed. #CT17 #NZvBAN

— Imran Dawood (@_idave) June 9, 2017
#NZvBAN
Bangladesh and Pakistan shirt looks almost similar. So why not join together and make one strong team together???

— Faizan (@Fizzzzzz10) June 9, 2017
Funny to think that the most runs NZ will score this CT was against the Australian bowling attack.? #NZvBAN

— Happy (@Jsr_avi) June 9, 2017
Why Santander is playing ahead of southee dumb captainship from Williamson same with Anderson #NZvBAN

— Raees srk (@Ad00117306) June 9, 2017
Barring that final delivery, one of finer closing displays from a bowling outfit you will see #NZvBAN #CT17

— Andrew McGlashan (@andymcg_cricket) June 9, 2017
Unique think about this Champion Trophy
Every one is winning …..#NZvBAN #BANvNZ #CT17

— Manas singh (@manasisawsum) June 9, 2017
Horrible batting collapse by @BLACKCAPS need a massive effort in field. We can still win this #NZvBAN #iccchampionstrophy2017 #Blackcaps

— Baxter (@Baxter_Barts) June 9, 2017
Bangladesh Team is no longer an underdog in ODIs and them winning a match should be a normal affair.#NZvBAN #ChampionsTrophy2017

— IamGroot (@TopAngleViews) June 9, 2017
If you have a "mosadeek top bangla bowler" docket can I borrow your crystal ball for tomorrow please? ? #NZvBAN #CT17 #puntypunty

— Nellberg cricket ? (@nellbergcricket) June 9, 2017
#NZvBAN Yesterday saw a death batting against a champion team & today agn saw a death bowling against a tough team..whats going on in #CT17

— Prity Singh (@pritsi2101) June 9, 2017
Kiwis have lost all their sense & swagger in the post-McCullum era #NZvBAN #BANvNZ

— avijit ghosh (@cinemawaleghosh) June 9, 2017
Tigers have put enough scars on Kiwis #NZvBAN #CT17

— Bhartendu Sharma (@Bhartendulkar) June 9, 2017
Bangladesh stands a chance, provided Tamim scores big..#NZvBAN

— poonamwala chand (@1136Pat) June 9, 2017
Brilliant 'death bowling' from Bangladesh. NZ choked & stoked, proper. Interesting 2nd half on the cards. #OSNCT17 #NZvBAN #CT17 @Sport360

— theumpirescall (@theumpirescall) June 9, 2017
Follow us on Telegram