Twitter hilariously trolls Jaydev Unadkat after Rajasthan Royals buy him yet again for Rs 3 Cr
Jaydev Unadkat played his previous season for the same franchise.
Updated - Dec 19, 2019 6:39 pm
5.6K Views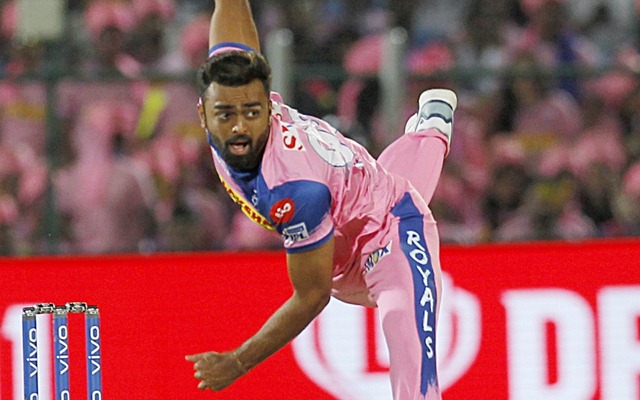 Rajasthan Royals yet against signed Jaydev Unadkat in IPL 2020 auction but at a bargain price of 3 crores INR. The left-arm Indian speedster had failed to prove his worth for Royals in the last couple of season. However, they have still shown their faith over him but it didn't go down well with the fans, who trolled the pacer on social media in a hilarious fashion.
Unadkat was released by Rajasthan Royals earlier this year as he was not named in the list of their retained players for IPL 2020 and was sent to the auction pool. Considering his performances in 2018 and 2019, the chances of him getting picked by the same franchises were quite slim. But as per history, anything was expected from Rajasthan-based franchise.
Rajasthan Royals pay 3 crores INR for Jaydev Unadkat
It was a deja-vu for the left-arm pacer, who had gone through the same situation in the previous season as well. In 2018, Royals bought Unadkat after paying a humongous amount of 11.5 crores but he failed to perform as per his price tags. And, in the next season (2019), he was released by the franchise because of which he had to go under the hammer
However, Royals succeeded to get him back at a comparatively low price of 8.5 crores. In IPL 2020 auction, Royals applied the same strategy and bought him at a good and bargain price of 3 crores, with a cut of 5.5 crores from the old one.
In the bidding game, when auctioneer took the name of the left-arm pacer, Delhi Capitals were the first one to raise their bid and joined by Rajasthan Royals. Even Kings XI Punjab also joined the bidding war. The stakes were quite high on which franchise will manage to secure the services of Unadkat for the upcoming season. And, eventually, Royals successfully managed to get back their hot-favourite bowler back into their arsenal.
Jaydev Unadkat in his overall IPL career has played 73 games and has grabbed 77 wickets with a best of 5/25 and two 5-fers. The fans were left dumbfounded after Royals bought Unadkat back in IPL 2020 auction although he had two consecutive unimpressive seasons. Fans stormed twitter with some hilarious memes in order to troll the left-arm pacer.
Here is how Twitter reacted:
I hope all parents in India believe in their kids the way Rajasthan Royals believe in Jaydev Unadkat. #IPLAuction2020

— Shridhar V (@iimcomic) December 19, 2019
What Karan Johar is to star kids, RR is to Jaydev Unadkat. #IPL2020Auction

— Sunil- the cricketer (@1sInto2s) December 19, 2019
Rajasthan Royals & Jaydev Unadkat Are Like Hrithik Roshan & Sussane khan. You Think They Are Done With Each Other, but They Are Not. #IPLAuction2020

— Pri✨ (@PrinkuSpeaks) December 19, 2019
Find someone who has as much faith in you as Rajasthan Royals have in Jaydev Unadkat.#IPL2020 #IPLAuction #IPLAuction2020 #IPL2020Auction

— CricBlog (@cric_blog) December 19, 2019
Royals have more trust on Jaydev Unadkat than on Smith, Rahane.

— Nikhil 🏏 (@CricCrazyNIKS) December 19, 2019
Jaydev Unadkat sold to Rajasthan Royals again 😂#IPL2020Auction#IPL2020Auction pic.twitter.com/m8uNFWrIGB

— Saurabh Dubey (@Saurabh41393288) December 19, 2019
#IPLAuction2020
*Rajasthan Royals released Jaydev Unadkat for Rs 8.40cr and again bought him for Rs 3.00cr * pic.twitter.com/j86eFSs3pA

— Ashutosh Singh (@ashusarcastic) December 19, 2019
When other team successfully bought Jaydev Unadkat. #IPL2020Auction pic.twitter.com/OPJmJp9YkM

— Sunil- the cricketer (@1sInto2s) December 19, 2019
Rajasthan Royals in 2019 IPL released Jaydev Unadkat at 11.5 cr and brought him at auction for Rs.8.4 cr making a profit of Rs.3.1 cr

Now released him again and re-purchased him for only Rs.3 cr
Making a profit of Rs 5.4 cr #IPL2020Auction pic.twitter.com/FqcDhpN002

— Ashish Ram (@AshishRam12) December 19, 2019
Match made in heaven: Rajasthan Royals and Jaydev Unadkat.

— Saurabh Malhotra (@MalhotraSaurabh) December 19, 2019
Never understood why teams are crazy about #JaydevUnadkat#IPL2020Auction

— N I K H I L 👌 ⭐️ FAN (@NIKHIL_SUPERFAN) December 19, 2019
Jaydev Unadkat in auctions

IPL 2018 IPL 2020 pic.twitter.com/7SBb5QR9SG

— Pakchikpak Raja Babu (@HaramiParindey) December 19, 2019
#jaydev_unadkat in team #rajasthan_royals pic.twitter.com/rMNrn2eWm5

— Nikesh (@nikeshhadawat) December 19, 2019
Jaydev Unadkat base price vs auction price.. Sab moh Maya hai.. #IPLAuction2020 pic.twitter.com/trHwT2Ynmy

— PardeKePeeche (@Ashish60430368) December 19, 2019
The curious case of #JaydevUnadkat@rajasthanroyals #IPL2020Auction

— BennySpeaks (@benny_speaks) December 19, 2019
#RajasthanRoyals when they hear #JaydevUnadkat at the #IPLAuctionDay ! pic.twitter.com/6pXIGYyXR4

— Yuvraj Adhikari (@yuvraj_a99) December 19, 2019
Jaydev unadkat to RR #IPLAuction2020 #IPLAuction pic.twitter.com/WdmS9gWTWM

— C H A I T A N Y A (@ImRohitianChait) December 19, 2019
Jaydev Unadkat getting ready for #IPLAuction2020 pic.twitter.com/6N7aDjwLRO

— Abhinav (@AbhinavD_) December 19, 2019
Dinda academy player jaydev unadkat sold to @rajasthanroyals at3cr…#ProudMoments2019 😂😂😂😂😂😂😂

— Neeche se topper (@PiyushBaheti5) December 19, 2019
I need a life partner who never leaves me in any situation just like @rajasthanroyals who never leaves @JUnadkat #IPL2020Auction #JaydevUnadkat #RajasthanRoyals

— Vasu Jain (@vasu_1001) December 19, 2019
Jaydev Unadkat loses nearly 75% of his value from 2 years ago. Bought for 11.5cr last year, bought for 3cr this year. Rajasthan Royals the buyers both times. #IPL2020Auction

— Sreshth Shah (@sreshthx) December 19, 2019