Twitter lambasts Virat Kohli for wasting a review in the second Test against New Zealand
Kohli scored only three runs before getting dismissed.
Updated - Feb 29, 2020 8:04 am
34.3K Views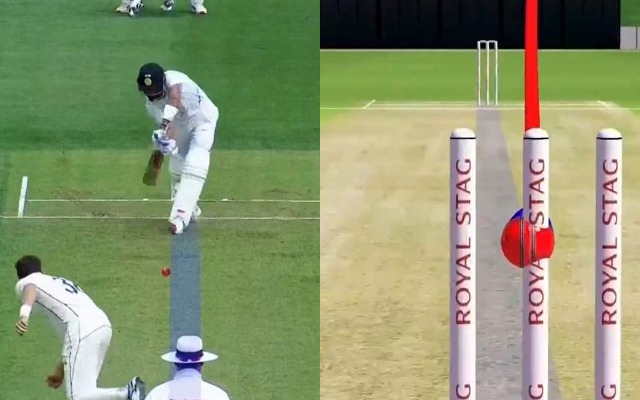 The second Test between India and New Zealand got underway on Saturday with the hosts winning the crucial toss on a green pitch. India, however, got off to a decent start thanks to a whirlwind half-century from Prithvi Shaw. But the youngster couldn't get a big score and got out on 54. To make things worse, the visiting skipper Virat Kohli was also dismissed soon after lunch extending his lean run on the tour.
Kohli's dismissal left India reeling three down early once again. It was a gentle fullish delivery from Tim Southee and the batsman played for the swing and missed the ball by a long way. The ball also didn't swing much and it was clear to even the naked eye that Kohli was caught plumb in front of the stumps.
Southee didn't even look at the umpire and went on a celebratory run before Virat Kohli was adjudged lbw and absurdly, the Indian captain went for a review. The decision looked a bit weird given the fact that the odds were heavily stacked against him with the ball hitting him very low on the pad and the impact was on the middle stump.
Kohli wastes the review much to the frustration of the fans
Moreover, India had lost the review earlier in the innings as well when Mayank Agarwal was given out after Trent Boult had caught him in front of the stumps. And Virat Kohli should've clearly avoided reviewing his decision with the team still having seven wickets in hand after losing him. This is not the first time that he has wasted the review despite being plumb and this might eventually cost India in the first innings now.
Virat Kohli's record with the reviews after he is given out is not great either. The 31-year-old last took a successful review in Tests against Sri Lanka at the Eden Gardens during the 2017-18 season. Moreover, in the Tests since 2016, Kohli has taken 14 referrals and has managed to overturn only twice while only thrice it has come down to umpire's call. On a whopping nine occasions, the umpire's decision has been perfect in his case.
Clearly, Twitterati wasn't impressed with the Indian skipper wasting yet another review. Let alone his lean run, his usage of DRS has put India in trouble in the first innings of the second Test.
Here's how Twitter reacted:
Why did Virat Kohli waste a review for something as plumb as that!

— Ankit N (@ankitnagori27) February 29, 2020
Virat Kohli DRS reviews (as batsman) in Tests since 2016
14 referrals
Nine stuck down
Three umpire's calls
Two overturned

Last successful review: vs SL, Kolkata, 2017/18 (Umpire: Joel Wilson)#NZvIND

— Deepu Narayanan (@deeputalks) February 29, 2020
ghamandi kohli should be sacked

— Sust Malonee💤 (@LordOfTheWinkz) February 29, 2020
Selfish Kohli…Let others also use the reviews..He is letting down himself as well as the team#NZvIND

— Shreesh kadur (@shreesh_kadur) February 29, 2020
Is that stupidest DRS ever? Worse than Watto! #Kohli #NZvIND

— Narayana Kashyap (@kashnarayana) February 29, 2020
@bhogleharsha…don't you think it is indeed high time that India seriously reviews the way it "reviews"….DRS. The non-striker needs to show more conviction here and not get influenced by who is being reviewed.Pujara succumbed to Kohli while Shaw was being just nice to Mayank.

— Sundar (@sunsuji17091) February 29, 2020
Quite simply. #Kohli shouldn't take review if he doesn't think it's a howler. https://t.co/f9l4GuUcNt

— Harshit Anand (@imHarshitAnand) February 29, 2020
Virat kohli given out LBW and he review that without consulting pujara.. and ball hitting middle of middle..this is how you have to waste your review and ensures that other batsman don't get option of DRS .
Great selfish player for some reason#INDvNZ

— my Name is CAA (@bagga_daku) February 29, 2020
You just can't waste a review like this even if you are Virat Kohli.#INDvsNZ #INDvNZ

— 2.0 (@AlmostCommunal) February 29, 2020
Bad patch of #Kohli continues.
Bad Review by him.
We lost the Review.#NZvIND

— Anish Deshmukh (@anishdeshmukh) February 29, 2020
Why would #Kohli review that? It was plumb. Team had already lost one review. 7 wickets still remaining. Team is 0-1 down, not the thing that you would expect a captain to do. And is Pujara watching girls in the stand? Why he didn't stop Kohli? #NZvIND

— Harshit Anand (@imHarshitAnand) February 29, 2020
Kohli going through the most desperate phase of his career? Or has he already seen and surmounted worse? The review was pure desperation. https://t.co/AHYrDPZZIF

— Mohamed Zeeshan (@ZeeMohamed_) February 29, 2020
This review is bizzare from Kohli! That was dead plumb yet he took review https://t.co/iO1Tvngqyy

— DK (@Dileep_RF) February 29, 2020
Getting out when your not in form is acceptable but wasting a review will hurt the team further..

Kohli 🥴#NZvIND

— Jameshubert  (@ImJames_) February 29, 2020
Selfish act from Kohli. Being a captain he shouldn't have taken that review. I hope it doesn't affect us. #NZvIND

— Ashish Das Biswas (@abis3067) February 29, 2020
Pujara : Bhai review mat lena, vahape Boult bhi has raha hai. Plumb tha.

Kohli : Chup saale , vahi tho mai chahta hoon, Kane Williamson bhi vahape khush ho jayega. Cricket baadme bhi khel lenge pehle Gentleman bannjaa. #NZvsIND pic.twitter.com/R4lEcCfOxY

— Adish Shetty (@AdishShetty18) February 29, 2020
Umpire out bola to baat ego pe le lete Hain.. he be like.. I'm Virat Kohli, who the hell is he to give me Out

That's how reviews are wasted😄 #INDvsNZ

— Abhishek (@ImAbhishek7_) February 29, 2020