Twitter outraged after umpires' blunder gives Liton Das a lifeline in Dhaka
Chaos filled the Sher-E-Bangla National Stadium.
Updated - Dec 22, 2018 7:32 pm
42.3K Views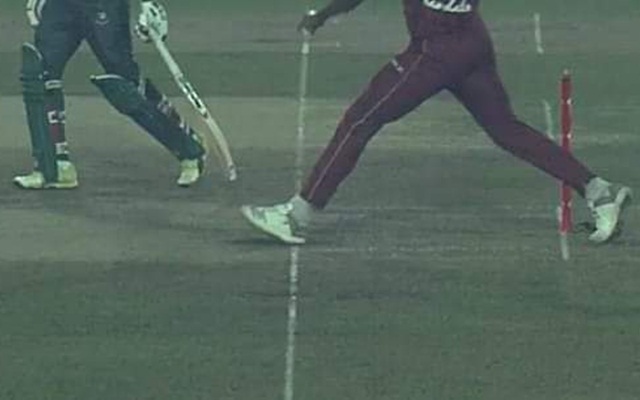 The deciding T20 International between Bangladesh and Windies at the iconic Sher-E-Bangla Stadium in Dhaka turned out to be a high scoring one. Bearing in mind the excitement in the first two matches in Sylhet and Dhaka, the final encounter was undoubtedly expected to be a thrilling one. However, the encounter was tarnished by a controversy, which halted play for quite a while.
In the final ball of the fourth over by fast bowler Oshane Thomas, Liton Das mistimed the ball and the fielder took a simple catch. On-field umpire Tanvir Ahmed gave it not out and called it a no-ball. Nevertheless, Carlos Brathwaite, the Windies captain, and the other players weren't satisfied with the decision and felt that the ball was legal and Das was wrongly given not out.
Absolute chaos in Dhaka
Immediately after, Brathwaite asked for the Decision Review System (DRS) and it was sent upstairs to third umpire Gazi Sohel. Replays showed that Thomas' foot landed inside the bowling crease and he was indeed out. The decision was reversed, but the batsman stood his ground. In the meantime, Carlos lost his cool and was seen having a heated conversation near the boundary ropes.
Then, Jeff Crowe, the match referee came down to solve the matter. Even Bangladesh captain Shakib Al Hasan came down to have a chat, wearing his helmet. As per the law, one can use the DRS for a mode of dismissal, but in this scenario, the decision was reviewed for the call of no-ball to be overturned. The decision eventually stood and Das got a much-needed reprieve.
Thomas, Brathwaite and the other Windies' players were definitely not happy with the decision. To add insult to injury, the next ball was a free hit and Soumya Sarkar smacked Thomas over the off-side for a six. This wasn't the first instance when the on-field umpires committed a mistake. In the meantime, Twitter is fuming over the shambolic display of umpiring.
Here is how Twitter vented their frustration
What an interesting turn of events. No ball called on field, but it is a fair delivery as the replays suggest. Batsman skies it in the air,gets caught. Decision stands ! Thoughts ? #WIvBAN

— Abhinav mukund (@mukundabhinav) December 22, 2018
That's shocking umpiring. It wasn't a no-ball. For sure.

— Mohammad Isam (@Isam84) December 22, 2018
https://twitter.com/Bangla13c/status/1076470596068933633
Shameful act by those umpires! ICC should take action against them. And also i don't understand why there is a review system if you can't make wrong decisions right! Then what is the use of review system if you stay with wrong decisions!? #BANvWI

— Nazmul Shuvo (@nazsvo) December 22, 2018
Umpiring has been biased throughout this t20 series. Haven't seen this sort of worst umpiring in ages #BANvWI

— Akhil (@akhilksm) December 22, 2018
We have umpires not calling no balls when bowlers overstep and we also have umpires calling no balls when bowlers don't overstep. #BANvWI

— Moulin (@Moulinparikh) December 22, 2018
Serves the BCB right. They have let local umpiring go to the dogs in the last 5 years, for their own benefit. Now, the whole world is seeing the shocking levels of some Bangladeshi umpires.

— Mohammad Isam (@Isam84) December 22, 2018
Umpiring has been horrible. And you can't review since it is not out. Should refer to third umpire. At the end right decision is more important than proving on field umpire right.#BANvWI

— Nikhil 🏏 (@CricCrazyNIKS) December 22, 2018
@ICC disgusting
They should have gone for out #BANvWI

— SAADI (@saadi_160194) December 22, 2018
1. No ball called. Batsman not out.
2. Replays showed legit ball.
3. Windies take review.
4. Umpires gives out(common sense).
5. Match referee comes in gives it again a no-ball.
6. Free hit
So much stupid stuff happening on the ground. #BANvWI

— Asad Bokhari (@Bokhari26) December 22, 2018
Wtf Bangladeshi umpires given continuesly wrong no ball dicision @ICC should ban Bangladeshi umpire from umpiring in international matches#BANvWI

— anand (@ayadav1210) December 22, 2018
BCB umpire outright cheating. Cheaters always feel all others cheat. Classic example here. And by the way the umpire called no ball twice in the over which were legal deliveries #BANvWI

— Sarfraz AK (@Sarfraz_AK) December 22, 2018
#BANvWI
Thank god @ipl #ipl doesn't have bangaldesh umpires.. I can do better umpiring than him.. @ICC Should look into it.. Pathetic

— Harin Sudhan (@Harin_Sudhan) December 22, 2018
When a batting team takes a review and no-ball is checked, the same should be applicable to the bowling team. This is unfair #BANvWI

— Abhinav Sundaram (@abhinav_bale) December 22, 2018
Worst ICC rules. No ball cannot be checked if on field umpire called as a no ball by error. #BANvWI

— Abhi Says (@urstrulyCHAR) December 22, 2018
Incredible … this is called No Ball 😳😳😳… #BANvWI pic.twitter.com/2YTSH5SsNl

— Harsh Sidhu (@Gurindersidhu6) December 22, 2018
@ICC Please for some Spirit of the game make laws for no balls and also make the fielding team some Reviews for challenging the no ball call… please help these errors be taken out…#BANvWI @BCCI @BCBtigers @windiescricket @bhogleharsha @alanwilkins22

— Yash Goyal (@yashgoyal143) December 22, 2018
Windies should not play match #BANvWI

— love (@golumolu143) December 22, 2018
Horrible Umpiring
This is what happened when a domestic league umpire get a chance of umpiring an international match. #BANvWI

— Ahsan (@nietzsche26) December 22, 2018
I repeat. @BCBtigers is the worst cricketing nation ever. Utter shame to the gentlemen's game.#BANvWI

— AJ (@DarrKeAage) December 22, 2018
Drama Drama Drama, in the match between Bangladesh and West Indies. Un-professional umpiring, disappointment for Windies. #BANvWI

— Asad (@Asad_tweetz) December 22, 2018
Shame on you #Bangalesh !! Go home and play snakes and ladders #BANvWI @mushfiqur15

— MoviesCricketComedy (@MoviesCricket) December 22, 2018
WHats wrong with this umpire lol

embarrassing #BANvWI

— Al Prince (@Al_prince19) December 22, 2018
Cricket is dying in Bangladesh @ICC is sleeping #BANvWI

— Sanjay Bati (@Sanjay_Bati) December 22, 2018
Sad sad sad…. Worse piece of Umpiring and Sports man spirit from Bangladeshi team….. RIP#BANvWI

— Sohail Malik (@SohailM89523326) December 22, 2018
[interaction id="5c1e4281e5245c8e68264d58″]