Twitter proud of Imam-ul-Haq as he registers his second ODI century
At the moment Imam is batting on 122 which is his highest ODI score.
Updated - Jul 13, 2018 4:04 pm
782 Views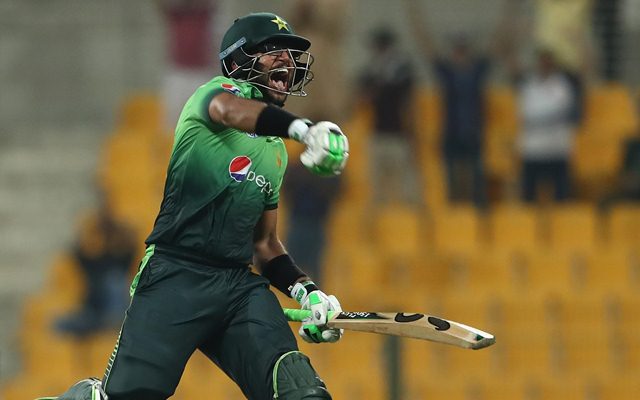 Follow us on Telegram
Imam-ul-Haq carries a heavy title with him, even before making a substantial impact at the highest level his name was doing rounds because he is Inzamam-ul-Haq's nephew. He had a lot of pressure on him to justify his place in the Pakistan national team as his uncle selected him to open over all the other players who were in the reckoning. Though he has played on 3 Tests and 5 ODIs, Imam has justified his spot in the team and delivered every time the team has looked upto him.
He likes to take his time, understand the situation, the pitch and the bowling and then play his shots. Imam wasn't included in the squad for the T20I tri-series in Zimbabwe but opened for them as soon as it was time for 50-overs cricket. The 22-year-old walked out to take strike with Fakhar Zaman as Pakistan elected to bat first.
Imam was edgy to start with, a few really good appeals against him were turned down and then the opener got to his own. His timing was really good, he waited for the right balls to play his shots. He played the crisp drives, made room to hit the ball over and even pulled with commendable control when the ball was in his range. His shot-making and more than that the decisions to play the shots need an acknowledgement.
As a result Imam got to his 2nd ODI hundred in 100 balls. He isn't the fastest among run-scorers as his strike-rate constantly flirts just around the 100 mark but is effective none the less.
Zimbabwe bowlers were pretty ordinary and he enjoyed batting almost all the way through. At the moment he's batting on 120 from 124 balls and the team looks set to get a 320 like total. However at 243/3 in the 43rd over Imam and Pakistan will want someone around him to play the big shots and push the total beyond the projected 287.
Here is how Twitterati reacted to Imam's knock in the 1st ODI:
2nd ODI Hundred for Imam Ul Haq in his 5th ODI.

Congratulations Boy #PAKvZIM #ZIMvPAL pic.twitter.com/kBwgQroC09

— Saad 🇵🇰 (@ImSaadAwais22) July 13, 2018
What an inning❤ his second ODi hundred! Proud of you!👏💚#ImamUlHaq #ZIMvPAK

— ŘαBι🇧🇷 (@iRaabii) July 13, 2018
This Nation calls Imam ul Haq parchi player!
And then we expect they will vote to right candidate!
Akal k andhy!
100* #ZIMvPAK#Election2018

— Shahbaz Meo 💭 (@meo_writes) July 13, 2018
100 for Imam ul Haq well Played. #PakVZim

— Muhammad Adnan Nazir 🇵🇰 (@AdnanAhmadZai1) July 13, 2018
100* Imam ul Haq #ZIMvPAK pic.twitter.com/H6hvRN793R

— PTV Sports📺 (@PTVSportts) July 13, 2018
Imam ul Haq has already done more for Pakistan than Ahmed Shehzad. ^_^ #ZIMvPAK

— Basim. (@Syed_Basim) July 13, 2018
Imam-ul-haq once again proving his selection right… Another century brilliant knock lad 👏 #PAKvZIM

— Khushi Bukhari (@Khushi_Bukhari_) July 13, 2018
Imam ul Haq – first Pakistani to two hundreds in his first 6 ODI!!

Congrats @ImamUlHaq12 👏👏👏#ZIMvPAK #PakvZim

— Farhan Nisar (@farhanwrites) July 13, 2018
Let me float a conspiracy theory in market. @InziTheLegend deliberately rests @AzharAli_ against weak bowling lineups like Zim & Sri Lanka to give easy passage to Imam Ul Haq to establish himself in the ODI team although he is clearly not a free-flowing limited-overs batsman.

— Yasir Ali Hashmi (@YasirAliHashmi1) July 13, 2018
Hundred for #ImamUlHaq . He is the kind of batsman that we need in our fragile top order !#ZIMvPAK

— خان (@CashefElias) July 13, 2018
Second ODI hundred for Imam-ul-Haq well played young man 👏 #ZimvPak

— Malik Ijaz (@ImIjazMalik) July 13, 2018
Outstanding century from Imam-UL-Haq….
Come on Pakistan…#ZIMvPAK

— Muhammad Hashir Khan Pitafi Baloch (@HKPOfficial) July 13, 2018
Wonderful century by Imam ul Haq !

— Mustafa Khalid Lone (@mustafa_lone) July 13, 2018
Imam ul haq is playing a impressive knock 👏🏼👏🏼 #zimvpak

— wAlEeD 🍕🍔🍟 (@back_to_m3) July 13, 2018
Imam ul haq=Brian Lara

— A great finisher👌 (@finisher_a) July 13, 2018
Imam-ul-haq
Played Beautifully Hope He Play continue for @TheRealPCB #ZIMvPAK

— Hamza ♡ (@HamzaGayaskhan) July 13, 2018
imam ul haq stat padding

— Anas 🇭🇷 (@TheWelbeckChop) July 13, 2018
Imam-ul-Haq. Took his time but what a knock. 100* from 109 balls. First fifty off 67 balls and second coming in just 42 deliveries. Should be looking for a total of around 320 now. #ZIMvPAK

— Haider Zulfiqar (@hey_HAIDER) July 13, 2018
Imam-Ul-Haq has brought up his 2nd odi century against ZIM. So far, he let his bat answer to nepotism criticism. Good start to his ODI and Test career.#PAKvZIM

— Sai Sandeep Thota (@Sai_Sandeep99) July 13, 2018
Follow us on Google News