Twitter Reaction: New Zealand completes incredible win as Bangladesh capitulates
Updated - Jan 16, 2017 12:26 pm
101 Views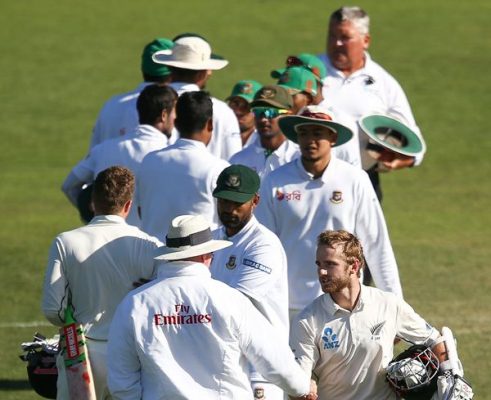 Twitter exploded with a plethora of tweets following New Zealand's seven-wicket win over the visiting Bangladesh side in the first Test at Wellington. Perhaps, the main reason for such an outbreak on social media was due to the fact that the visitors were on the front foot for the most part of the Test match.
The final day's play saw the New Zealand players making merry of the conditions and exploiting them to their best. However, it was a bad morning and also a massively dizzy one for the visitors as the Kiwis were determined.
This determination ensured that two players were stretchered off and also ensured that the Bangladeshis could not complete their innings. Mushfiqur Rahim had a massive shot to his head from a rising delivery and had to be stretchered off. It was 24 hours lesser than the time that Imrul Kayes was also put on a stretcher and sent away to the hospital.
However, Kayes would remain unbeaten as 217 was the target set for the Kiwis on the day. This 217 was somewhat of a tricky score as it could go either way. Especially chasing such a target on a fifth-day track with a batting order in transition was anything but an easy task. Mehedi Hasan made it even harder when he picked two quick wickets at the start of the innings. These innings were those of Jeet Raval and Tom Latham.
However, Kane Williamson and Ross Taylor made their way out to bat and eventually secured an impressive victory with upwards of 20 overs to spare. Williamson helped himself to a century, a quickfire one at that as the Kiwis now have taken a 1-0 lead in the series.
https://twitter.com/SampathStats/status/820854774291722241
This loss also meant Bangladesh extends their losing streak in New Zealand against New Zealand to 20 games. #NZvBAN

— Sampath Bandarupalli (@SampathStats) January 16, 2017
New Zealand captains scoring century in 4th inns:

Ben Congdon, 1973
John Wright, 1990
Daniel Vettori, 2009
KANE WILLIAMSON, 2017#NZvBAN

— Sampath Bandarupalli (@SampathStats) January 16, 2017
1-0! New Zealand dominate Day 5 to win the pulsating 1st #NZvBan Test by 7 wickets: https://t.co/co21gepmG5 pic.twitter.com/Ae4Sj1AmkQ

— ICC (@ICC) January 16, 2017
#NZvBAN Unexpected twists made this match a remarkable one. BD disappointed, but can be proud. Get well soon Mushfiqur.

— Palkalaichelvar (@Palkalaichelvar) January 16, 2017
They said BAN learned cricket from PAK. Well done in your learning.
Score big in 1st inn and usual batting collapse in 2nd #banvnz #NZvBAN

— Yasir Memon (@yasmemon) January 16, 2017
Declaring after scoring nearly 600 runs and went on to lose the match. Test cricket is the most unpredictable format currently. #NZvBAN

— Aakash Chopra (@cricketaakash) January 16, 2017
If Kane Williamson was Indian or English or Australian, you'd be reading a lot more about him. Magnificent player. Top innings. #NZvBAN

— Dileep Premachandran (@SpiceBoxofEarth) January 16, 2017
That moment ? #NZvBAN ^WN pic.twitter.com/d8VLFY5UFO

— BLACKCAPS (@BLACKCAPS) January 16, 2017
Bangladesh 595/8d now the highest ever total to lose a Test match!?#NZvBAN

— Mohandas Menon (@mohanstatsman) January 16, 2017
A record Bangladesh won't like! #NZvBAN pic.twitter.com/h6DGBkrqGU

— ESPNcricinfo (@ESPNcricinfo) January 16, 2017
Williamson 104 off 90 without ever looking troubled or playing anything like a slog. Bloke's incredible @BLACKCAPS #NZvBAN

— Jason Pine (@pineyzb) January 16, 2017
Stunning! New Zealand win despite Bangladesh making 595 in the first innings https://t.co/nwOavKLd0F #NZvBAN pic.twitter.com/HrPSbSpNVj

— ESPNcricinfo (@ESPNcricinfo) January 16, 2017
KNIGHTLY WILLIAMSON.

Makes a mockery of the chase with CENTURY #15. #NZvBAN pic.twitter.com/efAiNIN74q

— Cricbuzz (@cricbuzz) January 16, 2017
Bangladesh score 755 runs and lose the Test?? ?#NZvBAN

— Gaurav Kalra (@gauravkalra75) January 16, 2017
And the ball after his century, Kane Williamson secures a seven wicket victory for the BLACKCAPS. Lead series 1-0 ?#NZvBAN ^CE

— BLACKCAPS (@BLACKCAPS) January 16, 2017
"An update on Rahim: The neck X-Ray is clear and he's waiting to be discharged from hospital," inform the on-air commentators. #NZvBAN

— Cricbuzz (@cricbuzz) January 16, 2017
A ton to the skipper! Kane Williamson brings up his 15th test ton and the Basin reserve stands to applaud #NZvBAN^CE pic.twitter.com/N4zz25qNhj

— BLACKCAPS (@BLACKCAPS) January 16, 2017
Most undefeated 100s in 4th inns of a Test
3 – KANE WILLIAMSON
3 – Ricky Ponting
3 – Graeme Smith
3 – Younis Khan#NZvBAN @BLACKCAPS

— Swamp (@sirswampthing) January 16, 2017
Wellington 1st test day 5, Bangladesh collasped & then amazing run chase by NZ to seal the victory, 1-0 up in the 2 match series #NZvBAN pic.twitter.com/yu8xC7TINt

— Akber Ali (@AkberAli1214) January 16, 2017
No problem we have lost today. Its tough to win when 2 batsman retired hurt and also two standing wicket keeper in a match. #NZvBAN

— Al-Amin Sikander (@sikander_al) January 16, 2017
A stunning final day win for New Zealand. Simply superb. #NZvBAN

— Mandar (@Mandar021) January 16, 2017
At the start of day 4 you'd have given NZ no hope of winning #NZvBAN Test but a combo of injuries, flakiness & rock solid belief got it done

— Brett Graham (@worldofBG) January 16, 2017