Twitter Reactions: A new star – Sibonelo Makhanya unearthed as Paarl Rocks go back to the top of the table
This is the seventh consecutive loss this year for the Jozi Stars.
Updated - Dec 1, 2019 8:13 pm
377 Views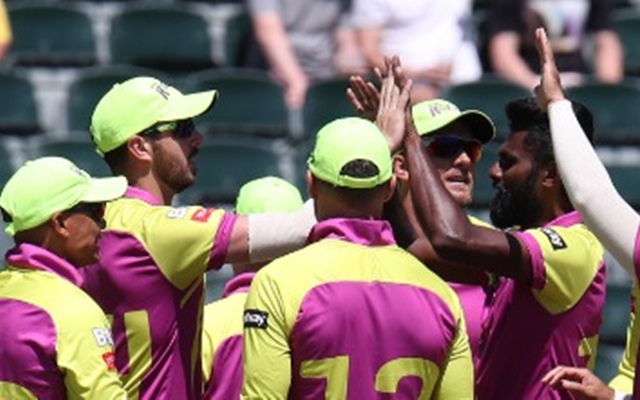 The defending champions, Jozi Stars, are struggling badly in this edition of the MSL. They should have won this game against the Paarl Rocks. However, they let it off once again and thus registered the seventh consecutive loss of this season. For the Paarl Rocks, Sibonelo Makhanya was the star. Defying all the odds and under immense pressure, he played a gem of a knock and looked extremely promising.
Jozi Stars lost the toss at Johannesburg and were asked to bat first. Reeza Hendricks played a great knock and scored 74 from only 53 balls. The likes of Temba Bavuma, Rassie van der Dussen and Shoaib Malik made handy contributions. Thus, the side managed to get 171/3 in 20 overs which seemed a decent total. Isuru Udana picked up two wickets in the innings while Tabraiz Shamsi accounted for one scalp.
Sibonelo Makhanya nullifies the havoc created by Kagiso Rabada
The Jozi Stars were absolutely on the top in the chase. Even though the Paarl Rocks scored 53 runs in the first six overs, they lost four wickets. Kagiso Rabada dismissed Henry Davids for a golden duck. He followed that up with the wickets of Faf du Plessis and James Vince for 18 and 1 run respectively. Meanwhile, Duanne Olivier managed to get the scalp of Cameron Delport on the last ball of the powerplay. The 30-year-old played an aggressive knock and scored 32 off 16 balls when he got out.
There wasn't much of experience in the batting line-up after this and the Stars were on the top. But, Sibonelo Makhanya teamed up with Kyle Verrenynne to build up a useful partnership. The wicket-keeper batsman scored 28 runs from 18 balls before he got out. But Sibonelo Makhanya held one end tight and got good support from Isuru Udana. The 23-year-old remained unbeaten on 63 off 47 balls in an innings that included 5 fours and 2 sixes. The Sri Lanka all-rounder, meanwhile, scored 28 from 16 balls. As a result, the Paarl Rocks won by 5 wickets.
The South Africa fans were delighted to watch the exploits of Sibonelo Makhanya. They opined that he could be one of the solutions for the national team during the current transition phase.
Here is how Twitterati reacted:
Reeza Hendricks scores these 60 to 80s but his team still doesn't win 🙄🙄🙄🙄 #MSLT20

— 32 – 12 🌈 (@Mondli_Thwala) December 1, 2019
Sibonelo Makhanya! Take a bow! Rescuing the @Paarl_Rocks with a very measured 63 off 47. Leading to a very important victory. @Paarl_Rocks rocks in 23 pts essentially 1 win away from the playoffs. @msljozistars Bowling letting them down again after a great start. #MSLT20

— Mpho "Your Friendly Sports Guy" (@MphoMoreki) December 1, 2019
Reeza Hendricks bathong 😍😍😍

— stanislav. (@Kea_IsTheName) December 1, 2019
Paarl Rocks win at the bullring

Makhanya hits the winning runs for the Rocks.

He finishes unbeaten with a knock of 63 off 47, He and Verreynne were excellent with their batting, so was Udana.

The Rocks win by 5 wickets, Stars are yet to register a win.#MSLT20 #StarsVRocks pic.twitter.com/zpKJOsGa44

— Mzansi Super League 🔥 🇿🇦 🏏 (@MSL_T20) December 1, 2019
Finally the @msljozistars put up a total that is very defendable. Good batting btw @reezahendricks & @tbavuma10. @realshoaibmalik with a classy 20 off 8 helped. @Paarl_Rocks need to get 172 in 16.1 overs for a BP! Can the stars deny the @Paarl_Rocks #MSLT20

— Mpho "Your Friendly Sports Guy" (@MphoMoreki) December 1, 2019
Reeza Hendricks top scored with 74 and Shoaib Maliks fire works at the back end guided Jozi Stars to 171-3.
Interesting chase coming up for Paarl Rocks #MSLT20

— Naeemah (@NaeemahBenjamin) December 1, 2019
Catching all the fun & excitement on and off the field #MSL2019 😆

What a take that was from @KagisoRabada25 pic.twitter.com/1SdRcHL4cR

— Mzansi Super League 🔥 🇿🇦 🏏 (@MSL_T20) December 1, 2019
Finaly Reeza Hendricks is gone. That's a big fish to catch. #MSL2019 #mst20

— Regal Global 🎱 (@RegalGlobal) December 1, 2019
Sibonelo Makhanya performance was the best. Congratulations Paarl rocks

— Nkanyezi kaLindamkhonto (@nkanyezi_kud) December 1, 2019
#MSL2019 Paarl Rocks beat the Jozi Stars by 5 wickets.

Sibonelo Makhanya top scored with 63 while Isuru Udana took 2 wickets.

— EWN Sport (@EWNsport) December 1, 2019
Sibonelo Makhanya has played a measured innings here and should be enough to see the Rocks over the line #MSLT20

— Gontse Matea (@Gontse_Matea) December 1, 2019
A match-winning innings| @Sibzmakhanya

When you're 🔥🔥🔥you're 🔥🔥🔥

Describe his performance in 1⃣ word______________#MSL2019 pic.twitter.com/azWzUK1zsw

— Mzansi Super League 🔥 🇿🇦 🏏 (@MSL_T20) December 1, 2019
@msljozistars when you put up 171 and think that it's defendable, even @ZimCricketv will chase it down every day of the week, @reezahendricks and @Rassie72 both of you consider playing at test cricket, you don't deserve to be playing t20 because t20 is selfless cricket

— shamshul hasan roman (@hasanroman17) December 1, 2019
Reeza Hendricks is out for 74. Well played! 👏👏👏 #MSL2019 #MSLT20

— Kgomotso (@KgomotsoM_) December 1, 2019