Twitter Reactions: Ravindra Jadeja-inspired Chennai Super Kings halt RCB's winning streak in ruthless style
Chennai Super Kings went onto roll over Royal Challengers Bangalore by a whopping 69 runs on the back of a sensational show from Ravindra Jadeja, who was all over the place.
Updated - Apr 25, 2021 8:02 pm
14.1K Views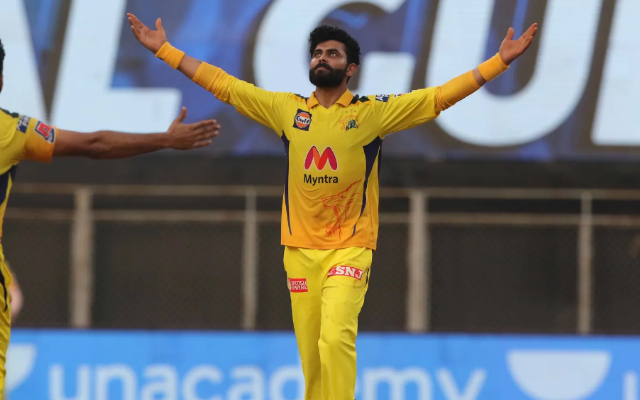 Follow us on Google News
For all the anticipation around what was billed as the clash of titans, the El Clasico, and whatnot, the Chennai Super Kings went onto roll over Royal Challengers Bangalore by a whopping 69 runs on the back of a sensational show from Ravindra Jadeja, who was all over the place.
Winning the toss, MS Dhoni cited "heat" and the wicket getting "slower later" as the reason behind him opting to bat, despite Wankhede's chase-favouring reputation. CSK flew off the blocks quickly with Faf du Plessis picking a four and a six off Mohammed Siraj early in his innings, while Ruturaj Gaikwad slammed a boundary of the same bowler to get into his groove.
When du Plessis, who notched up another half-century (50 off 41), picked another couple of boundaries off Kyle Jamieson in the third, CSK's intentions were loud and clear. The duo picked 14 off Navdeep Saini's opening over to end the powerplay at 51/0 and their fluent 74-run partnership flourished until the halfway mark when Gaikwad mistimed a slog off Yuzvendra Chahal to end his 25-ball 33.
In next, Suresh Raina kept the momentum up, hitting sixes against both the spinners before Harshal Patel turned the tide in his team's favor through his crafty slower ones as Raina and du Plessis holed out in the deep off consecutive deliveries before a 31-run stand between Ambati Rayudu and Jadeja steadied them.
Contrasting tales of Harshal Patel
The purple-cap holder and RCB's death-bowling solution Harshal Patel has lit up the IPL season. When he dismissed both Raina and du Plessis off consecutive deliveries, it seemed that Bangalore might be able to pull things back. Little did they and Patel – whose figures read 3/14 after three overs – knew that he would be in the record books for different reasons.
CSK seemed in danger of settling for an under-par total by the end of 19th over at 154/4. Enter Jadeja, who was unbeaten on 26 off 21 until then. He belted Patel for 37 – yes, you read that right – in the final over which had five sixes and read: 6, 6, 7 (no-ball), 6, 2, 6, 4. Having gotten to a 25-ball fifty, Jadeja finished 62 off merely 28 to power CSK to 191, a score that was once nowhere in sight. Much to RCB's dismay, he was dropped off Sundar's bowling by Dan Christian, who juggled him twice unsuccessfully at deep square leg, when he was yet to get off the mark (ouch!).
RCB tumbles post brisk start
They had Padikkal, de Villiers, Maxwell, and most importantly, the world's finest chaser, Virat Kohli, in their ranks. And so, expecting RCB to chase the target, specifically after Kohli and Padikkal's 181-run stand against Rajasthan Royals, was not an impossible proposition. When Kohli flicked Shardul Thakur towards long-leg for a boundary in the opening over, it seemed that he picked exactly from where he left that day.
The wrinkles of worry slightly increased for CSK, when an ultra-fluent and efficient Padikkal beautifully timed Sam Curran for two sixes in the second over and picked three boundaries off Chahar in the next to fly to 32 off just 12. Curran, although, found the prized wicket of Kohli, as he edged a wide, slower one behind as the captain caught captain.
Joined by Washington Sundar, Padikkal could not stay on for too long as Shardul Thakur got him caught by Raina for a 15-ball 34 to snatch RCB's momentous start away.
Jadeja could do no wrong 
If he would have taken leave after wreaking havoc in a scorching Mumbai afternoon, no one would have complained. But Ravindra Jadeja was the show-stopper. Getting ample grip from the surface, he knocked down Glenn Maxwell's (22 off 15) leg-stump and then foxed the might de Villiers, hitting the top of his off-stump to ruin RCB, taking his third strike, in a wicket-maiden over. Sundar holed out to deep midwicket off him earlier for an 11-ball 7 and he finished 4-1-13-3.
Wait there is more… Jadeja affected a run-out with a traditional, bulls-eye direct hit that sent Dan Christian packing. Imran Tahir, the old leggie, became Jadeja's accomplice, running out Kyle Jamieson with a direct hit after knocking over Patel for an eight-ball duck and getting Saini caught by Raina to finish 2/16.
Here's how Twitter reacted:
#DanChristian will make sure he is not in #ViratKohli's Peripheral radar 😋#CSKvRCB #VIVOIPL

— Pragyan Ojha (@pragyanojha) April 25, 2021
Had to repost this 🤣🏏👏🏼🙌🏼 #CSKvsRCB pic.twitter.com/Te1Y774qZ3

— S.Badrinath (@s_badrinath) April 25, 2021
And after the match @imjadeja will part the sea!!! pic.twitter.com/emjpw9ZaMx

— Lisa Sthalekar (@sthalekar93) April 25, 2021
What was that from jadeja !! Wow , simply wow !!#IPL2021 #csk #CSKvRCB

— Rohan Gavaskar (@rohangava9) April 25, 2021
LIVE from the ground – Rockstar Jadeja slicing RCB to bits #CSKvRCB #IPL2021 pic.twitter.com/NrAi1rsHqR

— Hemang Badani (@hemangkbadani) April 25, 2021
Sir Jadeja 🙇‍♂️ #IPL2021 #CSK pic.twitter.com/M1Oi3W0RNf

— Wear a Mask. Stay Safe, India (@cricketaakash) April 25, 2021
Think Jadeja might be a chance at man of the match here 😳

— Jimmy Neesham (@JimmyNeesh) April 25, 2021
Cracking over from @CurranSM #CSKvRCB

— Mitchell McClenaghan (@Mitch_Savage) April 25, 2021
What a knock #jadeja but "picture abhi baki hai". So true this is the platform where talent meets opportunity… #ipl #padikkal #CSKvRCB #ipl2021

— Pragyan Ojha (@pragyanojha) April 25, 2021
Sir Ravindra Jadeja alright @imjadeja #VIVOIPL #CSKvRCB 👏👏

— Russel Arnold (@RusselArnold69) April 25, 2021
Crickets interesting… we know 192 at Wankhede is more than possible to chase. The mind set of the @RCBTweets batters will be interesting. Often 6 (or 7balls in this case) can swing a teams psyche… when in actual fact 192 as a whole is an attainable target pre game. #CSKvRCB

— Mitchell McClenaghan (@Mitch_Savage) April 25, 2021
WHAT A KNOCK !!! Rockstar Jaddu 👏 He did warn us earlier #CSKvRCB #IPL2021 pic.twitter.com/8E7DRTm2hz

— Hemang Badani (@hemangkbadani) April 25, 2021
Ball 6 aur run 37. Only Sir Jadeja can do it. Unbelievable hitting against the purple cap holder. #CSKvRCB

— Virender Sehwag (@virendersehwag) April 25, 2021
@imjadeja you beauty! 6 6 6nb 2 6 6 4! It was @RCBTweets on top vs @ChennaiIPL till the 19th,
Unbelievable hitting, 37 runs of the last! What a knock , one of the best hitting I have seen in the ipl! #CSKvRCB #CSK pic.twitter.com/nHHxCPHzsr

— Kris Srikkanth (@KrisSrikkanth) April 25, 2021
Vera level batting @imjadeja super hitting 👌💪 #CSKvRCB @ChennaiIPL @IPL

— Harbhajan Turbanator (@harbhajan_singh) April 25, 2021
Fantastic @imjadeja !! 6666264 reasons why he should be in the biggest contract @BCCI 😜😜 #IPL2021 @whistIepodu

— Michael Vaughan (@MichaelVaughan) April 25, 2021
Jaddu! 😳

— Shai Hope (@shaidhope) April 25, 2021
Jadeja🔥 #IPL

— Tom Banton (@TBanton18) April 25, 2021
— Mitchell McClenaghan (@Mitch_Savage) April 25, 2021
Caption this picture. 🤣😋 #WhistlePodu #Yellove #CSKvRCB pic.twitter.com/uXqOUJmvjr

— MS Dhoni Fans Official (@msdfansofficial) April 25, 2021
When Jadeja retires from Cricket he should be India's

" Direct Hit Coach 😃 "

— Broken Cricket (@BrokenCricket) April 25, 2021
Bat ball field @imjadeja game set match.

— Boria Majumdar (@BoriaMajumdar) April 25, 2021
Small dimensions of Wankhede stadium always tempts batsmen to go for the big lofted shots but CSK bowlers have been targeting the stump line which isn't easy to hit. Shrewd tactics of Dhoni.

— Makarand Waingankar (@wmakarand) April 25, 2021
It was Jadeja's day all through. And an aberration for us, which happens at times in a long tournament like #IPL. Well played, CSK! We will only come back stronger. 👊🏻😊 #CSKvRCB

— Ajith Ramamurthy (@Ajith_tweets) April 25, 2021
Did Siraj just play a helicopter shot with the OG in the background?

— Danish Sait (@DanishSait) April 25, 2021
There is nothing baapu @imjadeja can't do! Well done csk on winning consecutive matches at wankhede #jadeja

— Irfan Pathan (@IrfanPathan) April 25, 2021
#RCB defeated some of the best teams in the #IPL2021 but then they ran into Jadeja. And the rest is His-Story. 🙇‍♂️ #CSKvRCB #CSK

— Wear a Mask. Stay Safe, India (@cricketaakash) April 25, 2021
4th consecutive win for #CSK in #IPL2021 as they beat #RCB by 69 runs – Terrific all-around performance from Jadeja made the difference between both sides.

— Johns. (@CricCrazyJohns) April 25, 2021
#CSK moves to top of the points table in #IPL2021.

— Johns. (@CricCrazyJohns) April 25, 2021
Aiyyao aiyayo "Pudi"chiruku!
One happy #Yellove family with loads of magic and style!🪄💪😎#CSKvRCB #WhistlePodu 🦁💛 pic.twitter.com/gG6vKQggut

— Chennai Super Kings – Mask P😷du Whistle P🥳du! (@ChennaiIPL) April 25, 2021
Follow us on Telegram