Twitter Reactions: Anil Kumble graces Virushka's reception in Mumbai
Twitter goes crazy as Anil Kumble marks his presence at Virushka reception.
Updated - Dec 26, 2017 10:43 pm
3.6K Views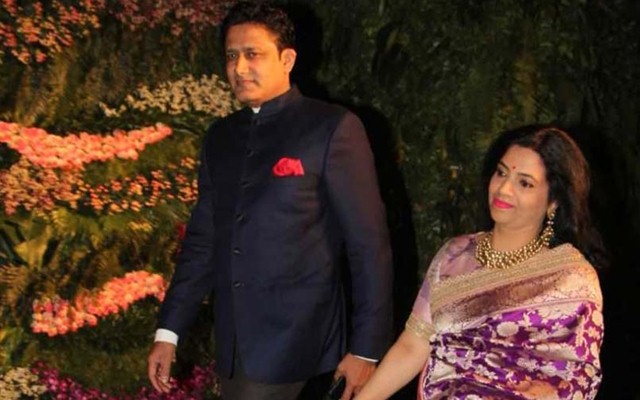 India's former coach Anil Kumble attended the wedding reception of Virat Kohli and Anushka Sharma on Tuesday at the St.Regis in Mumbai. There were a lot of speculations about a rift between Indian skipper Virat Kohli and former coach Anil Kumble. Indian cricket fans were startled to see a picture of Kumble along with several other celebrities at the St.Regis Hotel. Earlier this year, Anil Kumble ended his coaching stint with the Indian side after alleged rumours about his rift with Kohli.
Anushka Sharma and Virat Kohli tied the knot on December 11 in Italy at a scenic venue. This is the second grand reception they are hosting. The couple earlier hosted a reception at the Taj Enclave in New Delhi, family members and friends of the newlywed couple were invited to the event.
The event also saw India's Prime Minister Narendra Modi turning up after Virat Kohli and Anushka Sharma gave him a personal invitation by meeting him in New Delhi.
Virat Kohli was criticized when the news of the possible rift broke out, it was stated that Kohli wanted Ravi Shastri to be the Indian coach rather than Anil Kumble since they had contradicting views. Kumble's presence in the event meant that the fans would react. Twitterati couldn't control as the former Indian captain arrived at the St.Regis Hotel to congratulate the couple.
Earlier today pictures of the couple were doing rounds on social media when they arrived at the venue. Kohli's marriage with Anushka is seen to be a huge event, possibly the biggest event of 2017.
Both cricket fans and Bollywood fans were delighted to hear the news of the marriage, there were rumours about the marriage being held after Virat Kohli was rested for the limited overs series against Sri Lanka. The couple shared their wedding pictures on social media on December 11.
Here's how Twitter reacted
Anil Kumble attending Kohli's reception party! Unexpected, but it would be a great news if they have sorted out their tiff! #Virushka

— Maruf Shaikh (@marrufff) December 26, 2017
Virat Kohli invited Anil Kumble to his reception because he wasn't satisfied with the photographers in his wedding and 1st reception

— Aakash (@PUNchayati) December 26, 2017
Anil Kumble at #VirushkaReception

Because Humanity 1st ? ?@anilkumble1074 ? ? pic.twitter.com/5u6KfFwamm

— Msd's Pradip(2ndMsd) (@PradipMsd7) December 26, 2017
One thing I'm sure of !
Anil Kumble n Virat Kohli have fought a lot less than what media made it look like ! ?

— Ashritha (@imashritha) December 26, 2017
Kumble jus walked in the #VirushkaReception ?‍♀️

— 18? (@Crichipster) December 26, 2017
So Anil Kumble attended Virat's Reception.. Where are all the haters who were bashing virat for his attitude.. Dead probably #VirushkaReception #Virushka ☺

— ViNee!! ?? (@Vineet_1502) December 26, 2017
so much has happened throughout that champions trophy that maybe shouldn't have happened but nevertheless, great to see Kohli has invited Kumble to this great occasion #VirushkaReception

— Naveen Samy (@ImNsamy) December 26, 2017
So glad @anilkumble1074 has attended this ceremony. #Kohli #Kumble https://t.co/m640v3mT1C

— Chandan (@Chandan3) December 26, 2017
Anil Kumble & Virat Kohli at #VirushkaReception pic.twitter.com/RGfXkSCCUf

— Hariharan Durairaj (@hari_durairaj) December 26, 2017
One thing I'm sure of !
Anil Kumble n Virat Kohli have fought a lot less than what media made it look like ! ?

— Ashritha (@imashritha) December 26, 2017