Twitter Reactions: Avishka Fernando's 84-run knock leads Stallions to another win in LPL
Gladiators are yet to win a single game.
Updated - Dec 4, 2020 9:36 am
4.2K Views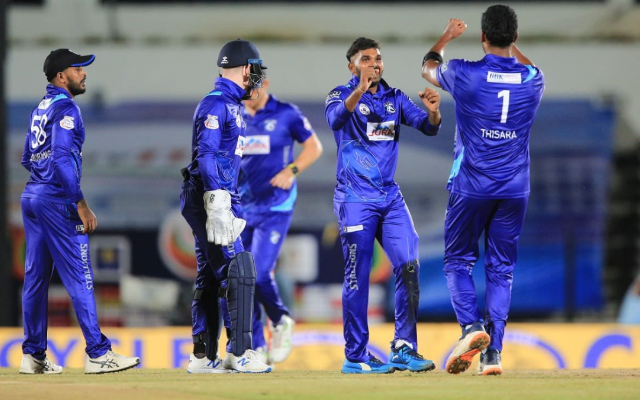 With close to half of the league matches over, the LPL had reached a very interesting point. Some teams had played to their potential and secured a number of wins while the others were looming at the bottom of the table. The match between the Galle Gladiators and the Jaffna Stallions was a classic example of this. The former had lost all their games while the latter had won all.
To make matters worse, Gladiators lost their Captain as Shahid Afridi returned to Pakistan due to some personal reasons. Having nothing to lose, they won the toss and elected to bat first. They started off brilliantly as they ended the powerplay with a score of 50-0. Both the openers were looking in good touch.
Ahsan Ali lost his wicket soon after, but Gunathilaka continued playing his shots as he ended up scoring 56 runs. They were at 110-1 at the end of 12.2 overs and it seemed like a 200-plus total was on the cards. However, this is where the collapse began. Within the next 4-5 overs they had their entire top order back in the hut. Chadwick Walton's 31 off just 14 balls helped them reach 170 runs at the end of their 20 overs.
Avishka Fernando helps Stallions win their fourth game on the trot
A target of 171 was definitely not going to be the most challenging one. They just needed one batsman to play a good guiding knock and that is exactly what Avishka Fernando did. He started off slowly but made sure he makes it count.
After the wicket of Tom Moores, Minod Bhanuka came in and played some aggressive cricket. His knock of 40 in just 26 balls helped them get close to the target. Even after he lost his wicket Fernando continued doing the job. He ended with a score of 84 off just 59 deliveries.
He was dismissed in the 18th over but by then he had already done his job. Wanindu Hasaranga hit four boundaries in the 19th over to get the equation down to three runs off the last over. The Stallions ended the game in 19.4 overs to get themselves a win by five wickets. The opening batsman was awarded man of the match for his brilliant inning to guide them to a victory.
Here's how Twitter reacted:
Hasaranga is the Sri Lankan Shadab.

— Ahson (@Ahson8) December 3, 2020
Well done Hasaranga, what a brilliant over. That look by Amir after the over was finished, pau bung #JSvsGG #LPL2020

— Shenuk Alles (@shenukalles) December 3, 2020
Will repeat myself, Hasaranga is Lankas most important player now. Wasted coming in so late down the order with bat too

— Dave (@CricketDave27) December 3, 2020
Jaffna needed 19 off 2 overs

Mohammed Amir conceded 16 with 4 fours to Hasaranga #LPLT20

— Abhijeet ♞ (@TheYorkerBall) December 3, 2020
Wanindu Hasaranga one of the brightest leg spin allrounder going around. What a talent!#LPL2020

— Manish (@iHitman55) December 3, 2020
Hasaranga deserves to be in ipl as well

— s (@slaychau) December 3, 2020
Ok maybe I shouldn't have jinxed it 🥲

But Hasaranga saves the day! 🥰 #JaffnaStallions

— Kavya CJ (@kavya262) December 3, 2020
Wanindu Hasaranga giving the finishing touch! Job well done Jaffna👌

— Mushfick Muzammir (@MushfickM) December 3, 2020
Wow-win-du Hasaranga – @RusselArnold69 pulling out all the dad jokes today! 😂 #LPL2020

— Kithmina Hewage (@kvh0117) December 3, 2020
Hasaranga for blast please @surreycricket

— TH (@TH161_) December 3, 2020
Wanindu Hasaranga changes the tide of that match by scoring 17* from 7 balls! Galle Gladiators stuck at the bottom of the #LPL2020 table. #JaffnaStallions

— &AZGR (@emptytrashboi) December 3, 2020
Wanindu Hasaranga Today:

With the ball, 4-29-2
With the bat, 17 runs of 7 balls ( 4 Fours)

— Amjath AJ (@CricProfAJ) December 3, 2020
WOW-indu Hasaranga!!! What a finishing touch by that man. Absolutely fearless and clever . 🤯💥#LPL2020

— Shahid Shaakir (@ShaakirShahid) December 3, 2020
Other than Wanindu Hasaranga the frontline 🇱🇰 @OfficialSLC spinners seem to be absolutely toothless… 😥 #LPL2020

— Sachit (@SachitT) December 3, 2020
If we have plans of Fabina Allen as our 7 or 8 , Hopefully we get him … If not @CoachHesson please keep eye on Wanindu Hasaranga

> Guy bowls good leg spin very slow (wont even cross 90 kmph) but bowls so many googlies will awesome with Yuzi

> Handy No 7 or 8 batsman

— Sai (@akakrcb6) December 3, 2020
Wanindu Hasaranga iss daffa PSL main hona chahiye @thePSLt20

— Malik. (@WaeedAwan) December 3, 2020
How is Wanindu Hasaranga so good?

— Static_357 (@Static_a357) December 3, 2020
Avishka Fernando wreaking havoc at the LPL rn! 😍 #LPL #StallionsVGladiators

— Kavya CJ (@kavya262) December 3, 2020
Avishka Fernando scores vs GG:

— Amjath AJ (@CricProfAJ) December 3, 2020
Jaffna Stallions continue their winning momentum and make it 4 in 4. #LPL2020 #jaffnastallions #gallegladiators #AvishkaFernando #Cricket #CricTracker pic.twitter.com/DGpH4hI0Pv

— CricTracker (@Cricketracker) December 3, 2020
Two match winning inns by Avishka Fernando against Galle Gladiators, 92* & 84. Danushka Gunathilaka's scores in Lanka Premier League are 56, 82, 30* & 38. Wanindu Hasaranga is an extremely talented allrounder, scored boundaries against good Amir deliveries. #LPL2020 #Cricket 🇱🇰

— Daniel Alexander (@daniel86cricket) December 3, 2020
Another good performance from Young Sri Lankan batsman Avishka Fernando 84. Good run chased. Gale Gladiators 0-4 so far. #LPL2020 pic.twitter.com/CEpVKH6QdX

— Chaudhary Ali Hamza (@iamalihamxa) December 3, 2020
Had a Two Wonderful Outing with the Bat against Galle Gladiators. Repeat! Avishka Fernando is the Player of the match. #LPL2020 #LPLT20

— Amjath AJ (@CricProfAJ) December 3, 2020
PLAYER OF THE MATCH – Avishka Fernando 🙏 Congrats to young Gun 👏👏#JSvGG pic.twitter.com/Fg1GR8XC9k

— Lanka Premier League (@LPLt20official) December 3, 2020
Clearly Avishka Fernando should be the Sri Lankan ODI & T20I opener for the next 10-15 years. Man is just 22 years with very high potential. Besides, he already has 2 ODI centuries in 18 matches. #LPL2020

— Azhar Nr (@azharnr10) December 3, 2020
Is Wanindu Hasaranga the most talented SL player right now? For me yes, good with the bat brilliant with the bowl, spin all rounders like him are so rare these days, Should bat high for SL, have seen him playing some fine knocks in late order. SL is wasting a gem. #LPL2020

— K H A Y A M (@KhayamSays) December 3, 2020